20 November 2023
Found a nice colourised version of Sabrina under the mistletoe from 1955.
5 November 2023
Sit back and enjoy the vocal stylings of Sabrina on a new copy her disc. Vinyl, that is - with 45 of your human RPMs. Acquired at great expense (and little wisdom) in 2023, and cleaned by Martin at move.com.au.
Persuade Me
I Want a Man
5 November 2023
Another new magazine, from 1958. The Weekend wonders if Sabrina has done the wrong thing in choosing to come to Australia.
Click the pic to view the article
3 November 2023
A new magazine! From Pix in 1966, one of Sabrina's last appearances - but only to publicise Australian singer Barry O'Dowd.
7 October 2023
Shocking news - today I learnt from Bryce W what became of Sabrina's scrapbooks and the rest of her legacy.
It involves arson, drugs, deaths, and a manhunt - a tale worthy of a Hollywood movie - but it's not a happy one.
3 September 2023
Yes, things have cooled down at Encyclopedia Sabrina, but the hunt continues. This adds to to knowledge of Sabrina's visit to German in February 1957 with Steve Cochran.
Feb. 02, 1957 - British television Star ''Sabrina'' at Garmisch: The British television star ''Sabrina'' her real name is Norma Sykes arrived at Garmisch Partenkirchen for a short visit. The well known bob-sleigh racer and president of the sports-club Bobmeister, Hanns Kilian, received the guest at his hotel. In the bar of the hotel Alpenhof, Sabrina talked about her plans in movie-acting.
9 August 2023
You can watch an 11 minute YouTube documentary by Neil Sean, filmed on the sites important to Sabrina's story.
25 July 2023
An augmentation to the Spotting Sabrina page.
Bev Williams (aka Delia Klaasen) wrestled under the name 'Sabrina' in New Zealand in the early 1970s - and confused MANY people in the process. Including me. There are at least two big reason why.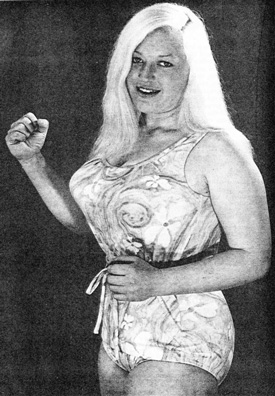 22 July 2023
Having exhausted the Sabrinastuff in Google Books/Newspapers, I randomly searched for her and manger Ray Bolwell (who treated her badly, according to Sabrina). And this appeared... Sabby in NZ with Ray Bolwell, after her Australian tour in Pleasures of Paris.
14 July 2023
Sabrina opens the Victor Value supermarket in Abington Street, Northampton, in 1957. Those two guys in white look like they're about to wet themselves with excitement.
13 July 2023
In 1957, a Canadian reports on the London revue scene, including Sabrina.
12 July 2023
Still finding new stuff - this time, in archive.org. Also tidied up the Books page.
18 July 1956 - Variety (U.S.A.), p.48

Gimmick angle is seen in two shows. Sabrina (Norma Sykes), "dumb blonde" of British TV, is featured in an undistinguished song- spot in "This'll Make You Laugh," the Tom Arnold-Jack Taylor revue at the Hippodrome cinema.

and this delightful biography from "The Encyclopedia of British Film" (2005)

Sabrina (b Cheshire, 1935). Actress. RN: Norma Sykes. Blondely bulbous non-actress, first on TV as a dumb blonde in Arthur Askey's Before Your Very Eyes (1954), made a few film 'appearances' in the 50s, mainly in sex-symbol cameo roles, like that in Blue Murder at St Trinian's (1957). then turned up in US films such as The House of the Black Death (1965). other British films: Stock Car (1955), Ramsbottom Rides Again (1956), Just My Luck (1957), Make Mine a Million (1959).
10 July 2023
"Don't Dress Like Sabrina" - Advice for Women by Dr Billy Graham - Sydney Morning Herald, 22 April 1959
Dr Billy Graham, the American evangelist, told women in a record weekday crowd of 33,000 at the Sydney Showground last night that they should not dress like Sabrina.

He said women should make themselves as attractive as possible to their husbands, but they should not dress like Sabrina or "paint themselves like a Jezebel."

He said wives should run out and greet their husbands with a kiss when they came home from work...
The long haul through thousands of newspaper articles in Google Books has finished. They certainly dried up quickly after 1962, and I never want to hear of a "Sabrina neckline" ever again.
Also found a pic of Sabrina on the Steve Allen TV Show in the USA, 1959
And a none-too-flattering piece in 1957... Bulletin and Scots Pictorial, p.8
Askey has a lot to answer for

Arthur Askey has more to live up to (or to atone for, depending on the point of view) than any other comedian.
I always feel it was the resounding success of his "Band Wagon" all those many years ago that made the weekly comedy series not only fashionable but essential.
Probably they would have arrived anyway — but the silly little man certainly speeded their coming.
Last night he started a new run in a thing called "Askey Galore!" abetted by David Nison, daughter Anthea, Vanessa Lee, and Sabrina, all doing precisely what experienced listeners would expect them to do — Nixon hesitantly assertive and Askey himself briskly ingratiating, a warming ball of fire.
The curious point made noticeable last night is that, while Askey has gone on unchanged for 20 years and more, it is Sabrina who seems dated.
Mere gimmicking wilts with time. Talent, like spring, is fresh with every repetition.

JEAN BLAIR.
7 July 2023
The search for Google Books' Sabrinastuff has ended.
5 July 2023
Sabrina is stunned by Vincent Lopez in 1960
5 July 2023
My dive into 1960 newpaper articles about Sabrina has uncovered this beauty - Queen of the World Trade Fair 1960.
3 July 2023
I'm still unearthing lots of new Sabrinastuff from Google Books' newspaper archives. I'm onto 1960 now. For example, Sabrina at the April in Paris Ball, New York 1960.
1 July 2023
We learn that in 1958, Sabrina was to receive the 2023 equivalent of over a million pounds for 10 films which she was to make for Steve Cochrane. Spoiler: none was made.
We also find that after finishing her 1959 NZ tour, she was to be paid £53,500 ($US 150,000) to star in an eighteen-week American tour of Vegas, Miami and NY. In 2023, that's $US 1,567,665. That's $87,092 a week.
And she gives some good advice too.
19 February 1959 - Farewell!

So Long Melbourne. Thank you, Kay's. Phone MU7777.

Lovely Sabrina in her Kay's Rental Car. See more of Sabrina selling stuff

At the end of 1959, Sabrina was broken.

"I can't tell you how depressed I am. When I first saw Hollywood two years ago it seemed so glamorous.But now I've seen it at close quarters I hate it. It's all so nothing. There's no culture... "What I want is a new gimmick. The bust thing is finished now."
30 June 2023
Found a valuable site called TV Pop Diaries, which neatly lists pop music on British TV between 1955 and 1999 - including Sabrina's appearances. e.g. on Val Parnell's Palladium show on Sunday 3rd February 1957, Sabrina performed " I Want A Man Not A Mouse" but Parnell banned the gown that Sabrina had planned to wear at it was considered too revealing.
Made quite a few little additions made to the 1958 Sabrinalife page, including this interesting tidbit from 29 March 1958 - Evening Times. No date is given for the tour, but I have never heard of it happening. But Sabrina did appear in an episode of Tarzan in 1967...
Sabrina going on rock 'n' roll tour

Sabrina will head, a rock 'n' roll company, including Colin Hicks, brother of Tommy Steele, and the Cabin Boys, which will tour South Africa in December, Mr John Kennedy, Steele's personal manager on his South African tour, said to-day.
Finally got into 1959 newspapers, and have noticed increasing gaps in time between articles covering Sabrina. Maybe the glossy Sabrina shine has started to fade already. Check the Sabrinalife 1959 page for new items.
Finally found video of Sabrina christening the duck of the good ship Magga Dan before it sets sail for Antarctic research.
29 June 2023 - another busy Sabrinaday
On 7 April 1956, The Bulletin and Scots Pictorial posed the question: Are Scots women influenced by the curve cult, as personified by Sabrina?
Broke off the incident where Sabrina's spoke at the Variety Club, 10 April 1956 into a separate incident page.
A Canadian newspaper finds English music hall is quite different to that in the Americas.
The Age reports on 27 November 1958 that "English showgirl, Sabrina, is not expected to make any "live" TV appearances during her Melbourne season for Tivoli Theatres. She will, however, be heard on radio.
On 4 December 1958,several hundred people crowded the steps of Victorian Parliament House to see Sabrina visit politicians. Check the 1958 Sabrina Life page for more.
The Scottish Evening Times reports on Sabrina's arrival and photoshoot at Renfrew Airport.

Sabrina, the girl who "busted" her way to fame with a dumb act on television, breezed into Renfrew Airport to-day and gave passengers arriving and departing a surprise.

She stood shivering on the tarmac in an all-black outfit while photographers "shot" her. Read more.
28 June 2023
The search through old newspapers goes on. Today I worked through 1957. So many weird findings.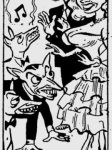 27 June 2023
Found a significant new newspaper article from 1955 discussing Sabrina's astute money-management skills. A very interesting read.
27 June 2023
Have spent a productive few days trawling through Google Books' newspaper archive for references to Sabrina. There are so many new ones, such as this false alarm from Canada. And there so many references to the "Sabrina neckline" and that curséd movie with Bogart and Hepburn.
Bubbles Darlene, spotlights the new burlesque show which opens at, the Casino today. Co- starring with Miss Darlene will be Sabrina, another exotic dancer who also will be making her first appearance at the Diamond Street theater.
26 June 1956
TELEVISION'S Sabrina yesterday (24 Sept 1956) presented signed photographs to two police sergeants who had given prosecution evidence in a case in which she was a defence witness. Read the story
26 June 2023
Evening Times (Scotland) - 7 April, 1956, page 1
LUCKY MR MAC!


It isn't every day that you walk into the Weaver to Wearer tailor shop In Glasgow's Trongate and find Sabrina "in attendance." But Sabrina WAS there to-day to announce the winner of the firm's "Win a Suit" competition — smiling Mr John McDonald, of 180c Centre Street, Glasgow who wins TWO "Squire" suits.
25 June 2023
On 17 March 1956, according to the Scottish Bulletin...
SABRINA REVEALS HER PET AMBITION
SABRINA, the girl with the big, round, beautiful blue eyes, burst through her sound barrier in Glasgow yesterday to tell "The Bulletin" that her pet ambition is to keep a home for stray animals.
10 June 2023
Found on eBay, another of the mysterious probably-Sabrina nudes that defy explanation in spite of considerable research. Were they taken in the same photoshoot as the infamous sixteen-year-old nudes? Time will tell.
Read up on the saucy nude Sabrina incident.
Find out out the nude playing cards.
31 May 2023
Believe it or not, we can still find new Sabrina photos. I knew there were a lot, but this research project is going FAR beyond I could have imagined when it began in 2000.
Sabrina and strong-man Tommy Yeardye interrupted by a gorilla in the Stork Room, London, 1959.
21 May 2023
Thanks to the Youtube efforts of Christian Blatter, we have a restored rendition of Sabrina singing "I Would if I Could" from her masterpiece, "Satan in High Heels"

Sabrina is credited with the SIXTH WORST EVER B horror movie musical interludes with her rendition of "I Would If I Could" in SIHH. At least it just beat out "The Mushroom Song" from The Giant Gila Monster sung by Don Sullivan.

Hear Sabrina singing "I Would If I Could " - updated 2023-05-21

Watch Sabrina sing "I would if I could" (2M, WMV) - updated 2023-05-21 (now 47MB MP4)
17 May 2023
Thanks to the combined forces of Margaret, Bob and Adrian, we have upgraded versions of the Melbourne Arts Centre 1958 pix of Sabrina in the Dark - often against a pillar. Like this...
15 May 2023
Thanks to Geoff, we have three new photos of Sabby in Oz, on 18 January 1959.
As he said, it was a miracle that he found them on TROVE because they were not tagged with the name 'Sabrina'.
You can read about this special day of cricket in the Sabrina In Oz page.
28 April 2023
Added a reference to Sabby from Steve Sullivan's book, Va va voom : bombshells, pin-ups, sexpots and glamour girls.
And a new magazine article where Sabrina extols the stylish sexy sweater. See all the magazines here.
And (it's been a busy day at nylon.net) - I have a large and silent version of Goodnight With Sabrina for you to salivate over on the Sabrina Short Movies page..
24 April 2023
A lovely new picture of our Sabrina being a bit moody and cheeky. It's amazing that after more than 20 years I am still finding new pictures of our Sabby.
14 April 2023
Sabrina and Arthur Askey - "He was always a perfect gentleman", as she told me in our interviews.
11 April 2023
Sabrina and Chico, her toy leopard. Read the related magazine article.
An interesting addition to the 1961 Kavalkad magazine photoshoot. Sadly, it's full-sized. See more of Sabrina in Her Bathers. Go on. I know you want to.
5 April 2023
"Sabby" by flashlight - PIX (Australia) 14 March 1959. Sadly, I only have photos of the pages. But to find a new mag is quite an event!
4 April 2023
From 3 December 1958, Sabrina finally gets a clue - in the Daily Express crossword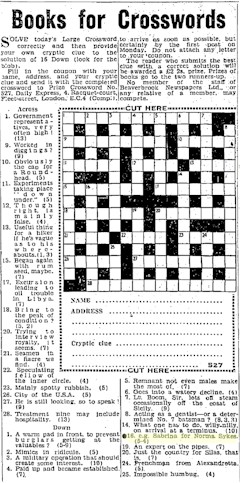 Yes. She's 16-down: stage name.
4 April 2023
An undated (but probably 1977) and unsourced newspaper article (with some missing text) wonders if Sabrina's marriage is on the rocks.
24 February 2023
For some reason I didn't have the larger view of this thumbnail... Now I do!
And please tell me - what do you call that red thing in her hair?
19 February 2023
A rare find - an undiscovered newspaper article from 1958. The Australian Jewish Herald reports that...
When Sabrina was approached this week to attend a function on behalf of Mount Scopus College, she displayed great interest in the school and promised to attend if at all possible.

The British TV and stage personality is staying at the Savoy Private Hotel on the foreshore at Middle Brighton. The hotel is run by two Jewish partners, Mr. Berthold Kindler and Mr. S. Hofstetter.
18 February 2023
Sabrina in a reflective mood.
Circa 1955
Wow. It's not often that I find a completely new photo of Sabrina, but I did today. And it's a lovely moody one of her from 1963 during a rehearsal with Arthur Askey of Sunday Night at the Palladium -1963-03-18. Loverly!
17 February 2023
Collapsed three pages of site news back into a single page. Bandwidth these days makes Sabrinasized pages easy to download, unlike when this site began.
Spent some happytime upgrading photos in the background.
Found a nice little pic of Sabrina and Tony Smart in 1957, signing a TV contract for her to appear in the US in Feb 1958.
17 December 1957 - Britain's Sabrina Signs U.S. Pact

LONDON, Dec. 16 (UP) — An American clothing manufacturer who dabbles in show business said Monday he had signed Sabrina , Britain's bustiest showgirl, for a series of TV shows in the United States.

Tony Smart, a 37-year-old entrepreneur, said Sabrina would be paid $5,000 a week. She was scheduled to travel to the United States in February.

Smart said he had no intention of "making over" Sabrina (41-19-36).

"She's a typically sweet English girl. I'm sure she will be loved in the United States. She has got heart. She is the sort of person you can take home to mother."
10 February 2023
In 1957, Sabrina appeared with Arthur Askey , Anthea Askey , singer Vanessa Lee , and the music of Billy Ternent in 12 episodes of Askey Galore! on radio on the BBC Home Service.
Written by Dick Vosburgh and Brad Ashton, produced by Dennis Main Wilson . First broadcast - 30th January 1957 at 7pm
Sabrina on radio... about as effective as a ventriloquist on radio. Remember Archie Andrews ?
30 January 2023
A lovely colourised pic of young Sabrina with her beach ball
For more of the same, visit Sabrina in Bathers and Young Sabrina .
Also upgraded this rather scary shot from the 1960s beehive phase
7 January 2023
I finally realised I had no idea what sort of lingerie Sabrina was wearing in her thousands of photos. I started vital research. You probably know more about lingerie than I do. Please give your expert advice .