27 December 2022
Thanks to Ralf, we have a brand new pic of Sabby. Taken in 1959, it was featured in 'The Victorian Surfer' magazine in 1962 to commemorate her return visit to Australia. See the magazine for a little more info
20 December 2022
Merrry Christmas from a card Sabrina sent me!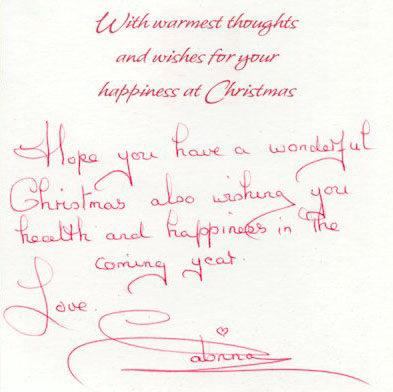 8 December 2022
Stumbled upon a nice upgrade to this 1955 pic taken by Russell Westwood.
And this photo upgrade of a young and lovely Sabrina in 1954 by Noel Mayne.
And, for the first time on any internet, a brand new pic!
30 November 2022
For those of you who are curious how the famous nylon.net domain has performed in the past year...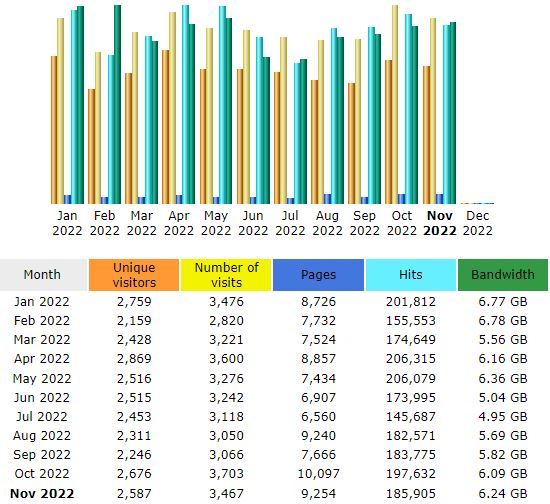 26 November 2022
For the longest time we have not seen a brand new photo of our Sabrina. But Ralf raced to the rescue.
Thanks to Ralf, of the Ocean Grove Surf Life Saving Club .
As he said:
I have attached a photo taken by a club member of Sabrina sitting amongst the crowd at the Ocean Grove surf carnival. Our clubhouse can be seen in the background and our President, Claude Williams, is just behind Sabrina. There is also a photo that I took from the video of Sabrina in our surf boat. She is sitting at the back of the boat below the sweep. I wouldn't have looked so closely had it not been for the club's Annual Report mentioning that she had been taken out in the boat. Quite a feat for Sabrina as getting rowed out through the surf can be a bit unsettling. I have also attached an excerpt of the Annual Report pertaining to Sabrina.

Glad I have been able to add something to your comprehensive tribute to Sabrina and now I can add something sensational to my club's history.
See more details of Sabrina's Ocean Grove and Point Leo visits.
Ralf wrote to add...
There was a passenger ferry that was established in 1953 that ran from Sorrento to Portsea and then across the bay to Queenscliff. You can find more info at https://wongm.com/2013/05/sorrento-portsea-queenscliff-ferry/

However, Sabrina probably travelled the road route as there were 7 days between the Ocean Grove and Pt Leo carnivals and I image that she had accommodation and commitments in Melbourne.
Thanks again, Ralf!
16 November 2022 - Breaking news about Sabrina in 1959.
Ralf wrote to say:
Hi. I'm Ralf and I'm the Club Historian at the Ocean Grove Surf Life Saving Club in Victoria Australia. Not far from the Pt Leo Surf Club that Sabrina visited in 1959.
I have been following up reports in our club's 1959 Annual Report and two club newsletters in that year of Sabrina's visit to a surf carnival at Ocean Grove on the 11th January 1959.
This took me to your Encyclopedia Sabrina site and the pages regarding her visit to the surf carnival at Pt Leo on the 4th January 1959 .

Disappointed that there was no coverage of her visit to Ocean Grove, I started to note some features in the Pt Leo video and I am 100% convinced it is actually of her visit to Ocean Grove , not Pt Leo.

I am not suggesting that the Pt Leo visit did not occur and the black and white photos of her with lifesavers there confirms that. But there is also a colour photo of Sabrina in a red bikini flanked by 3 police officers which is definitely Ocean Grove as the roof of our clubhouse is obvious in the background together with high sand dunes which is not a feature of the Pt Leo beach, a beach I am family with.

I also have a black and white photo taken of her visit to Ocean Grove with our club's president standing behind her. Sabrina is also taken out in the Ocean Grove surf boat "Gladys Bell" which is mentioned in our club's Annual Report but not your website.

Your Pt Leo story also mentions that Sabrina came prepared with a one piece swim suit but she is obviously in a bikini in the video and the colour photo of her at Ocean Grove. The videos takers suggestion that the video is of Pt Leo may come from the very last seconds of the video showing an Anglesea surf boat at what is very likely Pt Leo.

There may have been more than one video on the film with both Ocean Grove and Pt Leo featured. None the less, the Pt Leo video is definitely Ocean Grove.
Thank you.
14 November 2022
No new Sabrinastuff for quite a while. After 22 years of searching, new material tends to get harder to find. Apologies!
29 October 2022
I have started the long and slow process of replacing pictures with those from the discontinued B.O.O.B.S. programme. They were previously only available to contributors or benefactors, and were tagged with the mysterious golden key

These VIP images are much higher resolution. Enjoy. And to add to the mystery, I won't be announcing their arrivals. You will have to find them.
26 September 2022
I have been quietly upgrading several photos in the background. Never fear. I am still here.
13 September 2022
Added a little to Sabrina's life in March 1963
Remember that darling of delight, that gal with the mostest in the right places - Sabrina? Well, after triumphs in America she is returning home, to appear with Arthur Askey in a late March"Sunday Night at the London Paladium" show. It was Arthur Askey, the Liverpool comic, who first treated us to an exciting view of Sabrina, and we sure are grateful for his generosity. After all, he's not known as big hearted for nothing! Come to think of it, she's pretty big hearted herself! She was once famous as Norma Sykes of Manchester, a model.
31 August 2022
Sabrina was associated with several Odd Things . And Sabrina advertised things . This hibiscus ad was one...
For charm and beauty it's hard to beat SABRINA... the New Double Red HIBISCUS

Our photograph of world famed TV star, Sabrina, christening the sensational, new Hibiscus named after her.


Developed by and exclusive to Lasscocks "Sabrina" is a double rose-red; it is a very strong grower and is really outstanding.


"Sabrina" is in limited supply — orders aft now being taken for November delivery.


Price 12/6.
At the April In Paris Ball in New York, 1960
An upgrade... Sabrina at a premiere in November 1955
Sabrina in full makeup
I could have sworn I had this pic already, but I can't find it. If you can find duplicates, please let me know
22 August 2022
At the Albany Club, London, on 17 February 1956, Sabrina celebrates her first year in show business.
---
Sabrina has a cheeky sleep-in
---
15.6.56

Sabrina attends the film premiere of "YIELD TO THE NIGHT"

Glamorous TV star SABRINA seens as she arrived at the Carlton Theatre last night to attend the premiere of the filn "YIELD TO THE NIGHT" in which Diana Dors plays the part of a murderess.

---
12.1.56 - NATIONAL EXHIBITION OF CAGE BIRDS AT OLYMPIA
"CHARLIE" the Cockatoo makes friends with SABRINA when she paid a visit to the National Cage Bird Show at Olympia today.

---
11 August 2022
Big news, Sabrinafans. Grindhouse in Hollywood is releasing a BluRay edition of The Ice House by the end of the year. They have asked if I'd like to help with its release. As Sabrina would have said: I'll drink to that .
20 July 2022
Another example of companies exploiting Sabrina in advertisements .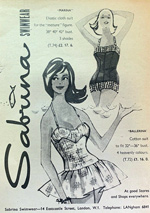 And Sabrina did not like being exploited, which is why Sabrina was often in court .
And I found an upgrade to this ciggy pic
15 June 2022
On the day before the 23rd anniversary of the Sabrina Site, I am happy to present a brand-new video of Sabrina in Rome in 1958 .
Please go wild.
9 June 2022
New in 2022 - Sabrina in cellophane, sitting and happy. See the full cellophane shoot .
9 June 2022
A happy Sabby
---
8 June 2022
Here's an interesting one.
We know what Sabrina looked like at primary school in 1945 , aged 9...
Now I have received new pictures from an anonymous source who is unsure if this is also Sabrina.
And
The unruly hair and the joyful love of the camera seem to suggest it is our Sabrina, possibly at a VE ( Victory In Europe ) street party in 1945, aged nine.
---
4 June 2022
From this
to this
19 May 2022
Happy 86th birthday to our Sabby.
17 May 2022
And when it rains, it pours. Another lovely upgrade to an old favourite of Sabrina pretending to like cricket. Without a watermark!
18 January 1959 - with former Australian cricket captain Ian Johnson , supported by England's Len Hutton , Walter Lindrum (left) world billiards champion and Morrie Fleming , President of Richmond FC
So - yay! (Note to self - cf sabrina-bowling-men-1959-01-12-oz)
17 May 2022
At long last, a nice upgrade to the tiny tiara pic of Sabrina with Toni Dali and Some Other Woman (forgive me - she might have been famous. Let me know who she is/was )
I find a dozen pictures of Sabrina every day every day - but most of them were ripped off my site with their attribution removed. Or I already have them in better resolution or quality.
It's a joy to find a good upgrade of an existing pic. The old version of this one was barely bigger than its thumbnail version.
Much more rarely will I find a completely hitherto-unknown picture, such as the one with Sabby in her feather dress and earrings, staring seductively at the camera . Those are rare and precious moments that only come by once or twice a year now.
10 May 2022
A delightful new picture of Sabrina in (what I call) her seductive Feather Dress.
She stares at everyman of the 1950s and they knew what she wanted.

SABRINA has lost three inches round her waist! by RUNNING two miles daily throughout the summer at Blackpool, dressed in two pullovers, one sweater, one windcheater, two pairs of slacks and a track suit, she amazed everyone by her endurance and determination. But not to worry - the 39 1/2" dimension now more than twice her waist measurement of 19", remains the same, as I.T.V. viewers will see when this human hour-glass appears in "BEFORE YOUR VERY EYES, with ARTHUR ASKEY, presented by Jack Hylton for Associated Rediffusion on alternate Friday evenings. [undated]
9 May 2022
SABRINA'S beautiful Kingfisher blue moire evening cloak is unusually concealing. - But I.T.V. viewers will soon be seeing more of her in "BEFORE YOUR VERY EYES" with ARTHUR ASKEY, presented by Jack Hylton for Associated Rediffusion on alternate Friday evenings. [undated]
9 May 2022
If your name is Eric, this is your lucky day. You can pretend Sabrina signed this for you .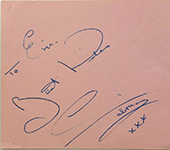 9 May 2022
Found a nice little upgrade to this pic of Sabrina with friends, including Graham Kennedy, on a boat in Melbourne.
8 May 2022
`

THE INTERNATIONAL WATCH AND JEWELLERY TRADE FAIR AT ROYAL ALBERT HALL

The International Watch and Jewellery Trade Fair - the first exhibition of its kind ever held in this country - opened today at the Royal Albert Hall, London. Sir Cyril Dyson , Chairman of the National Association of Goldsmiths and former Mayor of Windsor, performed the offcial opening ceremony.

Photgraph shows: SABRINA with wall clock which runs for a year on an eleven penny battery. The figures are on signs of the Zodiac. SABRINA is the wellknown Music Hall star. FOX PHOTOS, SEPT 25th 55.
8 May 2022
Ted Doan from the Stockport Plaza - of which Sabrina was a patron - wrote to announce that
Every year we host 'Sabrina Day' as closed as possible to her birthday and this year on Saturday 21st May at 7.30pm .
We shall be screening the film Blue Murder At St Trinians in her honour.
So grab your popcorn, pop off to Stockport, and enjoy Sabrina's wordless cinematic masterpiece.
2 May 2022
May I offer a juicy upgrade to the Tatters Series "sitting on the stairs" snap?
I was certain I already had the following pic, but I can't find it. Please tell me if you know where it appears .
Sabrina in fur and white ribbon arriving in Australia - probably 12 November 1958.
1 May 2022
Sabrina's - dramatic actress and noted scholar - appeared in several movies, including The Ice House (1969) .
It has been compared to Shawshank Redemption and 2001 A Space Odyssey (but nobody knows why)
Thanks to the dedication of Sir Paul of Q, we have a high-definition tasty trailer for the cinematic masterpiece by Sabrina - The Ice House .
Watch it and weep (with joy, obviously. The bad acting is inconsequential). If that Youtube link ever fails, use this local backup .
---
29 April 2022
Finally split off the second decade of site news into its own page .
Enjoy all three decades of site news - 2000-2010 , 2011-2020 , 2021 - now (the current page)
---
29 April 2022
Added 2022-04-29 to the 1956 Royal Variety Performance incident page
The photo caption reads:
ROYAL VARIETY PERFORMANCE CANCELLED. Artists who were to appear in last night's Royal Variety Performance at the London Palladium discussing the decision to cancel the show because of the international situation. L. to R.: Jerry Colonna, Harry Secombe, Liberace, Beryl Reid and Sabrina .

---
12 April 2022 - A new addition to the Turtleneck Collection
---
12 April 2022 - More juicy news on the Sabrina bust-improving Cream fraud of the 1960s.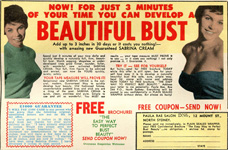 ---
11 April 2022 - A brand new picture! They don't come around too often, after 22 years of searching.
And this beauty... You can tell she's in love with that dress.
---
9 April 2022 - Adding to the spectacular scene in 1956 when Sabrina crushed a champagne flute in her Mighty SabrinaFist,

(Upgraded 2022-04-09 @ 14:20)

we can now see Steve's revenge...

3 April 2022 - Sabrina in An English Affair: Sex, Class and Power in the Age of Profumo - Sabrina, Keller and all sorts of moist British pleasures. (Thanks, Lord Wilson!)
19 February 2022 - The first nude Sabrina jigsaw has sold on eBay. There are only two left to come using this photo (there are 3 other notorious nudies - see the nude page for details).
4 February 2022 - My A3 sized nude Sabrina jigsaw has finally arrived. 40x30cm - 300 Pieces of black and white naked perfection. You can buy one if you want.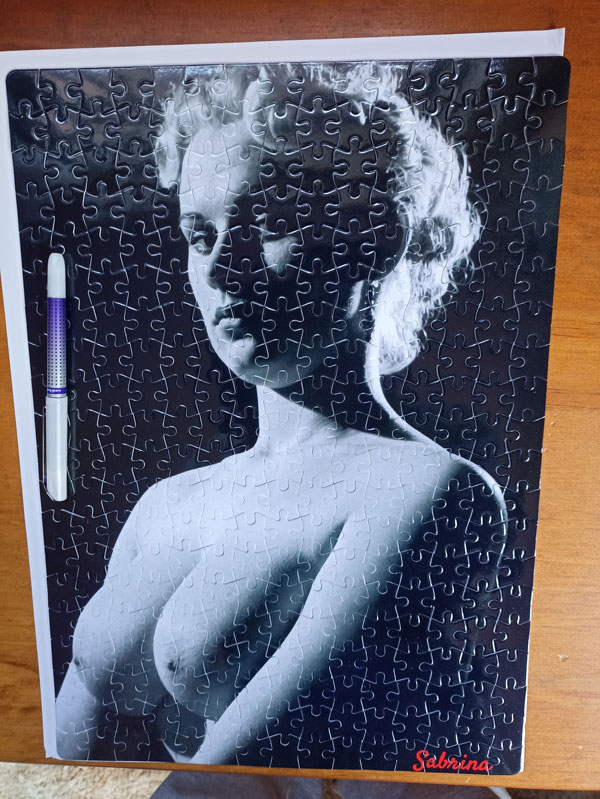 2 January 2022 - Did some significant picture renaming to organise sequences and near-duplications. Some old deep links from other sites may fail.
1 January 2022 - Happy new Sabrinayear, and I'm looking forward to a bunch of exciting new Sabrinastuff this year.