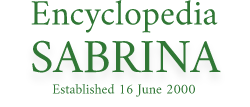 Sabrina - the mini-series
A collection of related pictures that aren't big enough for a picture page of their own
Do YOU have any Sabrina stuff?
Astride a Wooden Chair
Sitting astride a chair is a little saucy in the 21st century. It would've been even more titillating in the 1950s
Off the shoulder (1955)
A series of early photos taken at the beginning of Sabrina's career in 1955
Caption: For release Sunday AM's 4 September 1955 .
Sabrina appears over British TV.
London, England.... Here's an example of what British televiewers will see when they turn on their TV sets in September 22, the day Britain takes her first step into commercial TV. This young lady is known as Sabrina, a BBC discovery, who might be described as a 40-inch edition of Jane Russell. Up to this time Sabrina has never spoken a word in front of the camera. The BBC will remain a government-chartered corporation without commercials but after Sept 22 it will have to compete for viewers with the new commercial telecasting firms operating under a new government agency, the Independent Television Authority.
A related pair of shots of a 19-year-old Sabrina with her favourite brooch - 5 January 1955
And for the first time on any internet, we have the full-figure version of this young Sabrina pic
The white shorts curtain shoot
The 1962 mirror
Sabrina in Melbourne 1958 - 1959
Sabrina sitting in hairdresser's salon having hair styled by Lionel Gell .
Wording: "Invitation. Sabrina open Lyric Salon of Ladies Hair Fashion, Tues. Feb. 10 3.30 to 6.30 p.m. Cocktails. 1st Floor, 77 Victoria St. C1. Lionel Gell".
6 pins visible, holding down original copy.
Sabrina's hair red on negative. 1959
---
Enjoy several pictures of Sabrina in the Dark in Melbourne, 1959
(Arts Centre, Melbourne)
Like this...
The "round strap dress"
Upgraded June 2016
Upgraded 3 April 2015
The caption in one copy says: "Sabrina with her good looks and striking figure is tremendously popular wherever she appears.
She has made many TV appearances and her presence on a show ensures its success."
The "foto" shoot
The Sparkledress series

What I call the 'claw dress'
Sabrina in (what I call) her 'claw dress' featuring feathers, including Vegas 1962
Come and Make Love to Me

This series is named after the title a magazine used in an article that featured one of these images.

These come from the Fan Magazine .
Coy
One of my favourite Sabrina poses.These come from the Fan Magazine .
Fruity Hat
Sabby certainly loved her hats (and doorways, apparently)
These come from the Fan Magazine .

From Other Hat Sources...
All original content copyright © nylon.net
All Rights Reserved.
This page was last modified: Wednesday 2023-06-28 13:41
How you can support Sabrina .
Created: 23 August 2012
Last Changed: Wednesday 2023-06-28 13:41