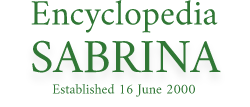 Contact me at Encyclopedia Sabrina
Come and Make Love to Me
Foto-rama, Vol 6, No.10, February 1960
As a London character who tried to give Sabrina a hard time learned, this big little girl packs a mean wallop! There's muscle in her 42-26-37 frame!
"When I do my act, I usually ask someone from the audience to come up and join me in a song. I got fooled - a man joined me, but he wasn't about to sing!"
"I thought he was just joking around, but when I felt his hands, I knew I'd have to get away from him - that I did do!"
What does a girl do when she's singing on stage, invites a member of the audience to join her, and then finds that the man who has joined her has no real intention of singing, but much intention of smooching?
This happened to Sabrina recently in London. Here's what she says about it:
"I was doing my act the usual way. When the fellow came up on stage to join me, he put his arms around me and kissed me hard on the mouth.
"Unfortunately, he just wasn't my type"
I thought he was joking, but obviously he had serious intentions.
"He started to kiss me; everyone screamed."
I was petrified and ran off the stage as soon as I could get away from him."
The man who performed the might deed? He's still smiling quietly to himself, somewhere in London, lucky fellow.
"Looking back, it was a funny situation"
"At the time, though I felt like crying"
Page Created: 20 Sep 2005
Last Changed: Thursday, January 14, 2016 1:58 PM
All original content © nylon.net 2008