There were many odd things about our Sabrina.
Here are some of them.
---
5 March 1958 - Bulletin and Scots Pictorial
A tall, broad-shouldered man walked into a Glasgow fashion shop the other day and asked to see evening gowns. "What size?" asked the assistant.

"I want one for myself," was the reply. Then he explained that he was going to a fancy-dress dance disguised as Sabrina. He'd already ordered a blonde wig but hadn't been able to hire a dress that fitted and so he'd decided to buy one.

He went into a fitting-room and calmly, began trying on dresses. But none of them would fasten on his broad frame and so the assistant advised him to try a shop which specialises in outsize fashions. Somehow, I don't think he wil| have found any Sabrina-type garments there!
---
11 Feb 2023
Sabrina is said to have inspired the 2023 TV show Funny Woman . Thanks to Beth for the tip-off.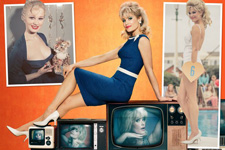 FUNNY GIRL - How blonde bombshell with 41inch boobs dubbed 'Britain's Marilyn Monroe' inspired Gemma Arterton 's new show Funny Woman

by Mike Ridley. Published: 8 Feb 2023

BEAUTIFUL women weren't meant to be funny too – or so said received wisdom in the sexist showbiz world of the 1960s.

It's a concept that Bond girl Gemma Arterton sets out to challenge in a new Sky sitcom which she has produced and starred in, and starts tonight.

Gemma takes on the sexism of the 1960s in her new comedy Funny Woman.

Funny Woman is based on the 2014 Nick Hornby novel Funny Girl .

That in turn was heavily inspired by Blackpool beauty queen Norma Ann Sykes, whose Marilyn Monroe looks and 41in chest often overshadowed her comic talents. Gemma... said: "We've got it running through our series, this thing of, 'Well, you can't be funny and attractive,' which is an outdated notion now, especially in the last ten years, but it wasn't for a very long time. Society put women in boxes like that." In the new series Gemma plays working-class Barbara, who refuses to audition for the Carry On films because she doesn't want "everything to be about my knockers".

Her dodgy agent is played by Gemma's St Trinians co-star Rupert Everett , who, in his combover hairstyle and fat suit, tries to pigeonhole Barbara as a blonde bombshell. Gemma, 37, who says some industry snobs thought she was "common" because of her Kent accent, said: "I connect very much with Barbara. Downright lechery "It's a character that maybe people would not expect me to play because they think I play all these demure, strict people, but I'm not like that at all, I'm really, really silly. I love being funny and love making people laugh. "And she's from a working-class background and all of this other stuff that runs through the series, about class and all of that."

Funny Woman, set in the 1960s, is billed as the story of "a force of nature" from Blackpool who takes London, and the world, by storm. While making the show, Gemma met Nick Hornby, who told her he was inspired by real events and real people. One was Norma Ann Sykes , whose incredible figure — and a change of name to Sabrina — turned her into a global sensation...

(The rest of the article is just an unattributed summary of my site)

In episode 1, keep your eyes peeled for...

- at 6:21 - the shop floor-walker's name is given as "Miss Sykes" - Sabrina's real name.

- at 12:18 - this subtle nod to Sabby.

- at 24:02 - "I could've sworn you were Sabrina" - even though the leading lady has none of Sabrina's beauty or physique.

- at 32:03 - a photo of Sabby appears on the agent's wall

---

Another review is from Christopher Stevens in the Daily Mail

Remember Sabrina? All but forgotten for the past half century, she was a glamour star back before The Beatles — a self-styled 'dumb blonde' with more front than Blackpool.

If her name means anything now, it's as a cheeky nickname for the twin chrome bumper cones on classic sports cars. If you don't know what I'm talking about... use your imagination.

In the mould of British films stars like Diana Dors, Sabrina is the inspiration for Gemma Arterton's bubbly aspiring actress, Barbara, in Funny Woman (Sky Max).

Barbara is quick with a quip, irreverent and sarcastic. She also has the double-D advantages that made Sabrina so briefly celebrated. No wonder the post-war showbiz establishment hasn't got a clue what to do with her.

Funny Woman, with a stinging script by Morwenna Banks, shamelessly revels in all the raunchy sexism of the 1960s while mocking the men who assumed every attractive female figure was topped off by a head full of air.

In the mould of British films stars like Diana Dors, Sabrina is the inspiration for Gemma Arterton's bubbly aspiring actress, Barbara, in Funny Woman .

'The dialogue is bursting with note-perfect lines like that, many lifted from Nick Hornby's 2016 novel' [Funny Girl]
---
20 Sep 2018 - I can't remember how many times I've been asked, "Do you have a picture of Sabrina riding a baby elephant while carrying a rifle and a camera?"
Oh. Now I remember. Zero.
---
15 Sept 2017 - According to the Aberdeen Evening Express - 8 May 1959 (page 8) - the 22nd Special Air Service referred to a "terrible, twin-peaked mountain" in Oman as " Sabrina " when their operation swept fanatic tribesmen away.
Sabrina was known for the self-caricature she added to her autographs...
---
13 February 2017 - there is a tetraploid hybrid ryegrass called 'Sabrina'. Originally bred in the U.K. apparently it's tentatively recommended for thickening up old perennial ryegrass stands in heavy soils and adding to dry land or irrigation pastures.
Where else but Encyclopedia Sabrina would you get vital information such as this?
OK. Due to underwhelming demand, here is an abstract of the article.
An Italian ryegrass (cv. RvP), a tetraploid hybrid ryegrass ( Sabrina ), and an early heading timothy (Scots), were compared under 3‐cut silage plus aftermath, 5‐cut early bite‐hay‐aftermath and 6‐cut simulated grazing managements over 2 harvest years 1974–75. Annual nitrogen applications totalled 375 kg ha−1 N for the silage and grazing systems and 325 kg ha−1 for the early bite‐hay‐aftermath treatment.
So now you know .
---
3 February 2017 - a display of "Weird & Wonderful Sydney" (14 August 2000 - 14 January 2001) included oddities such as
Adagio dancer Dorothi Neal and her poodle Fufi"
the Goggomobile
an amphibious car and
Sabrina , actress and nightclub entertainer.
Hey - hang on one wombat-kicking minute! That's not nice!
---
- found on the intertubes...
God bless university students. They are sure to commemorate Sabrina in odd and interesting ways. Take, for example, this extract from a revue skit by the Adelaide University Footlights Club probably from around 1959...
VENUS OR BUST.
SCENE I
Before Tabs. 6 men seated at a table in middle of space-ship. 2 are dressed as students - duffle boots and desert coats etc. Others in belted raincoats felt hats - plain-clothes dick style.

SONG.
Sabrina came to Adelaide
Her welcome was terrific
Though Adelaide is stiff and staid
Her praises were prolific

They cheered and fussed, admired her bust
And gave her lots of money
This uproar just leaves us nonplussed
It's too stupid to be funny.

(Dialogue spoken to chords)

The bosom now the cult that's exclusive
The mind is being, ignored.
What is the use if her figure's effusive
And you're utterly, frantically bored?

On Venus we shall try our luck
And see what we can find.
All Earthly truck we've given the chuck
In the search for the girl with a mind.

For this astral trip we've saved and planned
And it's purely and simply inspired
By the hope of our band that we'll find when we land
A girl who won't make us tired.

(Dialogue)
How In you find the thought of a nice little Venusian?
One whom you can embrace without suffering a multiple contusion!

And if on Venus we can track
These girls that we are needing

We'll take them back to fix the lack
With pre-selective breeding.
Students again... this time at Wellington Uni, New Zealand. On 14 September 1959 their 'Salient' magazine invoked Sabrina's name and urged uni chancellors to 'keep abreast of the times'.
---
2 February 2017 - The Aberdeen Evening Express reported on Thursday 22 September 1955 that...
This exotic evening shoe in dull corkette calf, with jewelled high heel and vamp trim, is known as "Sabrina."
It's part of Rayne autumn and winter shoe collection for 1955.
A team has been sent out to find an image of these exotic boots. Sadly, the good people at Rayne have no record of this Significant Sabrina Event.
Newsflash - 8 September 2017. Patience pays off. The team has found the image of the Rayne shoes...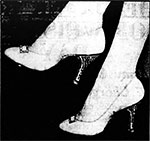 ---
9 December 2016 - Keith kindly wrote to point out that the rear Wipac Type double filament motorcycle taillight is known as a 'Sabrina'
Can't imagine why...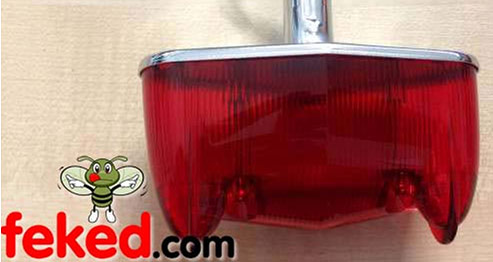 ---
This is another case of "Was the cartoonist thinking about Sabrina?" From '66' magazine in 1960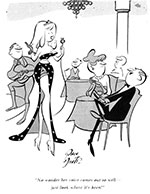 The caption reads: " No wonder her voice comes out so well - just look at where it's been!"
---
Found in 2015. Who knows whether this is a reference to our Sabrina, but this Barbie doll dress pattern from 1969 bears a striking resemblance.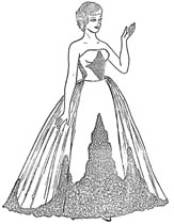 Or it could be the curse of Sabrina-Spotters everywhere:
the interfering 'Sabrina' from the 1954 Hepburn movie. Grrrr.
---
1959
Sabrina beats any cow!
The Journal of the Sydney University Veterinary Society published their 21st edition of Centaur (G.J. Stratford, Ed). Page 24 recalled:
Who'd be a film star? Especially a busty blonde one? Well, Sabrina is, and Boy! did she get it. We had to pick on someone, and as Sabrina seemed to be fronting up well, we thought she'd make an ideal subject.
---
17 October 2013 - some Sabrina fan art by Rayart40, entitled "Norma Sykes or Sabrina and a 1948 Oldsmobile"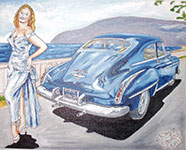 ---
20 November 2011 - In the Sydney Sun-Herald on 9 March 1959.

AT Badgery's Creek public school the other day the teacher in charge asked, during a geography lesson, the name of a Mediterranean island beginning with the letter S.
The answer was Sardinia.
One bright boy had It on the tip of his tongue but finally blurted out "Sabrina"
---
3 November 2011 - Found on Amazon. Sadly, it was no longer available.You however, buy the 8"x10" photo it comes from.
This Photo Jigsaw features an image chosen by PA Photos. Estimated image size 432x305mm.
Bespoke 300 Piece Jigsaw Puzzle 17x12 (43x30cm). The jigsaw is delivered bagged and on a back board making a superb gift. Also supplied are a re-sealable bag, a photo example of the image and a self assemble flat packed box for storage
Image Description: Shapely but silent Sabrina and singer David Whitfield meet at the London Palladium as they rehearse for the Royal Variety Show attended by the Queen.
Manufacturer recommended age: 8 years and up
I imagine there are two pieces in that puzzle that are inexplicably much more worn than their neighbours.
---
31 October 2011 - From The Australian Women's Weekly , 17 September 1958 (page 2)
"Beverley Nicols, whose piece of entertaining nostalgia about the twenties is featured this week, recently visited Norman Hartnell's salon in London.
Leafing through some of his old albums of Charleston era fashions, Hartnell said:
" If Sabrina had lived in those days, she would have been obliged to stay indoors ." Explaining this, Nichols recalls: "The dresses of the twenties involved the designers in an arduous struggle against nature. It was the battle of the brassiere in reverse; and half the dressmaker's time was spent in making intricate contraptions of canvas and elastic to be fitted tightly over any busts that showed signs of intransigence."
---
31 October 2011 - From The Australian Women's Weekly , 16 September 1959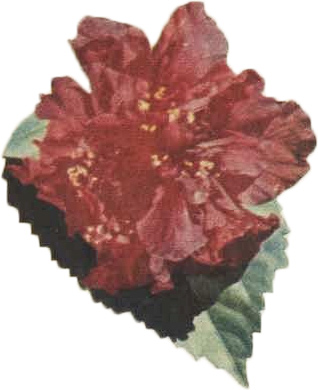 A new double rose-red hibiscus rasied at Lasscock's Nursery, Lockleys, Adelaide. Named after the English actress, it is a new development of the Mrs George Davis and Lambertiana hibiscus varieties.
More information was found in September 2014.
LOCKLEYS PRIDE
The hibiscus "Pride of Lockleys" is on the register of the Australian Hibiscus Society and other societies overseas, but it is not commonly sold under that name in Australia.
Stan McPhee worked for Lasscocks nursery at Lockleys and Modbury for many years. He told the West Torrens Historical Society (March, 2008) that "Pride of Lockleys" was a cultivar of the Lasscocks nursery in the 1950s - the result of a particular bush of hibiscus named "Mrs George Davies (a double-bloomed pale pink variety) which bore a striking deep cerise-pink double bloom. From this Lasscocks propagated a new variety which John Lasscock, the owner of the nursery, named "Pride of Lockleys" after the suburb where the nursery was situated on the comer of Henley Beach Rd and Mellor Ave, Lockleys.
Stan McPhee said that this hibiscus did not gain the support that John Lasscock felt it deserved, so he invited the British actress Sabrina to re-launch the Hibiscus under the new name of "Sabrina". Under the new name the plant was an instant success and is still very popular today.

Sabrina launched the "Sabrina" hibiscus at Lasscocks on February 22, 1959, attracting a large crowd to the nursery.
Stan McPhee says that John Lasscock flew Sabrina out from England to Adelaide at his own expense for the launch of the hibiscus, but contemporary newspaper reports suggest Sabrina was already in Australia as part of a theatre revue tour.

Note by John Andrewartha, information from Dave's Garden, and Wikipedia. Also from information supplied by the West Torrens Historical Society
Sabrina flogs a hibiscus...
Sabrina was associated with several Odd Things . And Sabrina advertised things . This hibiscus ad was one...
For charm and beauty it's hard to beat SABRINA... the New Double Red HIBISCUS

Our photograph of world famed TV star, Sabrina, christening the sensational, new Hibiscus named after her.


Developed by and exclusive to Lasscocks "Sabrina" is a double rose-red; it is a very strong grower and is really outstanding.


"Sabrina" is in limited supply — orders aft now being taken for November delivery.


Price 12/6.
---
28 September 2011 - Just when you thought Sabrina had appeared in every medium known to man, we get the beautiful Sabrina comic strip by Paul O'Connell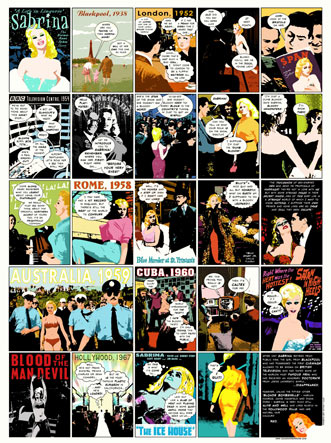 ---
27 January 2011
An email from Ian...
Hi,

This is possibly going to sound a bit odd!

I am making a documentary about the RAF's formation aerobatics team from the 1950s, the Black Arrows. I have interviewed almost all of the surviving pilots and, when talking about the aircraft they use, the Hawker Hunter, they have all mentioned a feature of the plane which they lovingly referred to as Sabrinas. These are two shell case collectors that can be found at the side of the fuselage and they look remarkably like a well developed bosom! Hence they were nicknamed Sabrinas after the lovely lady herself.

My question is whether or not it would be possible to use a photograph of Sabrina to support the story. It would be shown for between 5 and 8 seconds. The photo on your Sabrina home page would be perfect.

Perhaps you could let me know if there is any other channel I should be going through or whether you are able to approve this. There would of course be a full credit in the documentary (please advise how this should appear). The documentary is being released in the next three weeks and will be on DVD only. We don't expect to sell more than a couple of hundred copies but this is more a case of preserving some history rather than making a profit (although that would be nice).

If you could let me know either way I would be really grateful.

Very best wishes,

Ian S
Anything to support the cause! The pic Ian was referring to was this beauty...

---
31 Jan 2017 - according to www.airvectors.net/avjavlin.html , pilots of the British fighter plane Javelin FAW.1 "complained about the type's poor endurance, and so dual flush-mounted belly tanks with a capacity of 1,137 liters (300 US gallons) each were developed. These tanks were known as "bosom tanks" or "Sabrinas", the last being a nickname commonly applied to brassiere-like fixtures on British aircraft of that era -- in homage to very busty UK pinup girl / starlet Norma Sykes AKA Sabrina."
---
4 September 2010
Sabrina and husband Harold Melsheimer were involved in legal action related to "commodity straddle transactions" against the American tax office. In this page , BARRY S. GLASS AND SHIRLEY P. GLASS, ET AL. PETITIONERS v COMMISSIONER OF INTERNAL REVENUE, RESPONDENT, in 1986 , there is a 1206 page document which lists " Harold L. Melsheimer and Sabrina Melsheimer , docket No. 11780-80" as petitioners in a London Metals Exchange matter - with 842 other petitioners.
One of these days I might spend the time to find out what was going on there! It was dated 9 years after their divorce in 1977. See more incidents of Sabrina in Court

This is not really Sabrina... or is it?
---
1959 BUICK INVICTA 445 HARDTOP RHD OWNED BY SABRINA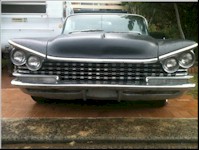 Up for auction is this incredible piece of automotive history. This RIGHT HAND DRIVE 1959 Buick Invicta pillarless hardtop was originally owned by legendary British screen starlet " Sabrina " during her extended stay in Australia in 1959.
It is rare to find a car like this in right hand drive. It has been fully registered for many years in NSW, and was even used as a wedding car up until about 2003. It has been off the road since then.
This was one of the most advanced cars available in the late 1950s. It is fitted with the famous "Wildcat 445" V8 with Buick's "Dynaflow" constant velocity transmission.
In 1959, only a movie star could afford a car like this, especially with all the optional extras it has! It is fitted with factory air conditioning, power seats, power windows, power brakes, power steering and station-seeking radio. It was originally Lido Lavender metallic, and looked every bit the movie star's car!
The Invicta was one of the first muscle cars...it combined the shortest and lightest chassis with the biggest and most powerful engine. The Wildcat engine is actually 401 cubic inches. The "445" refer to the massive 445 foot pounds of torque.The car runs well, drives well and stops well.
Interior is very tidy. All original metallic bronze upholstery - as sat on by Sabrina - is still in remarkable condition.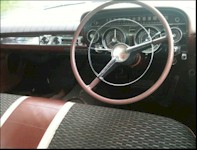 I will happily work with the transport company of your choice to arrange shipping anywhere in the world. I would prefer to see it stay in Australia, but will let it go to any Sabrina fans anywhere in the world.
In the end it sold for $7,900 after 38 bids.

---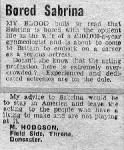 'My blood boils to read that Sabrina is bored with the opulent life as the wife of a £100,000-a-year gynaecologist and is about to come to Britain to embark on a career as a serious actress.
Doesn't she know that the acting profession here is extremely overcrowded? Experienced and dedicated actresses are on the dole.
My advice to Sabrina would be to stay in America and leave the acting to the people who have a living to make and are not playing at it.'
M.Hodgson,
Field Side, Throne,
Doncaster.
---
12 March 2010
Thanks to Sir David Jackson , we have a cartoon from Span Extra - Winter 1958. Thanks again, David!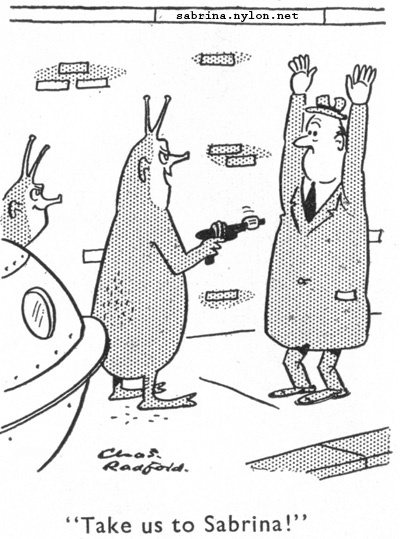 ---
14 February 2010
Have you (admit it - I know you have ) ever wondered how Sabrina is related to Kevin Bacon ? Wonder no more. Thanks to the spooky oracleofbacon.org we now know the truth... Sabrina has a Bacon number of 3!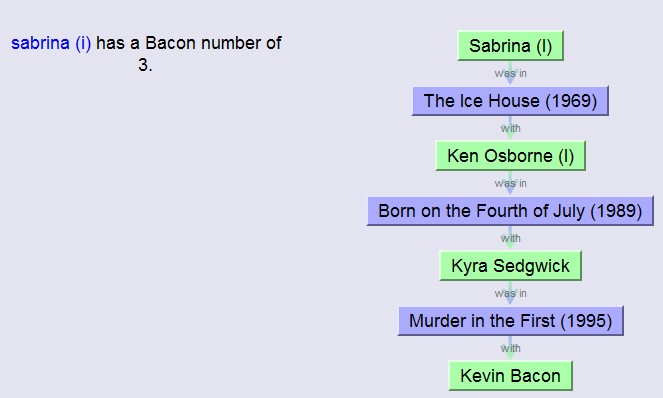 ---
6 September 2009
The Guardian , Wednesday 29 July 2009
Why is Christopher Biggins changing his name?
The veteran panto star has followed in the footsteps of Prince and Sting, and says that, henceforth, he will be known simply as 'Biggins'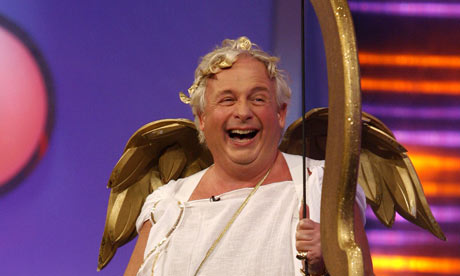 "Madonna, Prince, Sting, Bono, Seal, Dido, Cher, Eminem, Biggins, Pink, Beyoncé, Nelly, Morrissey. Hold on a second. Biggins? That's right, Biggins. Or rather the artist formerly known as Christopher Biggins. The 60-year-old actor is the highest-paid panto star in Britain and now, perhaps to prove he's a genuine A-lister, wants to be known only by his surname.
"I love being like Marilyn or Sabrina or Madonna," Biggins said earlier this week, "and my breasts are bigger." Nice.
---
4 July 2009
Hi, my name is Colin S from the newspaper, the Loughborough Echo, Leicestershire, UK. It's just a local paper. I'm looking for information on Sabrina, Norma Sykes. In Loughborough we have a flowerbed that is called Sabrina's Bust and I have found out it was named after Norma. What I need to find out is why? Did she visit Loughborough? What is the connection? If you can help I'd appreciate it.
Regards Colin
---
Maddeningly, on the back of this photo of Sabby visiting polio victims in hospital, was an article on Sabrina - these remnants were the only words left after the picture had been cut out... It must be Australian as Lillian Roxon was an Aussie journo, but where and when it was published remains unknown.
Continued from page 3
SABRINA beats JAYNE MANSFIELD to the punch in the opening round of The Battle of the Blondes - with LILLIAN ROXON the referee.
... read about the battles of the
(?) overseas. Now we are about to
(o)ne on our own doorstep.
... Aussies are going to have the
(?) for what promises to be - in a
(?) sort of way - the brawl of the
(?)
(The contes?)tants? On my right, SABRINA
On my left, JAYNE MANS(FIELD)
(Their weapo)ns? Sharp, well-manicured claws
(and even shar)per tongues.
(?) contest everyone is looking for-
(?) the contestants are so evenly
(h)as been going on for a long time,
(J)ayne first arrived in London a
(few?) years ago for a film
(?)t as Sabrina was at
(?) her career.
(?)ntinue right here in
(?)en Jayne arrives for
(?) premiere just as
(?) again, is at the height
(?) with Australian fans.
(Sabrina) well. And let me
(?) no one steals Sabrina's thunder
(?)y with it. I don't know Jayne
(?) I'll give her a little friendly
(DON')T make an enemy of Sabrina.
I adore Marilyn. I am one of her greatest
fans. And now you're trying to make me say
I'm jealous of Jayne. It's too much. Why, I've
never even met the girl.
That is true. Although Jayne and Sabrina
have been in the same place together several
times, they have never met. Some rumors said
Jayne refused to meet Sabby. Others said it
was Sabby who would have nothing to do
with Jayne.
What does Sabby say? "We were supposed
to meet in London. A journalist, Arthur Helliwell
arranged it. I turned up. Jayne didn't.
"But", Sabrina added graciously, "I think
it's unfair to say she was being catty. When
you're in show business your time is not your
own. Being a big star, I know that. If Jayne
didn't come, it must have been because she
was too busy with important business
commitments she couldn't have avoided.
Does Sabby think Jayne will be too "busy"
this time? . . . "Probably. But I would like
to meet her very much. I'd like to see what...
(?)ness but because of their spectacular me(asurements).
I'll repeat them - 41-18-35. "We have (completely)
different figures," said Sabrina. (?)
both girls fight it out for the title. Que(?)
the Sweater Girls and both girls have wai(sts so)
tiny that they almost disappear.
When they started off neither girl (could?)
really sing or dance. Now Sabrina sings (and?)
dances will enough to be paid 1000 pounds a (week?)
to appear in a variety show. And Jayne h(as an?)
equally comfortable living in movies (?)
much the same thing.
"The one thing Jayne and I do have in (common)
is a flair for comedy," said Sabrina. (?)
couldn't imagine Jayne playing a serious (role?)
in a movie and I'm the same. I (have?)
no ambition to play Lady Macb(eth) (?)
According to people who (know?)
them, both girls, in private life (are?)
quiet, friendly and natural. (There?)
is nothing of the "Sex Queen" a(bout)
either of them - away from (the)
bright lights.
"Ooh, you'd better not say (that?)
in the papers," said Sabrina. "I want p(eople?)
to think I'm the most glamorous creatur(e on)
earth, not just a homebody. You stop (?)
Your're trying to (?)

On the back - another frustrating article cut off ; an unusual article by Annie, Sabby's mother. These are the only extant phrases, and no indication of the name or date of the publication, but it would have been Australian, probably 1959]. Extrapolated text is in parentheses; good-guess text has a question mark after it.
If you see her, you will just see a girl with a very nice figure and a full bust. She is a very tall girl, and can carry these measurements gracefully.
The waist slopes in very gradually...
she is thrilled by admiration and flattered that people like her. People admire her blond hair which she always does herself and is...
SPOKE THE DREADED WO(RD) POLIO
Other little girls have th
years of their lives when they
teenagers. My daughter, at the
11, was a cripple.
They took her away in an amb(ulance)
and wouldn't let me come with h(er)
thought of her as a keen swim(mer)
beautiful, healthy child - and I
She was in a plaster cast fo(r)
months. The plaster went all th(e)
to the hip and she could hardly m(ove?)
When the plaster finally cam(e off?)
her leg was quite black. She l(ooked?)
at it and cried and cried. Fo(r)
months she refused to get out of (?)
For the next three years I tri(ed to?)
keep her spirits up, but it was a (?)
time, seeing doctors, having opera(tions)
moving in and out of hospitals.
When she was 16 she decided (to go?)
to London - not to seek a fortune b(ut to)
get more help for her leg.
Even today she is far from c(?)
We have been to three Australian (hos)
pitals, and each time Sabby start(ed to)
cry.
"Let's get away from this gl(oomy?)
place," she'd say.
Recently she did a show for
crippled children at a hospital. (?)
way though she broke down. "M(um?)
she said, "I just can't look at (all these?)
poor children."
It would take months of plastic (surgery)
to fix up Sabrina's scarred ankle .
That's why she'd rather wear (long?)
skirts and try to forget it.
Because she didn't have no(rmal?)
boy-girl friendships in those impor(tant)
teenage years, Sabrina is still very (much?)
of a baby about love and men. (The?)
publicity builds her up as a glamo(rous)
sex queen, but actually she is not
---

26 April 2009 - A new odd thing about Sabrina : Sabrina in Mandarin calligraphy! Or so they say! I'd welcome any Mandarin Speaker to confirm the translation. I'd hate it to actually say "Sablina" or "Toilet Unavailable" or similar :-(

---

28 Jan 2008 - Keith from Classic Car Mart (classic-car-mart.co.uk) wrote to ask...
This month, we've got a feature on a 1974 US-spec MG BGT. Nothing unusual about that for a classic car mag - until I tell you that this one is called the 'Sabrina' model thanks to its rubber bumpers that stick out. Now, to illustrate this, I could do with getting hold of a couple of hi-res images of Sabrina Duncan that show off her, er, sticky outy bits! Actually, a couple of those, and a couple of her looking like the glam Fifties screen starlet that she was. So, do you think you can help?
Of course I could help.

---

4 Mar 04 - A 1960's lorry made by ERF Limited of Sandbach Cheshire was nicknamed 'Sabrina', reports Carl Johnson. It had quite a curvy bonnet.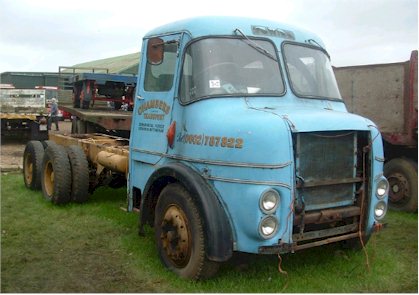 ---

Received an email from a person from the Institute for Cultural Research at the University of Western Sydney! Perhaps there's a major new investigation into the cultural importance of Sabrina ?

---

The Sabrina Trophy
Cleveland Park, Middlesbrough in 1964 - riders competed for The SABRINA Trophy. The photo shows winner Ivan Mauger, Middlesbrough Promoter at the time and Sabrina (fashion model)
Ivan Mauger OBE MBE says: This is from when I won the Sabrina Trophy at Middlesbrough in 1964.
Reg Fearman watching closely!
Upgraded 2015. "Reg Feannan. Dave Younghusband, Ray Day. Eric Boocock. Blue Scott. Alan Butterfield. Clive Hitch. Slant Payling with Sabrina, she's the one in the dress." Thanks to http://www.defunctspeedway.co.uk/middlesbrough-speedway.htm
---

20 October 07 - Found when Googling 'Norma Sykes' at Nelson Evergreen's blog . In production by Neil Evans is a comic strip starring Sabrina! It says...
Character studies for a forthcoming six page comic .... Sabrina (aka Norma Sykes) was a frighteningly well equipped glamour model who landed a non-speaking cameo on the UK's Arthur Askey show in the late fifties and became, for a time, very, very popular indeed. The aggressive make up and upholstery make for a caricaturised, even frenzied sort of take on womanliness, but Norma was clearly having the time of her life, and oozes bygone charm.

10 May 2010 - The comic book story continues! Paul wrote to say:
Hi Mark,

My name is Paul O'Connell. I'm a British comic strip artist.

You might remember some time ago you posted something on the Sabrina site about artist Nelson Evergreen starting work on a Sabrina comic strip?

Well, that was because years ago I had come across your site and had thought the whole Sabrina 'phenomena' might make for an interesting, off-beat comic strip. So I had written a script and asked my friend Nelson if he would like to illustrate it, which he agreed to do. But then not very far into the drawing he decided he didn't fancy it anymore and the idea was shelved (he much prefers drawing monsters and kids stuff!)
Recently, however, I was invited to produce a single page comic strip for a comic newspaper due to be published in July that would feature twenty or so artists all with a page each. In thinking what I could do for this project, the idea of a Sabrina strip returned to me. And I decided that I would have a go at re-writing the script for the strip and produce it in my own style, which initially I just didn't envision for the story.
But it's an approach I've used previously with biographical comic strips such as this one about John Coltrane: http://www.soundofdrowning.com/coltrane.html . The comic newspaper that it is intended for is not a profit making endeavour. Believe me, there is no money to be made from the kind of comics that I make! I do what I do for the fun and the love of it only. The way the newspaper project will work is that all the artists involved would pay for the printing of the newspaper themselves, each of us chipping in a share, and then we would each receive a proportional number of copies in return which we can distribute however we like. There will be 7000 copies in total. Probably the majority will be given away free and as is the nature of newspapers, read by more than one person.
I guess my question to you is, if the sabrina site is credited on the strip, are you ok with all this? Knowing that you'll at least get your website promoted alongside the strip to several thousand people in the UK? I really really hope so! I tried to keep as close to the facts and timeline of the 'Sabrina story' as you have so meticulously researched but there are a few liberties taken which I hope are forgivable.
But I'm definitely coming from a 'fan' perspective and the whole thing wouldn't exist without your work so I am obviously very grateful to you and want to give you credit. I would be happy to credit you personally as a co-author if you'd like that too. So, here I am most humbly seeking your thumbs up. I look forward to your response with fingers crossed that it is a positive one.
Best wishes, Paul --
Paul O'Connell
oconnellp AT fastmail DOT fm
---
Well, here at the Sabrina HQ, we were all abuzz with excitement. We had often wondered what became of that fascinating Evergreen comic idea. Today - 10 May 2010, we received copies of Paul's great tribute to Sabrina - in colour (size: 3.5M) and greyscale, which Paul said he actually preferred (size: 2.0M).
Thanks, Paul! They're great.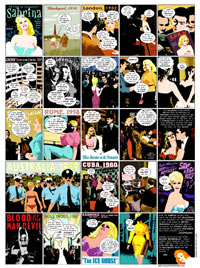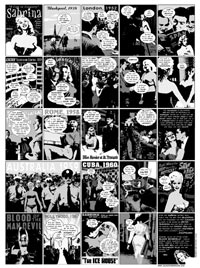 ---

15 March 07 - Would You Believe - in March 2007 this photo sold on eBay for... $US26.80!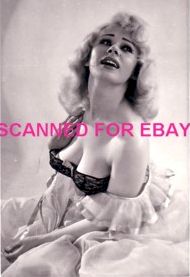 ---

12 March 07 - Sabrina has been appointed the patron of the Vauxhall Victor Club
---

5 January 2007 - Looking for the 1957 Sabrina caravan ad ?
---

Now this is something from which I get unusual and perverse pleasure. Sadly, their page has been eaten by link rot since I found it, but you can enjoy it still courtesy of the Internet Archive's Wayback Machine .
It is chilling and fitting that another of 1959's honorary recipients, Dr Jonas Salk , developed the first vaccine for polio from which Norma Sykes suffered as a child.
From the University of Leeds - Honorary graduates page
The University has conferred honorary awards on a host of individuals from the worlds of science, art, academia, industry, politics, medicine, entertainment and many other fields.
1959
Professor Alfred Ewert (DLitt)
Sir Edward Hale (LLD)
Earl of Harewood (LLD)
Sir George Raymond Hinchcliffe (LLD)
Dorothy Crowfoot Hodgkin (DSc)
Sir Rudolph Peters (DSc)
Jonas Edward Salk (DSc)
Sir Phillip Manderson Sherlock (LLD)
Sir Harold Smith (LLD)
Norma Sykes (DLitt)
Woohoo! Doctor of Letters!
---

I guess you can finally say you've arrived if you're on a phonecard! This was found on eBay on 14 Jan 06... And yes - I now own it.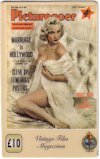 Sabrina - Vintage Film Magazines Series - £10 unit Phonecard.
This card was issued by Unitel and each card is limited to an issue of 1,000.
It is unused and the Reference Number is UT0027.
---

The Samba Sabrina ? You bet! She was a cultural icon and here is the proof! (1 July 2005) You can enter the competition to record the Samba Sabrina !
---
Found 15 April 2005. A really weird one!
The caption reads: 1st May 1965: A wax head of Frankenstein and torso of film starlet, Sabrina at Gem's (Wax Models) Ltd, in the Portobello Road area of west London. The company makes store mannequins and models of all kinds for exhibition all over the world.
---

The Sabrina Society?
Amherst College in 1963 must have been really keen on Sabrina... or maybe not...


Click to enlarge
---

Sabrina Trademark confusion? From a page entitled TRADE MARKS LIKELY TO DECEIVE OR CAUSE CONFUSION .
4.1 For the ground for rejection to exist, the ordinary person should reasonably expect some connection between the organisation or person and the goods or services for which registration is sought. See, for example, "Sabrina", Charles Kidd & Co's Application., (1959) 24 AOJP 1988. In the case of the name of a well known person there should be a good reason why a connection would be attributed by the appropriate public between the goods or services and the person.
In the above case Sabrina was a famous entertainer renowned for her outstanding physical attributes and the product for which registration was sought was a bust development cream. It was held by the Registrar that an ordinary person would believe that the goods were endorsed by the artist.
(Found and added 21 April 03)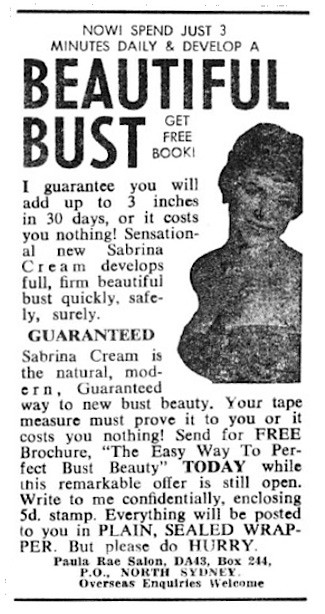 Advertisement found (30 Sep 2011) in Adam magazine (Australia), September 1964
---
---

Sabrina was again cited as a legal precedent in
FEDERAL COURT OF AUSTRALIA, McCorquodale v Masterson [2004] FCA 1247
(i.e. the nasty "Lady Diana's estate vs Franklin mint" saga) which says...
In Sabrina Trade Mark , the opponent was a well-known British actress, who worked under the name "Sabrina". She opposed the registration of her name as a mark for a cosmetic cream for bust development. The objection arose under s 26 of the Trade Marks Act 1955 (Cth), which required the consent of a living person where the name of that person was used as a trade mark. The applicant for registration submitted that Sabrina was not the name of a "living person" for the purposes of this provision. As to this, the Deputy Registrar of Trade Marks said, at 1990:
I am satisfied that the English actress and stage personality Miss Norma Sykes was well-known by her professional name "Sabrina" in Australia before application 137,460 was lodged. I am satisfied that the average member of the Australian purchasing public would, when seeing the word "Sabrina", immediately think of the stage personality who would be far better known by the word/name "Sabrina", than she would be as Miss Norma Sykes. I consider also that the average purchaser would, when seeing the name "Sabrina" on goods of the kind claimed by application 137,460, wonder whether the goods had any association with the stage personality whom they knew by the name "Sabrina". I think that many purchasers might consider that the person well-known by the name "Sabrina" had some direct association with the goods claimed by application 137,460. The motive of the applicants in this matter in adopting the word "Sabrina" as their trade mark would not have any relevance for [the] purposes of this decision.
Added 21 Nov 04
---

How old is Sabrina? Without wishing to invade a lady's carefully-chosen chronological boudoir, it is vital that we know. There were many contradictory and inaccurate hints and statements in magazines and articles, but the debate about Sabrina's birthday and age has finally been settled conclusively. Sabrina herself settled the day as May 19, and David J provided the final piece of the puzzle.
---

Where does Sabrina now live? After lengthy doubt about the continent she lived in, we now know she lives in North Hollywood thanks to the Mail on Sunday article . Follow the exhaustive amateur efforts (using only the internet) to narrow down the possibilities. (To protect Sabrina, her residential address is not published here.)
---

In July 2008, Martin of the Netherlands wrote to add...
More car-related Sabrina-stuff! As I am presently translating an English book on classic cars (into Dutch), I had to look up something in an MG book called "MG by McComb". There I read that the 1973 MGB got big rubber bumper overriders nicknamed, you guessed it, "Sabrinas". This is clearly the English equivalent of the Dagmars on American cars of the '50's, which were also nicknamed after a well-built tv-star. Kindest regards, Martin, The Netherlands.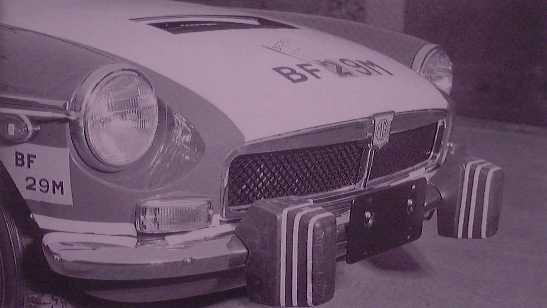 ---

Mike wrote... I thought someone else would have brought this up by now. Back in the mid to late 50's, when Triumph had its TR3 and TR3a sports cars, they made some LeMans cars with special engines. The engines were twin cam, and the cam drivers on the front of the engine were covered by huge protruding humps. Someone in the competitions department made some mention that it looked like or reminded them of Sabrina, and the engines have been forever known as Sabrina twin cams. 18 Feb 2003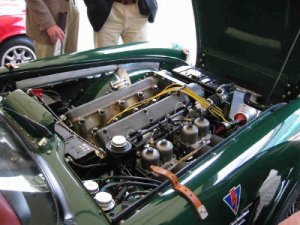 ---

And in the 4 April 2016 edition of the AMA's 'Australian Medicine' magazine (in the Motoring section - where else?) we hear Dr Clive Fraser discussing the MGB:
"And to add insult to injury, the beloved chrome grille was then replaced by a plastic bra modelled after Sabrina (aka the well-endowed Norma Ann Sykes) to meet 5 mph impact regulations."
I don't know about you, but I'd certainly like to try a headlong 5 mph impact into Sabrina and investigate the effects.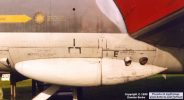 Hawker Hunter Sabrinas : F.6A XF832 at Coventry. These large fairings, known as Sabrinas after a 1950s pinup who also boasted a pair of curvy objects, collect used links from the cannon's ammunition belts. The two pipes towards the rear are where used cartridge cases are ejected."
( http://www.thunder-and-lightnings.co.uk/hunter/fuselage.html )
And here's another picture, courtesy of Lee Russell, who explained...
In the 1950's the Royal Air Force introduced the beautiful Hawker Hunter jet fighter into its Day Fighter force. The aircraft was armed with two 30mm cannon, mounted in the nose. In early versions of the aircraft the empty cannon shells were ejected from the plane as the guns fired. But there were problems with this because of the airflow around the ejection ports. The fix was to attach two streamlined fairings to catch the expended shells. The fairings, of course, were universally known as "Sabrinas". LOL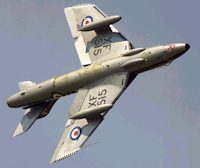 ---

A Sabrina Site contributor reported that :
Brian Hawes (deceased) used to create metal bust supporters (made by car mechanics) to hold her & push her out - she could leave this appliance on for many hours per day. Brian travelled with her to attach & release her from this construction.
Sabrina denied these allegations - of course!
---

8 July 2006 - It was believed that there was a road named after Sabrina, but it seems to have been adopted by her after the fact. The Wolverhampton Transportation Officer says:
I am unable to shed any light on the origination of the name for the road as the name was allocated by Tettenhall Urban District Council (UDC) in 1953, adopted by them in 1963 and when Tettenhall UDC merged with Wolverhampton Borough Council in 1966 it was formally adopted by them then.
Regards
Anthony Patten
Transportation Officer
Transportation Development
Wolverhampton City Council

If the road was named in 1953, it could not have been named after Our Sabrina. Alas.