Sabrina in Court
If you see this icon

click it to see the extra-large image - if you are a BOOBS member .
---
1956
24 August 1956 - the case about the Sheffield riot outside a tailor's store on 11 May 1956 is heard and adjourned until September so Sabrina can attend.
24 September 1956 - Sabrina appears in court to give evident about the Sheffield incident.
Sabrina, the blonde who became famous through being seen and not heard on TV, had to speak before a live audience yesterday - AND SHE MUFFED HER OPENING LINES.
She misread the oath when she went into the witness-box at Sheffield Court and was asked to take it again.
Sabrina was called to give evidence about an earlier "personal appearance" she made in Sheffield to open a clothing shop.
---
1958
SABRINA CAUGHT SPEEDING

LONDON, Saturday (AAP.Reuter) - Bosomy, blonde entertainer Sabrina was fined £2 yesterday for speeding in Constitution Hill, Green Park, London.

The 21-year-old Sabrina, who was charged in her real name of Norma Ann Sykes, also had her driving licence endorsed.

Sabrina did not appear in Court, but pleaded guilty and apologised for the trouble she had caused.

Police Constable Gordon Powell said she was travelling at 45 m.p.h.

When stopped, Sabrina said: "I didn't realise I was going that fast."

Her car registration number is S41—her bust measurement.
Another account in The Bulletin and Scots Pictorial said:
Sabrina's other vital statistic

Sabrina — Miss Norma Ann Sykes, of Hyde Park Square, London — was fined 40s at Bow Street yesterday for driving a car at 45 m.p.h. in London on April 2. She did not appear, but pled guilty.


Her age on the summons was given as: "Apparently 24." But yesterday her secret was revealed. She is 21.
---
1958
Sabrina is named as co-respondent in the divorce between Paul Carpenter and his wife.
The case was dropped before Sabrina could tell her side of the story.
Hear Sabrina discuss the trial in our interview .
---
1958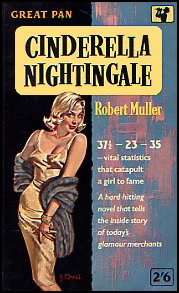 In 1958, Robert Muller's novel Cinderella Nightingale was released. Sabrina the author and publisher for libel and all copies of the book were withdrawn from sale (except for Australia where I found a hardback first edition!) Later, Sabrina took action to stop the filming of the book.
Read the whole curious incident of Sabrina and Cinderella Nightingale.
---
29 July 1958
London, England, United Kingdom - NORMA ANN SYKES escorted on her arrival at the Law Courts for her hearing on suing London publisher Arthur Baker Ltd. for alleged libel.
Read more of other times when Sabrina was in court .
Read more of what Sabrina was doing in 1958 .
Below, you can see how Sabrina was distressed by having to face more publicity and appear in court yet again ...
And here's the full image
---
5 November 1958 - Daily Express
Club owner accuses Sabrina

Cabaret star Sabrina will get a lawyer's letter today threatening her with legal proceedings.

She did not appear at the Don Juan Club, Grosvenor Street on Monday night. And the letter says:

"Our clients must treat the contract as broken by you and take such steps as are necessary to protect their interests.

"As a result of your breach of contract, our clients are likely to suffer damage both financially and to their reputation, for which you must be held responsible."

Sabrina appeared in Bradford, Yorkshire last night. Her mother said in her Knightsbridge flat she understood her daughter had been released by the club.
---
1959

Sabrina Trademark confusion? From a page entitled TRADE MARKS LIKELY TO DECEIVE OR CAUSE CONFUSION .
4.1 For the ground for rejection to exist, the ordinary person should reasonably expect some connection between the organisation or person and the goods or services for which registration is sought. See, for example, "Sabrina", Charles Kidd & Co's Application., (1959) 24 AOJP 1988. In the case of the name of a well known person there should be a good reason why a connection would be attributed by the appropriate public between the goods or services and the person.
In the above case Sabrina was a famous entertainer renowned for her outstanding physical attributes and the product for which registration was sought was a bust development cream. It was held by the Registrar that an ordinary person would believe that the goods were endorsed by the artist.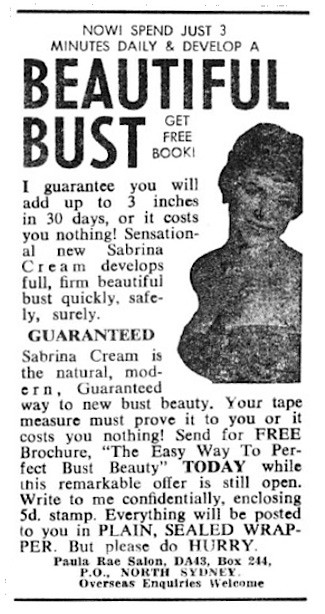 Advertisement found (30 Sep 2011) in Adam magazine (Australia), September 1964
---
Found 2022-04-12 @ 10:08 - a 1963 version of the Sabrina Cream ad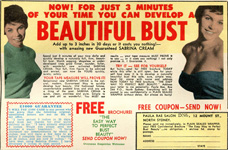 NOW! FOR JUST 3 MINUTES

OF YOUR TIME YOU CAN DEVELOP A

BEAUTIFUL BUST

Add up to 3 inches in 30 days or it costs you nothing! -

with amazing new Guaranteed SABRINA CREAM

Spend just 3 minutes of your time daily and quickly develop a naturally full, firm, beautiful bust. Watch sagging, shapeless or under-developed lines grow firmer, rounder, fuller, with wonderful new activated SABRINA CREAM. That full, firm figure to be admired and envied, can now be YOURS quickly, surely, safely.

YOUR TAPE MEASURE WILL PROVE IT!

Sensational new SABRINA CREAM is the natural, modern, Guaranteed Way to quickly develop bust beauty. Old fashioned falsies, uncomfortable padded bras and stick ons are a thing of the past. SABRINA CREAM is quick, clean, stainless and pure. Simple to use and oh! so wonderful.

You MUST see results - your tape measure MUST PROVE it to you or it costs you nothing! I not only promise it. I Guarantee it.

TRY IT — SEE FOR YOURSELF

But hurry — send for FREE brochure TODAY while this offer is still open. See for yourself how easy it is to develop a naturally beautiful bust this safe, sure, simple way.
Send 5d. stamp with name and address NOW TODAY for FREE brochure. "THE EASY WAY TO PERFECT BUST BEAUTY." Address your letter to me personally: Paula Rae, Box 244 P.O., North Sydney. Everything will be posted to you confidentially in PLAIN SEALED WRAPPER without delay. But please do hurryl
£1OOO GUARANTEE

I WILL PAY £1000 CASH to any person who can prove that the following original, unsolicited letters are not on file in my office.
"I have gained 3 inches in 28 days, and must say thanks for your quick delivery to me."
"I have already obtained 2 inches. Would you please send me another 4 weeks' treatment."
"I have increased my measurements by about 2 inches, and still have a few days to go before I complete the course."
"I started at 29 inches, and am now 32 inches."
"I have been using Sabrina Cream; I have developed 3 inches in that period."

FREE BROCHURE!




"THE EASY WAY TO PERFECT BUST BEAUTY"


SEND COUPON NOW!
Overseas Enquiries Welcome


FREE COUPON - SEND NOW!


Paula Rae Salon DN6,
12 MOUNT ST, NORTH SYDNEY

Please send me immediately, in PLAIN SEALED WRAPPER, your FREE Confidential Brochure "The Easy Way to Perfect Bust Beauty" - no obligation. I enclose 5d. stamp for
postage.
---
Date unknown - Sabrina performing in Adelaide's Theatre Royal
Source unknown (found in scrapbook)
SABBY IN COP QUIZ

ADELAIDE — The big question in Adelaide this week is: Did Sabrina escape being prosecuted for speeding by giving each of four policemen an autographed picture of herself?
The question is taken no seriously at police headquarters that the Commissioner (Mr. J. G. McKinna) has ordered an enquiry.
The story started when Sabrina's car was chased by a police car for three miles while she was on her way home to the Adelaide Hills from the Theatre Royal.
Sabrina told reporters: "It was just another example of how wonderful the police have been to me.
"I was on the way home when I noticed a car behind me. I went a hit faster and it followed.
"It wasn't until I was a couple of hundred yards from home that I knew it was a police [car]."
---
1960
12 August 1960 - Earl Wilson
Sabrina, the busty English star, will sue her landlord, who "doesn't want theatrical people."
---
24 September 1960 – Lowell Sun
Sabrina Sues for Hair Goof - By Dorothy Kilgallen

Sabrina, the British glamour girl, is suing the Flamingo Hotel in Las Vegas for $150,000, claiming her hair was turned blue in the hostelry's beauty parlor and the goof cost her an important movie job.
---
1961
There's a stripteaser around using the name Sabrina. "It's hard enough trying to play down my statistics, let alone having to play down being a stripper." Sabrina's going to court, or something, to prevent that other Sabrina from calling herself Sabrina.
---
1963
18 October 1963 - Daily Express
SABRINA'S SOLVENT SAYS MOTHER

MRS. ANN SYKES, mother of blonde actress Sabrina, said yesterday: "My daughter is fully solvent."

She had just heard of a bankruptcy petition filed against Sabrina — real name Norma Sykes — by the Pall Mall solicitors, M. A. Jacobs and Sons. It is in respect of legal work done for Sabrina.

Mrs. Sykes said: "I cannot understand this at all. Some months ago she paid the solicitors £250. Then on Monday her father sent them another cheque for £100. My daughter will be very upset when she hears about the petition. She certainly isn't bankrupt."

Mr. Nat Berlin , Sabrina's agent, said she was being paid "top money" for the cabaret tour she is now doing in South Africa.

Mr. David Jacobs, a partner inthe solicitors' firm, said yesterday: "We issued a writ against Miss Sykes last May. A cheque arrived in this office last night. But now the petition has been filed the matter is in the hands of the Registrar of the Bankruptcy Court."

The hearing in chambers is fixed for November 27.
---
DAILY EXPRESS 12 NOV 1963
Sabrina pays up
A petition in bankruptcy against Sabrina — Miss Norma Sykes — has been withdrawn because the debt, as the result of a High Court Judgment concerning monies paid on her behalf, has been paid, it was stated yesterday .
---
1968
1 August 1968 - T he News – Van Nuys, California
English actress Sabrina has been ordered to pay $250 for night club material she claimed is risqué.

The ruling by Municipal Court Commissioner Arland J. Myhrvold came on a suit against Sabrina by musical comedy writer Pearl Rowe 37, of 4233 Jasmine Ave., Culver City.

Mrs Rowe sought $1500 which she claimed was due her under a 1962 contract to write material for the actress' night club act.

Sabrina, 26, of Woodland Hills, countersued for $1500, claiming she gave Mrs. Howe a $500 down payment and spent $1200 for an arranger only to find out that the lyrics were not suitable.

Sabrina's testimony was supported by famed composer and musical director Fred Karger, who testified he felt Mrs. Howe's lyrics were "smutty".

Commissioner Myhrvold, after reviewing the songs, said he found "the material is not in the best taste" but ordered the actress to pay $250 plus interest since Mrs Rowe had performed some of her duties.

The commissioner pointed out Sabrina was probably aware of the material's contents, but did not complain until she tried the material out at the Rainbow Room in Long Beach in September 1962 and found the audience was not receptive.

No money was awarded Sabrina (sic) , who was represented by Atty. Robert Eaton. Mrs. Howe's attorney was Clifford Dicker.
Note: Woodland Hills is not far down the road from Sabrina's final address at West Toluca Lake.
Note: Another article claimed Sabrina was ordered to pay $750 of $1000.
---
1968
Los Angeles - 30 July 1968 (added 11 April 2012)
British singing actress Sabrina (left) talks outside the courtroom with a friend, actress Julie Redding, shortly before a civil suit in which she was ordered to pay $250 plus interest to a musical comedy writer who charged she owed the money for material written for her. Miss Redding was a witness.
From my research, Miss Redding's entire acting career consisted of 2 appearances on the Red Skelton show in 1964-1965. Are there no IEEE or ISO standards for claiming to be an "actress"?
---
1986
Sabrina and/or ex-husband Harold Melsheimer were involved as petitioners in legal action to the American tax office related to "sham" transactions by the "London Options Transaction" .
In http://www.loislaw.com/livepublish8923/doclink.htp?alias=USTAX&cite=87+T.C.+1087 , BARRY S. GLASS AND SHIRLEY P. GLASS, ET AL. PETITIONERS v COMMISSIONER OF INTERNAL REVENUE, RESPONDENT, in 1986, there is a 1206 page document which lists " Harold L. Melsheimer and Sabrina [...] , docket No. 11780-80" as petitioners in a London Metals Exchange matter - with 842 other petitioners.
One of these days I might spend the time to find out what was going on there! It was dated 9 years after their 1977 divorce.
---
1990

Sabrina was again cited as a legal precedent in
FEDERAL COURT OF AUSTRALIA, McCorquodale v Masterson [2004] FCA 1247
In Sabrina Trade Mark , the opponent was a well-known British actress, who worked under the name "Sabrina". She opposed the registration of her name as a mark for a cosmetic cream for bust development. The objection arose under s 26 of the Trade Marks Act 1955 (Cth), which required the consent of a living person where the name of that person was used as a trade mark. The applicant for registration submitted that Sabrina was not the name of a "living person" for the purposes of this provision. As to this, the Deputy Registrar of Trade Marks said, at 1990:
I am satisfied that the English actress and stage personality Miss Norma Sykes was well-known by her professional name "Sabrina" in Australia before application 137,460 was lodged. I am satisfied that the average member of the Australian purchasing public would, when seeing the word "Sabrina", immediately think of the stage personality who would be far better known by the word/name "Sabrina", than she would be as Miss Norma Sykes. I consider also that the average purchaser would, when seeing the name "Sabrina" on goods of the kind claimed by application 137,460, wonder whether the goods had any association with the stage personality whom they knew by the name "Sabrina". I think that many purchasers might consider that the person well-known by the name "Sabrina" had some direct association with the goods claimed by application 137,460. The motive of the applicants in this matter in adopting the word "Sabrina" as their trade mark would not have any relevance for [the] purposes of this decision.
---
1994

United States Court of Appeals, Ninth Circuit
Argued and Submitted: Oct. 5, 1994.
Decided: Jan. 25, 1995
Plaintiff [Sabrina] brought an action alleging professional negligence against Dr. K and Dayton General Hospital. In a five day non-jury trial, the district court held that Dr. K was negligent in performing a 1988 back operation on Ms. [Sabrina].
Damages including 'Future Economic Damages' and 'Pain and Suffering' came to a 7 figure settlement, which was reduced to one twelfth due to the previous surgeries which could also have contributed to her injuries.
The court records further state that - "Unfortunately Ms.[Sabrina] was not aware that Dr. K's history consists of allegations of questionable ethics, a disregard for scientific or medical principles, and a series of terminations and severances from several schools and hospitals. Dr. K performed his operation on Ms. [Sabrina] at Dayton General Hospital, the only hospital in the United States where he still had privileges."
---
1995
No details are available about this state civil lawsuit. It is probably our Sabrina because the second plaintiff would be Annie Sykes, Sabrina's mum.
Sabrina Melsheimer and Anne Sykes (plaintiffs) vs Gregory Young , Buck Young and Peggy Young (defendants)
Superior Court of California, County of Los Angeles, Case No. EC003747
Filing date of complaint - 1991-03-05
Proceedings held - 1995-10-20 at 08:30 in Department NCBB, Murphy, Thomas C., Presiding
Status: Dismissed - Other 1995-10-20
---
2002 - 2005
(Found on 27 August 2018)
Twenty-five years after their divorce, Sabrina's ex-husband, Harold L.Melsheimer brings 'Real Property' legal action against Sabrina and her mother - and apparently 50 other "Does"

[Does this mean 'unknown people' or female deer? I'm not a lawyer. Lawyers - please educate me ]
The case continued for 3 years until 25 August 2005. I have no knowledge of the nature of the lawsuit or its outcome. But they seemed to be suing over real estate.
Here are the details I have:
Harold L. Melsheimer Vs Sabrina Melsheimer, Et Al
https://unicourt.com/case/ca-la22-harold-l-melsheimer-vs-sabrina-melsheimer-et-al-447603
This case was last updated from Los Angeles County Superior Courts on 25 August 2005.
Case Summary: On 2002-08-19 a Property - Other Real Property case was filed by Harold L Melsheimer against Sabrina Melsheimer in the jurisdiction of Los Angeles County Superior Courts, Van Nuys Courthouse East located in Los Angeles, California.
Case Status : Disposed - Judgement Entered
Judge : Stanley Weisberg
Courthouse : Van Nuys Courthouse East, Los Angeles, CA
Plaintiff: Melsheimer Harold L.
Defendant s:
Does 1-50
Melsheimer Norma
Melsheimer Sabrina
Sykes Ann [Sabrina's mother]
Sykes Norma
Court documents are not available for this case.
Docket Entries
08/25/2005 - Statement-Case Management Filed by Attorney-Plaintiff
09/13/2003 - Summons Filed Filed by Attorney-Plaintiff
03/27/2003 - Declaration (OF PLAINTIFF HAROLD L. MELSHEIMER ) Filed by Attorney-Plaintiff
03/27/2003 - Judgment (BY COURT PER DECLARATION ) Filed by Attorney-Plaintiff
03/07/2003 - Request-Dismissal-Partial (WITHOUT PREJUDICE DOES 1 - 50, ONLY. ) Filed by Attorney-Plaintiff
01/13/2003 - Declaration (INABILITY TO ASCERTAIN ADDRESS ) Filed by Attorney-Plaintiff
01/13/2003 - Default Entered (AGAINST SABRINA MELSHEIMER AKA NORMA MELSHEIMER, NORMA SYKES, AND ANN SYKES, AN INDIVIDUAL ) Filed by Attorney-Plaintiff
12/19/2002 - Statement-Case Management Filed by Attorney-Plaintiff
12/02/2002 - Proof-Publication (AS TO SABRINA MELSHEIMER ) Filed by Attorney-Plaintiff
10/24/2002 - Application-Pub of Summons Filed by Attorney-Plaintiff
10/24/2002 - Order (FOR PUBLICATION ) Filed by Attorney-Plaintiff
08/19/2002 - Complaint
---
2005
After their inaccurate 2003 report on Sabrina's living conditions, Sabrina took action against them. The Mail On Sunday apologises for their silly article.