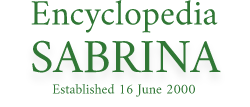 Contact me at Encyclopedia Sabrina
The Mail On Sunday's Apology

SABRINA GETS HER APOLOGY
The Mail on Sunday 's apology for their calumnious 2002 article was published in the edition of January 16, 2005 . It was a small one inch box on page 37. Thanks to SIR ROGER, Sabrinafan First Class , we can now proudly bring you the apology in full. Vindication at last for our Sabrina!
Sabrina
On September 1, 2002, we said the English-born actress, Sabrina, was living a lonely and sad existence in Los Angeles. We are happy to report that these and other allegations in the article were untrue and that she lives in a desirable residence in West Toluca Lake. We apologise for any distress and embarrassment caused .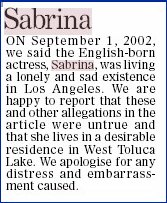 Page Created: 5 March 2005
Last Changed: Monday 2018-02-26 16:59
All original content copyright © nylon.net
All Rights Reserved.
This page was last modified: Monday 2018-02-26 16:59