S: Well at the time I have a friend called Michael, and Michael would always – in fact I could call Michael and ask "What was I wearing when I went to the dinner?" and he'd just tell me. He's got just so much information on me. He knows everything. You know, like where I was, what I was doing, what I wore..
M: A very useful man.
S: He was a very sweet guy. What was I saying? How did I get into that?
M: Pleasures of Paris .
S: Oh, the Pleasures of Paris, yah. So as I was saying, I made all of those appearances that... well. When you look in the catalogue can't you tell...?
M: It has a few pictures of you but it doesn't exactly say what you were contributing.
S: Well, I know I did it with the Three Monarchs. I worked with them. And I did a couple of sketches with Dickie Henderson and then I had solo numbers where I had, like those Las Vegas shows where they have a big spectacular... you know. It was a big extravaganza show.
M: I just found the programme – the Tivoli one – and it said you were in Insufficient Coverage –
S: What does that mean?
M: I think it was a sketch with Shirley Reagan, Billy Baxter, and you were listed as "the risk".
S: That was the same sketch that we did in London at the Prince of Wales, and they did it in Australia, at the Tivoli. Yeah.
M: I can't see much else. You were with the Dargie Quintet as "The Blonde"
S: Yeah. That was – it was almost a replica of it. They – was it the Dargie- no.
M: Dargie Quintet.
S: What was it – what were they-
M: They were playing The Existentialists, I think.
S: Yeah, but what was the one in London?
M: I don't know.
S: Three guys and – there's a photograph of three chaps and me and we're all in white. The pants, white slacks and sweater. And that tiny belt.
M: You then went to Ascot in June '57 and made quite an appearance there.
S: Yeah...
M: Which a lot of people photographed. We've got quite a few photographs of you there.
S: Really? They were nice photographs, weren't they?
M: Hmm. They were very nice ones. And there was as newsreel – [Really?] - of the royal party driving up and you were "in there with men in high hats", it says. [Hmm?] so I've been trying to find a copy of that newsreel but it's very hard to come by.
S: No. I don't have it yet, I did - there was a tribute with Eammon Andrews – This is Your Life – for ITV in London – I went back for that.
M: That's right, yes.
S: How do you get these copies? I don't know how you do it.
M: It's just a lot of searching, really.
S: Oh my goodness.
M: Another – maybe - thing you don't want to talk about. Sixteenth of July, 1957, "It's false, says Sabrina. You sat in your dressing room in a West End London theatre, which is probably Pleasures of Paris - [Yeah] – and radiated hate waves toward an unknown person who linked my name with John Kennedy. And John Kennedy was Tommy Steele's manager, not the United States president.
S: No because I did know John, the president.
M: Oh, did you?
S: Yeah.
M: You didn't mention him.
S: Oh. Yeah.
M: And you – according to him – gave him your heart.
S: Oh God!
M: But - your famous statistics, loosely clad in a scarlet negligee – you said, "My heart's my own, thank you very much. I've got lots of boyfriends and John Kennedy's one of them. He takes me out, but that doesn't mean I'm going to marry him.
S: Uh. Well, that's the truth.
M: It's very hard to say who makes these things up or who tells the truth. Then you-
S: I think that was a very good answer!
M: And you knew Billy Smart and you appeared in his circus. I've got a picture of you and a chimpanzee at the piano.
S: Oh yeah [laughs]
M: That was nineteen-
S: He was a dear friend of mine. Another one who wants to marry me.
M: There's a bit of scandal later on – I don't know whether you want to go into this – on ninth of April 1958 about Paul Carpenter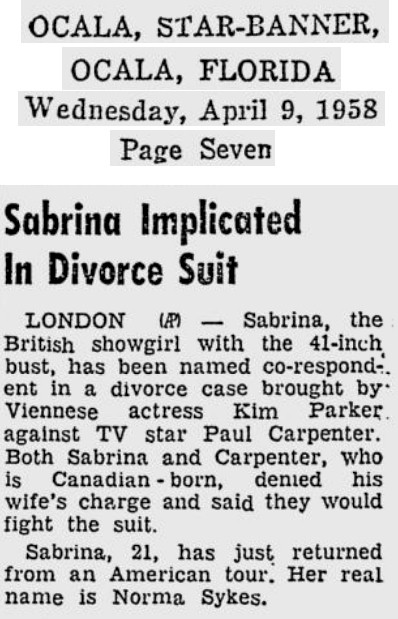 S: Ughh
M: That rumour about the naughty business by Kim Parker
S: I know, I know. But you know, I was told by a lawyer at the time that they can accuse like – Princess Margaret – on the same facts but there's nothing anyone can do about it. Anybody can say anything. You have got to go to court. And unfortunately she dropped the suit - I think they settled the divorce – but I would love to have gone to court because on all of the dates that she mentioned that I was supposed to be with Paul Carpenter... How I met them was – oh no I did a movie, Stock Car , and I was dating Steve at the time, and the four of us, we'd go out to movies or to dinner or something. And the night Steve came back to America one time they took me to the airport – well, took Steve and I to the airport – and of course he was leaving for America and they brought me home and we went to their apartment and we had like a cup of tea or a drink or something – it was in the night. But what I was saying, was it happens she was saying I was with her husband I was actually in other parts of the country doing personal appearances. So it would've been – I mean it would've put all of those rumours to rest if she had gone through with it. It was just a shame she never did. She cancelled and I was upset about that .
M: Apparently the judge forced her to return to her husband.
S: She did ?
M: Apparently she was forced to resume conjugal relations.
S: Oh my God !
M: Which sounds very nineteen fifties, where a court can force a wife to go back.
S: I didn't know you could do that.
M: Neither did I. It was a bit of a worry, but apparently she was.
S: Forced to go back – wow! I know there was just a couple of times we had to make appearances together to promote that stupid movie.
M: You really didn't like that, did you?
S: I really hated it. I hated the way I looked and –
M: And the dubbing of your voice.
S: Yes. I don't know why they did that.
M: I don't know why either. Maybe you weren't Cockney enough for them. Maybe you were too northern.
S: I didn't know I was supposed to be Cockney, to be honest with you.
M: Most of the others sounded Cockney, so maybe they expected you to be too.
S: But nobody told me I was supposed to do a Cockney accent.
M: I don't think they cared too much about what you sounded like until maybe later.
S: No, no. You're right. I don't think - they cared later. I had to do a lot of travelling, and a lot of work on songs during the week rehearsing them, and then go out – This was when I was in New York – and play night clubs on the weekend to try out the material. I mean I really worked hard to try to get where I – well, you know, to - I mean, I had the name . And if you don't give the audience, the public, something back, for putting you there – that's kind of very disappointing to them, isn't it?
M: It is.
S: So I tried the best I could to learn.
M: It was interesting you mentioned earlier that you don't sleep much nowadays, and there's an article from September 1958 that says, "It seems that the things that sound good in a dream are gibberish in the mind and research about sleep took our photographer into one of London's most fabulous bedrooms – Sabrina's. The whole of one wall of Sabrina's bedroom is panelled in glass-
S: A mirror.
M: "'I like a pretty bedroom', Sabrina said, 'I can't sleep anyway so I might as well have a lovely room to lie awake in. If you can find a cure for insomnia, let me know', Sabrina said. 'I sometimes lie awake at night. I design clothes in my mind. By the morning I've designed a whole wardrobe.'" So are you still having trouble sleeping?
S: I've always been an insomniac.
M: You must have a busy mind.
S: Mmm.
M: Now we're getting up close to the time you arrived in Australia. We're looking at November 1958 and you went to Rome and a whole lot of things were happening. You had your sculpture done by Assen Peikov-
S: You know in that photograph with him, there's Ursula Andress in the picture. There was – or was she the one who was a painter?
M: He was a sculptor and there was a woman who painted you too at the same time.
S: Well, it wasn't the sculptor, it was the woman- there were about three or four girls in that picture, and one of them was Ursula Andress. And I thought, 'Hmmm! Is she a lezzie?' It made me think at the time when I went there, 'Hmm! What's going on here?' Too many girls and no men.
M: Can you remember how long you were in Rome? Was it a couple of weeks?
S: Probably, yeah, uh huh.
M: Because it seemed you were doing a lot of things around the time.
S: Well they had me doing something every day when I was in Rome.
M: And then you arrived in Australia.
S: But in the interim I came to America, didn't I? I took off for America because you can go to Australia two ways via California or via Rome and then on to Australia. That's the way my mother went.
M: Yes, I've got one thing – the picture of you and Assen Peikov in Rome - the sculptor - that was dated twenty-first of November '58, and then there's a photo of you on the twenty-fourth in Hollywood-
S: Yes, yes.
M: With Steve, and it says you were on route to Australia. And at that stage you get lost, or your mother arrives and she can't find you, so did you travel separately?
S: Yes, we travelled separately because I had to go to Rome ahead of time to do publicity and she – we were supposed to meet in Rome and then come on to Australia. But when I got there, I had some friends who were going on to California and they persuaded me on a whim, probably after I'd had a glass of champagne too many, to go to California, so I did [laughs] and that's when they said I was lost. But it created a lot of publicity, didn't it?
M: It certainly did. I think your mum was glad to see you.
S: Yeah. I can't imagine her donning one of my gowns and standing in for me.
M: Well, you never know. She was not an unattractive woman.
S: My mother had a good figure.
M: Did she?
S: Yes!
M: You must have got it from somewhere.
S: Yes. She did.
End of part 5