New glossies, added 16 April 2013

14 September 1959 - "Tweetie Pie" meets Sabrina... Curvaceous SABRINA makes friends with 'Tweetie-Pie' the Budgie - when they met in Wellington, New Zealand recently. Sabrina was overwhelmed by the chumminess of the bird - which is owned by Mr A.F. Bird, owner of a rental car business in Wellington.

LUCKY DOG - Even this fine Alsatian seemed to realise that the lovely Sabrina has something more than most visitors. (Undated)
I believe this lucky dog is none other than Shane, Sabrina's pet which she gave to Steve Cochran.

"Hello - Playmates" - ARTHUR ASKEY, daughter ANTHEA and SABRINA greet I.T.V. viewers before appearing in a burlesque Cavalier-Roundheads sketch in the first of the Askey series "BEFORE YOUR VERY EYES". This half-hour programme is presented by Jack Hylton for Associated-Rediffusion alternate Friday evenings, Channel 9. Directed by Kenneth Carter.
8 April 2010

Sabrina to Star in Variety
18 year old Manchester born Sabrina, the TV personality who starred with Arthur Askey in the TV series "Before Your Very Eyes" is to star in variety and will top the bill at Chiswick Empire on July 4th . It is five months since she entered show business, and her rise to fame is now well known. She has played in specially written parts on films in Butchers' "Stock Car", made personal appearances at £100 a time, lent her name to advertisers' products, been on front cover of English, French, German, Italian and American magazines. She has had a cafe, boats, frocks and cocktails named after her. Hollywood talent scouts have already sent for her photos. She is to tour the provinces, appearing at Nottingham, Leicester, Scunthorpe, Manchester and Blackpool. (Pic by C.Sanderson 24/6/55 )
O.P.S. 18 year old Sabrina whose statistics are, bust 39, waist 24 and hips 37, photographed when posing for photographs at her press conference, at Park Lane this morning.
---
Editor's note: the scars left from the calipers and surgery to treat Sabrina's childhood polio have often been referred to, and are said to account for Sabrina's preference for unfashionably-long dresses. But pictures of the scars have remained elusive. I believe, however, in the photo above one can make out scars on the inside of Sabrina's right leg. A zoomed-in version appears below. The photo is 55 years old and damaged in parts (requiring touching up with Photoshop) but I don't believe the effect visible below is a photographic artefact.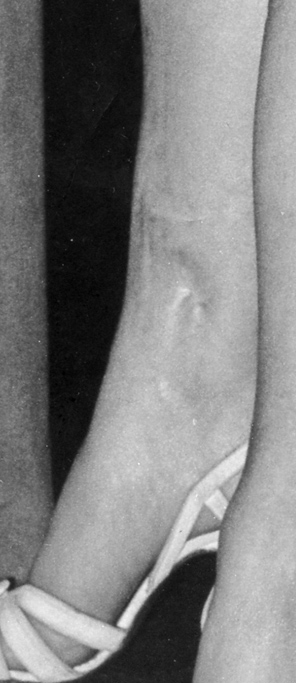 6 March 2010 - A lovely original photo, taken in South Africa

28 Feb 2010 - Two new (and expensive) 8x10 glossies, full of B.O.O.B.S. goodness!

Sabrina and a toy Chico the Leopard