Stock Car
(1955)
Starring Sabrina, playing Trixie
28 August 2018 - Finally, thanks to Countess Anastasia of Siberia, we have the press kit for Stock Car . It only took us 62 years.
Thank you for your patience.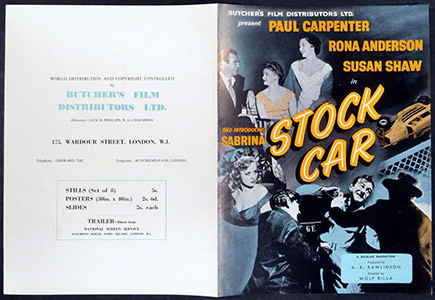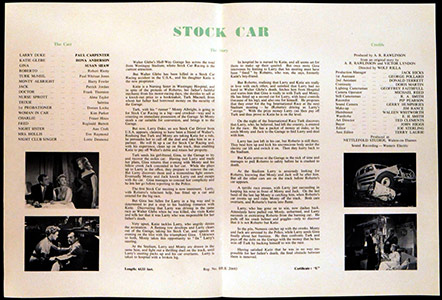 28 December 2009 - We have a copy of Stock Car thanks to Matt of retrojunkie.com. See below to devour Sabrina's first movie role.
17 July 2011 - VIP B.O.O.B.S. members can download the entire remastered Stock Car movie!
Click the magic golden key! (731M, AVI)

With

Paul Carpenter* - Larry Duke.
Rona Anderson - Katie Glebe
Susan Shaw - Gina
Harry Fowler - Monty Albright
Robert Rietty - Roberto
Paul Whitsun-Jones - Turk McNeil
Sabrina - Trixie
Alma Taylor - Nurse Sprott
Lorrae Desmond - Singer
Also: Eve Raymond, Frank Thornton, Doreen Locke, Kim Parker*, Frazer Hines, Reginald Barrett, Ann Croft.

Director: Wolf Rilla
Writers: A.R. Rawlinson, Victor Lyndon
Producer: A.R. Rawlinson
Cinematography: Geoffrey Faithfull

* Paul Carpenter was sued for adultery in 1958 by wife Kim Parker. Read about the adultery inciden t
Click the pic to see STOCK CAR (1955)... the Sabrinabits! (66M, Divx)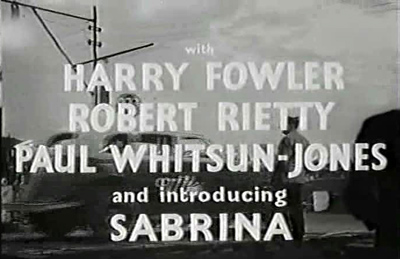 Stills taken from Matt's copy of Stock Car
That Trixie is certainly a hungry girl! "Six meals a day and nothing in between" as one character says.

I am compelled to agree that the dubbed voice was probably a wise directorial decision. The Trixie character was meant to be an air-head, and Sabrina's new carefully-trained Sloan-ranger accent would probably not have been suitable for the role.
Sorry, Sabby :-(

But, by golly, she certainly is damned beautiful!
These pix were taken on the set of Stock Car

Upgraded 2016
A Paul Popper photo
Also view the bigger (but watermarked) version.
Thanks to Richard K on 13 August 2007, we have some stills from Stock Car ! Yay!
Tony from Stockport wrote on 29 Sep 2005 ...
Just a line to say that this film (Stock Car) is not lost. I have watched it on daytime free to air satellite tv channel here in the UK in the last couple of years. I recorded it at the time but unfotunately the tape has been subsequently recorded over. I cannot recollect the tv channel but please be assured it is definitely out there. If and when it is rebroadcast I will record it and send you a DVD copy.
Thanks, Tony!

"The fast-paced world of stock-car racing provides the backdrop of this British adventure. The story centers on Katie Glebe as she attempts to save her father's failing garage after he is killed during a race. She ends up assisted by an American driver, Larry Duke. Unfortunately, creditor Turk McNeil is determined to take the garage to repay a debt. Real trouble ensues when Turk's lover Gina becomes interested in Larry. Turk then rigs the race and has Larry beaten up. Fortunately, this does not stop the determined Yankee from winning the race and the girl in the end."
Sandra Brennan, All Movie Guide

This stock-car movie runs in low gear and out of gas before the opening credits finish rolling. The British racing tale follows Katie Glebe as she battles to keep her father's garage open after he is killed in a race. She gets some help from American racer Larry Duke, but runs into a roadblock in Turk McNeil, an unsympathetic creditor who wants to foreclose on the garage. Turk gets even angrier when his girl, Gina, takes a liking to Larry, who gets beaten up and nearly dies in a rigged race. As movie heroes are known to do, Larry makes a comeback to win the big race and walks off with the girl. From www.tvguide.com
Read Sabrina's reaction to what they did to her voice in 'Stock Car.'
All original content copyright © nylon.net
All Rights Reserved.
This page was last modified: Saturday 2022-03-12 13:52