An interview with Sarah Stoddart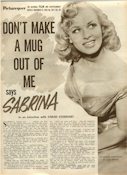 SABRINA'S talking now ... nobody can shut her up.
Not about Stock Car, her first film boost that's fallen sadly flat. "I was furious ," she hissed.
" My first chance in films and look what they did to me. It was horrible." The girl who has made a career by keeping her mouth shut on TV has found her tongue and is saying plenty about British film men.
" It isn't fair the way everyone keeps making a fool of me,"she said. " I really tried hard to get my part in this film right, but it just fell flat."
If there's a "flat"in this Stock Car, it certainly isn't Sabrina - at first sight. She has a fleeting sequence in a restaurant scene and shapes up very well, indeed. Until she opens her mouth.
" But that wasn't my voice,"explained Sabrina. "I used a sophisticated voice, because it was a smart restaurant. It sounded fine when I saw the 'rushes.' But, in the finished film, the voice of another girl, speaking my lines, has been dubbed in. It sounded awful!"
Poor Sabrina. They took the words right out of her mouth. Literally. In place of her own soft, faintly Lancashire accent, there was dubbed a high-pitched Cockney voice.
" Nobody told me what they'd done," she added. "I thought it was rather unfair to me. I don't know who the other girl was - and I certainly don't want to know, either. All I want to do now is live this down."
I was talking to a new, slimmed-down Sabrina. "But my measurements haven't changed," she quickly assured me. "Only my waist and hips."
And she explained just how much she was relying on having a second chance in films-despite her progress to date, which has brought her a new car, a mink and her own costume jewellery factory.
[Ad from Daily Mirror 10 Dec 1955]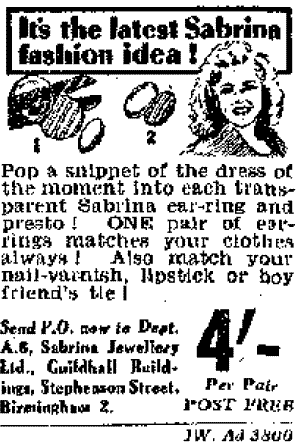 " I play Arthur Askey's dream girl. I haven't read the script and I don't know whether I talk or not. The film is Ramsbottom Rides Again ."
I began to wonder if Sabrina was riding again for another disappointment. For this sounded like one more lap in the merry-go-round of Sabrina's speechless gimmick. But she doesn't think so.
" It's going to be different this time. I'm working with people I know. There's Mr. Askey and Frankie Vaughan. And, believe me, I'm serious about films. They're more important than anything."
Just how important, she proved, by telling me that she had just turned down a big offer for a personal appearance, in order to be "on call" at home for the studio.
Sabrina's getting tough, too, about her career. She says she's tired of people being catty about her voice. "That's because they've never heard it.
" I'm concentrating on films and television now. You won't catch me signing for another variety tour yet. My last one was for sixteen weeks. Now I'm trying to forget it. All I did was walk on and be made fun of. I only had four hours' rehearsal."
FOUR HOURS' REHEARSAL AND TOP OF THE BILL? IT'S FANTASTIC, IT'S UNHEARD OF. YET, YOU MUST ADMIT ... IT'S SABRINA.