Not to be confused with a brasserie, the brassière does not offer fast food and beer. It offers support and definition to the breasts. There. You've learned two valuable things already.
The first modern bra is believed to have been developed in 1910 - by a woman. Its quick acceptance led to the disappearance of its predecessor, the corset.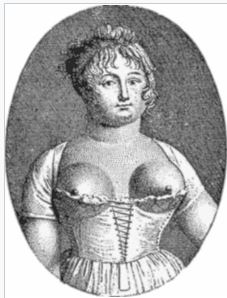 There are several types of bras, including the full cup , the plunge and the balconette .

And the push-up, strapless, bandeau, demicup, sports bra, the minimiser, padded, a T-shirt bra, multiway, plunge, wireless, maternity, seamless, silicone, and stick-on.
And, of course, the spray-on.
A plunge bra covers the nipples and bottom of the breasts while leaving the top part bare making it suitable for low-cut tops and deep V-necks. It also has a lower, shorter and narrower center gore that maintains support while increasing cleavage by allowing the gore to drop several inches below the middle of the breasts.
Plunge bras comes in different depths that provide great cleavage. Like a push up bra these have some padding and provide support, as well as to help push the breasts together and create cleavage. The push-up bra was created in 1964 and became popular as the Wonderbra .
But of prime importance to Sabrinastudents is the bullet / rocket / torpedo / cone bra family.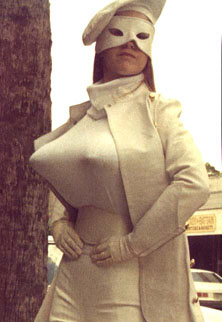 Above: Monique.
The bullet bra was built on the softly conical bras of the 1940s but with a much more defined finish. Bullet bra pads add fullness and emphasis to the bullet appearance.
A bullet / torpedo bra is a distinctive type of bra that creates a pointed or torpedo shape to the breasts. This is achieved by spiral stitching which emphasizes a pointed appearance. The bullet bra was built on the softly conical bras of the 1940s but with a much more defined finish.
A cone bra is similar to the bras of the 1940s, lifting and separating with a subtle conical shape. Cone bras are not padded and provide a soft feminine silhouette.
The term conical bra is often uses interchangeably with bullet bra but the conical or cone bra has a less defined shape and lacks the spiral stitching that truly defines a bullet bra.
The underwire (that thing my mother always cut out of her bra as soon as she got it home from the shop). The underwires contour the natural round shape of the breasts and slightly lift them upwards. It was first developed in the 1930s, and was made famous by Jane Russell in the 1941 movie, The Outlaw .
According to underwire manufacturer S & S Industries of New York, about 70 per cent of bra-wearing women wear underwire bras