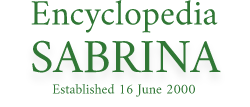 Contact me at the Encyclopedia Sabrina site
Sabrina shocked Royal Ascot!
Australasian Post , 18 July 1957, p.11
She leads the field in T.V. - and she was out in front at the races!

Sabrina, Britain's T.V. and stage personality girl won this year's fashion stakes at Royal Ascot race meeting by a neck.

A LONG, LONG NECK!

Her low-cut, revealing dress startled the men among Britain's top-flight socialties... and shocked the ladies.

Continued overleaf

[Sadly, I couldn't locate the overleaf. Please let me know if you have it!]
When she stepped out of her car, 99.9 per cent of the race glasses swivelled away from the horses, and clicked on to her. The dress caused a shock - but she probably expected that. She could have easily figured it out herself!

---
As a bonus, the article pointed out that Sabby's car's rego plate read S41
Page Created: 10 March 2021
All original content copyright © nylon.net
All Rights Reserved.
This page was last modified: <!->Monday 2023-07-10 13:57