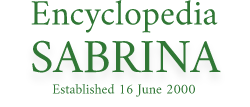 Sabrina At the Ascot Races
19 June 1957
Do YOU have any Sabrina stuff?
A new shot of Sabrina at Ascot in 1957. The caption said that if the crowd had grown any more around her, there would've been a riot. Added 2021-03-10.
---
Above: added 20 Sept 2018
SABRINA BUSTS INTO ASCOT
The most sensational dressed woman at Ascot? The one and only Sabrina of course! She "bust" into the royal enclosure making the top-hatted men flock around her - just to gape. You can see the reason why from the photograph. She was wearing the lowest of low cut dresses of organdie painted with flowers and a large picture hat perched on the back of her head. 19 June 1957
---
A slightly extended version...
All original content copyright © nylon.net
All Rights Reserved.
This page was last modified: Wednesday 2021-03-10 10:05
How you can support Sabrina .
Created: 5 March 2011
Last Changed: Wednesday 2021-03-10 10:05