The saga of Sabrina is one to give heart to many a stage-struck teenager with a yen to see her name in big, bright lights. They tell you it takes years of hard work and heartbreak before you can ever hope to get anywhere near the top in the world of show business, but don't believe all they tell you. Didn't Sabrina get there in about one short month?
In was 1954 when Norma Ann Sykes came down to London from her native Blackpool to try her luck in the great metropolis. Could she then have known just how far she was to go in so short a time?
The Sabrina Cult
It is not enough, as far as Sabrina herself is concerned, for her fans to adore her beauty alone. She wants their admiration to embrace her developing talent as an actress with a mind as well as a body.
As the now-departed Picture Post said, Sabrina is not satisfied with Sabrina worship that is purely physical. A girl must improve herself. And Picture Post documented Sabrina's pursuit of Higher Things. Is there an analogy in the fact that Picture Post is now defunct while Sabrina marches steadily on?
Sabrina has long since reached the point where she is seen at all the premieres and gala occasions of film and show biz. Here she is as she was at the Warner Theatre for a new film show. And the photograph on the left is as she was at the opening of a new West End nitery.
It must have been obvious to people wise about the influence of shape in show business that a measurement of 41"-22"-35" belonging to a natural blonde could not go unnoticed for very long, and Miss Sykes was soon making regular appearances in the glossy pin-up magazines. The real break was to come when theatrical agent Bill Watts took a good look at her, then another—then reached for his pen, and wrote her name very quickly into his books. Now when you're young, blonde and you've got those kind of measurements — and your agent is Mr. Watts — you can guarantee that things are going to start happening — if not to-day or to-morrow, then immediately.
What happened in Sabrina's case was that just at this time TV producer Bill Ward was looking for a girl for the "Beauty Spot" feature in Arthur Askey's TV series BEFORE YOUR VERY EYES, and when Sabrina's photograph appeared on his desk—along with 23 others—he decided his search was over. The rest is a history of what statistics can do to a TV screen.
In advance as a real-life picture on these two pin­up "stills" is the shot of Sabrina with Norman Wisdow (sic). Sabrina is wearing her Ascot outfit and Norman a knowing smile. This was during the shooting of JUST MY LUCK at Pinewood Studios.
All that the TV stint required was for the lady to stand around registering glamour, and that just came naturally to a girl like Miss Sykes — henceforth to be known by no other name than Sabrina. Not a line of dialogue was spoken by those lovely ruby lips, and here was living proof that "silence is golden." Opinion has it that physical attributes such as Sabrina's make speech quite superfluous anyway.
There was no possible doubt as to whether TV audiences liked Sabrina—the answer was in the hundreds of fan-letters, including an average of fifty marriage proposals, that started pouring in each week.
Sabrina, however, was determined not to remain just another dumb blonde. She applied herself with her usual north-country vigour to singing lessons during the day, elocution lessons during the evening, with lessons in deportment fitted somewhere in between.
After the TV series a sixteen-week variety tour was lined up for Sabrina, and this had her topping the bill after only four hours rehearsal! Eager and anxious to prove to the public that she had talents in addition to a very insurable shape, it was a big disappointment to Sabrina when she discovered that all she was required to do was to drape herself decoratively against the side of the stage while cross-talk comedians wove their gags around her. Since then, of course, Sabrina has had a chance to show her fans she really has a voice — and knows how to use it — and TV and radio appearances have had her using her vocal chords (sic) as well as her physical charms, and that means both the audience and Sabrina herself are very well pleased. Sabrina particularly. She paid a lot of money for those elocution and singing lessons! Currently she is wowing the customers nightly at the Prince of Wales Theatre, where the audiences have a chance to see in person what they could hardly believe was true on TV.
The little guy who started the big silence, Arthur Askey, shares a crack with Vanessa Lee at a T.V. rehearsal, while Sabrina concentrates on her gimmick of voicelessness.
A brunette wig is no camouflage for Sabrina in scenes from RAMSBOTTOM RIDES AGAIN (Jack Hylton Film Productions)
It might well be said of Sabrina that she is the girl who has launched a thousand shops. Her personal appearances have been many and varied, ranging from presenting prizes at a Garden Fete to opening a furniture store in Leeds. On the latter occasion, there were so many people eager to catch a glimpse of the girl with the figure that sets men gasping and girls reaching for the exercise chart that mounted police had to be called out to control the crowds.
The law had to step in again at Newcastle when, opening a self-service store, Sabrina threw photographs of herself to the crowd—and started a minor riot!
For these appearances Sabrina can command anything up to £100 [£2410 in 2017] , and, as one company director said, she's worth every penny of it. There was also, alas, the never-to-be-forgotten occasion when the rush of admirers nearly left Sabrina sans built-in dress—such is the tearing impact when this fabulous frame confronts her fans in person.
Sabrina had only just begun to look in advance of rivals on T.V. when the Press photographers realised she had something more than a gimmick
Nothing Quite Like It
No doubt about it, goggle-eyed fans were convinced right from the start that Sabrina was way out ahead in her original T.V. role. They just hadn't seen anything quite like her before — viewing figures shot up by millions
From her first appearance Sabrina, made the way she was, found herself made the way she is now
Wealth and fame have come early to Sabrina, but she still retains a very down-to-earth sense of values. As long as the public clamours for her — and they show no signs of ceasing — Sabrina will be there. But meanwhile she is investing for the future, which — in show business — must always be uncertain. She has acquired a costume jewellery factory,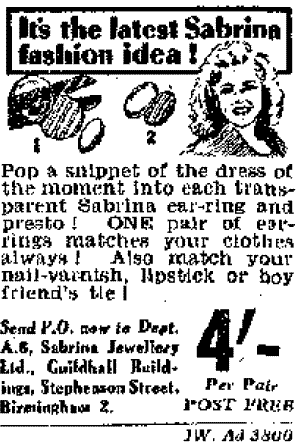 (Ad from Daily Mirror 1955 - Mark.)
and takes an active interest in the business, designing many of the pieces herself. She also realises just how valuable those 41 inches are, and has taken the precaution of insuring her shape for a cool £100,000. If you care to work it out, that means something like £2,439 an inch! And a slight correction to a well-worn phrase, which should now read "Inches are a girl's best friend."
At one early stage in her pneumatic career—as the cynics call it — Picture Post, which was then still an influential weekly magazine, confirmed the establishment of Sabrina as a star of a very inimitable kind by starring her in a documentary feature intended to convey that Sabrina herself realised the prospective limitations of her body beautiful, and was devoting a large part of her time in pursuit of culture of a more aesthetic type.
Photographs of Sabrina appeared, showing her browsing through encyclopaedias and other ponderous tomes with concentrated and serious determination. If she has kept up this kind of study Sabrina's general knowledge should have reached a level where she would be able to sweep the board at quiz shows, and even enable her to find the answer to the 64,000 question!
Once one of the usual galaxy of pin­ups, Sabrina shot to a pre-eminence that promises to be as permanent as Everest. There'll never be another quite like Sabrina because she achieved it in a golden aura of silence—every other star just had to say something to get anywhere at all. Oh, boy, what a beautiful example that girl did set!
It seems inevitable these days that top flight glamour girls should come equipped with an unslakeable thirst for culture. Remember Marilyn and her penchant for Dostoievsky? But with Sabrina this yen for knowledge is more than just a fad — it's yet more insurance against the future.
This is a young lady who's determined to have any number of spare strings to her bow. We can't somehow see her pleading for the lead in THE BROTHERS KARAMAZOV, but if she was asked —and she thought it would do her career some good — we reckon she'd have a shot at it!
Pin-up photographs of Sabrina now sizzle all over the world.
Publicity and Sabrina are synonymous—and in show business publicity is an all-important factor. Young starlets will do almost anything to rate a picture in one of the national newspapers and magazines — they'll ride to a premiere in a wheelbarrow if necessary — but with Sabrina she just doesn't have to do anything but arrive.
Everything this girl does is news — which is fine up to a point, but not much fun if you're looking for an off-the-record evening with a new date. You just can't get away from the news hounds—they pop up in the most unlikely places!
Witness Sabrina's recent and frequent dating of American star Steve Cochran . It was certain that Sabrina found Steve's company very congenial, and no doubt that Steve thought Sabrina a great girl to know. But every time the pair appeared in public they were dogged by men carrying cameras and notebooks, and press-men had them walking up the aisle more than a score of times. To her credit, Sabrina never came across with the corny line "We're just very good friends", but she is reported as saying "Steve has been married twice before, and I don't want to be third at anything."
Sabrina had her portrait painted by Fred Wood in 1956 [4 September] and it wasn't so long after that that she was whispered to have captivated Steve Cochran as a steady beau
And all the time photographers were climbing over each other to express Sabrina in their different ways — but all photographs came out the same way, of course.
Whatever the reason, the romance just quietly faded away, and now Sabrina is currently seen around with Tommy Steele's enterprising young manager.
Always a girl to speak her mind, it's obvious that there's one point on which this twosome will agree to differ, namely Tommy's vocalising. "Tommy's a very nice person." says Sabrina— but she's apt to be a little less enthusiastic about his singing!
Lucky Old Sarge
C.S.M. Frederick Lonsdale and Sergeant Bill Eckersley presented Sabrina on behalf of the Cheshire Regiment with a plaque in admiration of her early fight against polio. They also presented her with a very correct salute.
What the future holds for Sabrina is, at the moment, anybody's guess. Films, TV, more variety bookings? One thing is certain, Sabrina will not be content to rest on her reputation as it stands at the moment.
It is quite likely her career will take the most astonishing twists and turns, and may even land her on the "straight" stage. We don't really suppose her future plans include a season at the Old Vic, but with a girl like Sabrina you have to be prepared for anything — and what a boost she'd give to the role of Lady Macbeth! No correction, we said boost and we meant boost!
Sabrina with a feather motif arrives at the Warner Theatre for the premiere of MOBY DICK
Opening a new clothing store the Edgware Road. That's so much Sabrina to­day. They want her to open every new shop and store
This One Had To Be!
No story of Sabrina could be complete without this shot to illustrate how she made the grade with viewers.