See The Ice House Press Kit
With press kit, ads, catchphrases, cast list etc.
Thanks to Lord Reg for his contribution!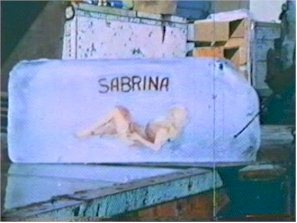 Click to see Part 1 of Sabrina ICE COLD! (4M, WMV )
in which she buys ice, her car mates are bruised by a he-man, and she clobbers him with a bottle.
---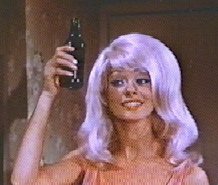 Click to see Part 2 of Sabrina ICE COLD! (3.5M, WMV)
in which she is stalked by the bottle-bruised brute, succumbs to his manly charms in the shower, and inadvertently triggers his post-traumatic bottle-shock, during which she is strangled...
---
Sabrina gets top-billing in this sexy shocker. Her American accent lasts for approximately 3 lines, then she's British once more as she tries to buy some ice from a hunky Lothario. His comments annoy Sabrina's desperately-groovy (but-violent) car mates who try to fight the hunk, but lose and get dumped with ice.
Sabrina evens the score by smashing a bottle over the Lothario's empty head.
Later (Part 2), Sabrina re-meets the horny hunk who, of course, strangles her and stores her in his ice house.
The same old Hollywood story... adapted from 'Gone with the Wind', I'm sure.
Note: the non-Sabrina bits have been severely edited out to preserve maximum SabrinaTime.
If the plot does not make sense, that's not my fault. It didn't make much sense before I edited it! In fact, I think my drunken editing was better than the original chop-job!
---

"This disturbing low-budget psycho-thriller stars twins Robert Story and David Story as a serial strangler and his detective brother on opposite sides of the same case. Robert's psychotic aversion to romantic rejection leads to a growing heap of female bodies in his walk-in freezer; David's eventual discovery of his brother's bloody misdeeds lands him in on the frozen corpse pile as well. Robert then assumes the detective's identity, enabling him to continue his killing spree unabated. Thoroughly sleazy but lacking any real suspense, this production suffers from poor performances by both brothers and a story that fails to exploit the plot-twisting possibilities of the identical-twin concept. "

"The interesting plot is marred by the inadequate acting."



Ultra-sleazy account of a Casanova who gets bonked on the head and becomes a homicidal maniac, picking up and killing strippers and then depositing the corpses in an icehouse he runs. When his twin brother detective begins looking for the missing women, the psycho kills him and assumes his identity! David and Robert Story, Kelly Ross and British pin-up fave Sabrina star; look quickly for future porn legend John Holmes.