Found in October 2018 - a lovely picture of Sabrina singing
Found in March 2017 - Sabrina shows off her first and only song recording - Persuade Me , and A Man and Not a Mouse .
28 Feb 2013 - A momentous missed chance. I found an Ebay listing for a copy of an Australian pressing of Sabrina's single. I bid $100 - as much as my Sabrinafunds would allow. Some other fanatic, however, bid $105! A sad loss for the Sabrina Encyclopaedia.
2 September 2014 - it happened again !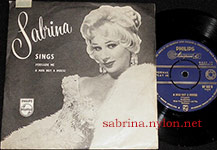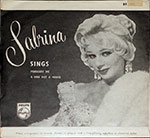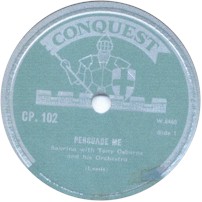 Thanks to the valiant services of Andy Briggs of Kent, we have a succulent treat for you.
Andy, who went to the trouble of ripping the 7" vinyl to CD and posting it from Blighty to Oz, reports that there are no writers shown on the record label (shown above), just the publishers (Leeds & Chappell). The record was released in 1957. He notes that he discovered the record before finding out who Sabrina was from this website - " amazingly suggestive-sounding record for the time and I was pretty dumbstruck when I saw the pictures of her!!! So I reckon this record must have had a lot of blokes rather excited at the time. "
Not only then, Andy! The pressure is rising at nylon.net even now!
So, for your aural pleasure, nylon.net presents the tremendous vocal talent of Sabrina (Norma Sykes) for the first time, and often in tune, on the steam-powered Internet.
Late news: copyright information (Library of Congress 'Published Music' Vol 10 Part 5A, No. 1 - Jan-Jun 1956) found online reveals that Samba Sabrina was created by Denny Boyce (b. 1921) for piano, consists of 3 pages, sold for 2 shillings, and was copyright Vocable Music Co., Ltd. London 6 April 1956. EFO-42371.
From Sabrina's hit singles of 1957...

Who knows if the artist was thinking about Sabrina when he drew
this cartoon, but... click it to see it in full.
---
From Sabrina's cult classic, Sabrina In High Heels
(sorry)
Satan in High Heels .
I Would If I Could
by Jack Lawrence and Stan Freeman
A most confusing song

785K, MP3

What have you done (for me lately)
by Jack Lawrence and Stan Freeman
Only a few bars, but the last note is a classic.

434K, MP3

Yes, it would have been nice to be present when Sabrina recorded her earth-shattering singles. Here's a photo in case you weren't there.

Found on Youtube - a cover of Sabrina's Persuade Me .
And if that's not enough to satisfy your lust for Sabrinasongs...
Thanks to the Youtube efforts of Christian Blatter, we have a restored rendition of Sabrina singing "I Would if I Could" from her masterpiece, "Satan in High Heels"

Sabrina is credited with the SIXTH WORST EVER B horror movie musical interludes with her rendition of "I Would If I Could" in SIHH. At least it just beat out "The Mushroom Song" from The Giant Gila Monster sung by Don Sullivan.

Hear Sabrina singing "I Would If I Could " - updated 2023-05-21

Or, even better, watch Sabrina sing "I would if I could" updated 2023-05-21 (was (2M, WMV - now 47MB MP4)

WATCH Sabrina sing "I would if I could" - the original WMV version. Realise how technology has changed since this site began.

Hear Sabrina singing the end of 'What have you done (for me lately)'

WATCH Sabrina sing "What Have You Done for me Lately?"

(WMV video - a very old version to show you how the site has grown over the years. Do browsers even play WMV videos any more?)

12 March 1959 - The Age

Sabrina as Torch Singer...

Sabrina as a would-be torch singer... are in the new single-play 45's.

Sabrina, whose entertainment talents definitely do not include high-class singing has her first record double — Persuade Me, and a Man Not a Mouse (Philips).

"Sabby" suggests rather than sings these torchy titles, doing a good job with the second title.