Satan in High Heels
Satan in High Heels
(1962)
Sabrina and the Satan in High Heels cast - added 5 Oct 2020

From the Satan In High Heels LP jacket
playing herself
A film for the whole perverted family !

Watch the theatrical trailer for SIHH (4M WMV) added Oct 2009

Enter, Sabrina, the Bitch! (1.7M, WMV)

Exit, Sabrina the Bitch! (1.5M, WMV)

Dressing Room, and Before the Show (0.5M, WMV)
From 'Satan in High Heels', 1962, we present our own SABRINA and this odd song. I'm still wondering if it's an ode to Menstrual Blues, or the fact that she needs to get married before uniting the uglies...

Sabrina Sings"I Would If I Could" ... (2.1M WMV)

Sabrina's closing rendition of " What have you done " ...(0.5M, WMV)
Jump to SABRINA'S SCREEN TEST for SIHH - Scene 1961.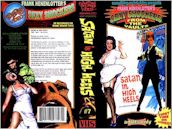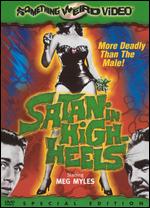 6 July 1963 - Daily Mirror
SABRINA FILM BANNED
A new American film, " Satan In High Heels," in which Sabrina has a part has been banned from Britain by the British Board of Film Censors on the ground that it is "Immoral and vicious."

Filmed in 1961, then shelved for seven years until its release in 1969, Satan In High Heels has become a cult sexploitation classic : it has recently been digitally remastered and released on DVD. It features:
Sabrina (playing herself) as an international cabaret star with a drop-dead dress and a really bitchy attitude
two songs that really should not have seen the light of day
Meg Myles, another busty 60's babe, intent on laying everything in and out of trousers

Click the pic for a contemporary magazine article about the film. The text reads:
'Meg Myles and Sabrina, two of the bustiest talents in show biz, are both featured in a new motion picture scheduled to hit the local screens this year. The picture, "Satan in High Heels" is the story of a vicious and beautiful woman who uses men as playthings in her own game of life. Meg and Sabrina both show off surprisingly well as actresses and vocalists. Meg's feature song, "Female of the Species" could easily hit the top ten.
Sabrina is an English lass who has appeared on British TV and in night clubs in Miami and Las Vegas. Her astounding (40"-21"-36") figure needs no build-up. It speaks for itself. The result is that Sabrina has within a very short space of time become one of the most promising newcomers in filmdom. The photographs seen here were shot on the "Satan in High Heels" set by own own roving photographer. We feel that we have obtained a very generous portion of Sabrina for display.' ('Orbit' magazine, Issue 1, 1961)
CRITICAL REACTION TO "SATAN IN HIGH HEELS"

"Thanks to a great title, a Playboy layout, a thrift-store movie-tie-in paperback and even a soundtrack album that occasionally shows up in used-record stores, this legendary kinkfest is probably the most famous "adults-only" feature no one has actually seen. So, does the stiletto-shod devil doll live up to her sordid reputation? Yes--and no.
Thanks to cheesy dialogue, heavy-breathing theatrics and a snazzy S&M production number, the pic is still a kinky way to kill 90 minutes.... Madame Satan trades bitchy barbs with the club's queeny piano player and insults the orthodontically challenged sexpot ( Sabrina ) with whom she shares the bill. The high-heeled hellion also finds time to take a pristine nude swim, commit father/son adultery and unsuccessfully arrange a murder-for-hire plot. Satan in High Heels unfortunately failed to launch an avalanche of foot-fetish flicks. Pity, too. Imagine the possibilities: Hellion in High Tops, Vixen in Vans, Kitten in Clogs, Minx in Mukluks. . . . "

"THIS FILM IS GREAT . LOVELY MYLES BLOWS INTO TOWN AND BECOMES THE HEADLINER AT A SLEAZY NIGHTCLUB. MYLES IS ALL BLACK WIDOW AS SHE GRINDS EVERY MAN SHE MEETS INTO THE DUST. HIGHLIGHTS ARE MANY, INCLUDING MYLES SINGING THE THEME SONG, AND SABRINA SINGING THE WORST SONG EVER PUT ON SCREEN . (1962) " (http://www.thesinisterurge.com.au/new_page_29.htm)
The Acting

Sabrina never spoke in her earlier films. Her voice was dubbed out of 'Stock Car', which infuriated her, and her later roles on TV and 'Blue Murder at St Trinians' were silent cameos (as most cameos are!)
But in SIHH, we get the full, unadulterated experience of Sabrina acting.
Her voice has been carefully trained, but her delivery of her lines sometimes makes you realise why she was silent so long. Take note of the scene where she thinks her dog Rosemary has got lost.

Hear Sabrina Acting 1 (349K, MP3)

Hear Sabrina Acting 2 (361K, MP3)
The Songs

Sabrina is credited with the SIXTH WORST EVER B horror movie musical interludes with her rendition of "I Would If I Could" in SIHH. At least it just beat out "The Mushroom Song" from The Giant Gila Monster sung by Don Sullivan.
If you really are brave, you can:

Hear Sabrina singing "I Would If I Could " - updated 2023-05-21

Watch Sabrina sing "I would if I could" (2M, WMV) - updated 2023-05-21 (to 47MB MP4)
The other song is just the last few bars of a tune by Jack Lawrence and Stan Freeman. The last note is a classic. The title is never given, but it could be called What have you done (for me lately) .

Hear Sabrina singing the end of What have you done (for me lately) . (MP3, 434K)


Judging Sabrina's singing by her songs in SIHH would be unfair. She released two other songs on vinyl that are quite catchy and usually in tune. If you want to hear Sabrina singing better, click here .
The Pictures
from Satan in High Heels

Sadly, there was never a SuperSabby role in which she fights for Truth, Justice and the Sabrina Way.
Receiving directorial advice? Might be director Jerald Intrator.
Sabrina's big entrance
From the famous 'dressing room scene'
Paul Walsh found this on a European corset lovers' site!
And, from other angles...

Singing "What Have You Done For Me Lately"
Not only the boys have eyes for Sabrina!
Grayson Hall played Pepe, the lesbian club manager.
Sabrina sings "I Would if I Could", was it dedicated to the monthly blues, or the lack of a wedding ring?

And that's the end of Sabrina!
Many of these pictures were provided by 'The Guy from the Netherlands' and 'Sir H'
More pictures from Sabrina's screen test for SIHH
A historic treasure - the eve of the premiere of Satan in High Heels !
Sabrina being laced for her role in Satan in High Heels
Ah, that dress and that fur...

Well, one can understand why the film was shelved for a long time. Sabrina did say she was not a great actress or singer, and in SIHH she proves it.
Her scenes were badly written, and the songs were excruciating, but Sabrina battled through as best she could with the material she had to work with.
Thanks to Paul M for pointing out this SIHH promo shot from eBay.
From the Modern Man Yearbook 1963
And from Scene magazine, 1961
And that's the end .
All original content copyright © nylon.net
All Rights Reserved.
This page was last modified: Wednesday 2021-05-26 14:06