16 Feb 1955
No Prize for Guessing

"Before your very eyes" — beautiful model Sabrina or 18-year-old Norma Ann Sykes, and Arthur Askey. No prize for guessing who's who! They are rehearsing and will be seen together in the Askey show on TV on Friday.
Sabrina and Arthur Askey on TV in ' Before Your Very Eyes ' 1956
18 March 1963 - Rehearsing with Arthur for 'Sunday night at the Palladium'

Upgraded September 2020
20 March 1963
Remember that darling of delight. that gal with the mostest in the right places - Sabrina? Well, after triumphs in America she is returning home, to appear with Arthur Askey in a late March "Sunday Night at the London Paladium" Show. It was Arthur Askey, the Liverpool comic, who first treated us to an exciting view of Sabrina. and we sure are grateful for his generosity . After all. he's not known as big hearted for nothing! Come to think of it. she's pretty big hearted herself! She was once famous as Norma Sykes of Manchester, a model.
ANTHEA ASKEY IS "BIRTHDAY BRIDE"
Anthea Askey, daughter of comedian Arthur Askey, was married today, her 23rd birthday, to 29-years-old Bill Stewart who works for the Jack Hylton organisation. The young couple met when Bill was stage-managing "The Love Match" the show in which Anthea had her first big part. Many famous stage personalities were guests at the ceremony which took place at the All Souls Church, Langham Place (London).
Photograph shows: Sabrina, who was a guest at the wedding seen arriving at All Souls Church, Langham Place. 2 March 1956

Watch the newsreel
Sad Note - Anthea Askey (born 3 years before Sabrina on 2 March 1933) died on 28 February 1999. Obituary .
On set with Arthur
Found January 2014 - another backstage shot of AA and Sabrina
Also found January 2014 - another backstage shot of AA and Sabrina

From Make Mine a Million
Watch Sabrina carry on with Arthur (1.3M, WMV)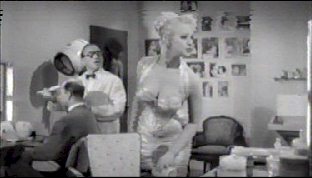 "The little guy who started the big silence, Arthur Askey, shares a crack with Vanessa Lee at a T.V. rehearsal, while Sabrina concentrates on her gimmick of voicelessness. " - 66, Oct 57

With Arthur Askey 1955
Plain Norma Sykes, 21-year-old Manchester girl, took the stage name Sabrina and her measurements - 39-24-37 - to Arthur Askey (background), and is now a featured player in Askey's TV show "Before Your Very Eyes."
From The Argus , 22 Feb 1955.

Sabrina with Arthur Askey 1955
A lovely upgrade was provided by Sir Simeon on 17 May 2012
Thanks to Paul Walsh for scanning the picture of Sabrina from Arthur Askey's autobio.
Undated, but seems to be from the same photoshoot as above. Added 14 April 2023
Sabrina and Arthur Askey - "He was always a perfect gentleman", as she told me in our interviews.
---

"Hello - Playmates" - ARTHUR ASKEY, daughter ANTHEA and SABRINA greet I.T.V. viewers before appearing in a burlesque Cavalier-Roundheads sketch in the first of the Askey series "BEFORE YOUR VERY EYES". This half-hour programme is presented by Jack Hylton for Associated-Rediffusion alternate Friday evenings, Channel 9. Directed by Kenneth Carter.
All original content copyright © nylon.net
All Rights Reserved.
This page was last modified: Monday 2020-09-21 15:41