Sabrina on TV
Sabrina's TV pop appearances, thanks to TV Pop Diaries.
17 July 1956 - Before Your Very Eyes 8.30 - 9.00 pm

5 Feb 1957 - ATV Val Parnell's Sunday Night At The London Palladium 8.00 - 9.00 pm - "I Want A Man Not A Mouse". Parnell banned the gown that she had planned to wear at it was considered too revealing.

24 Dec 1957 - AR The Christmas Eve Show 8.00 – 9.15 pm

26 January 1958 - Sunday Night At The London Palladium 8.00 - 9.00 pm - Her temperament apparently caused problems off screen.

---
Found May 2022
SABRINA'S beautiful Kingfisher blue moire evening cloak is unusually concealing. - But I.T.V. viewers will soon be seeing more of her in "BEFORE YOUR VERY EYES" with ARTHUR ASKEY, presented by Jack Hylton for Associated Rediffusion on alternate Friday evenings. [undated]
---
A new discovery in 2019 - ' You Mitre Guessed ' from 3 October 1964. Possible made for Australian ABC TV (but probably not made in Australia) with Patrick Cargill as the butler.
A great new find.
---
July 2016
Arthur Askey introduces Sabrina on Before Your Eyes in 1956
---
October 2015
At Easter 1956, Sabrina appeared as a celebrity on a cruise ship - and the attentions of the coal stokers nearly make the ship run out of steam.
Watch the Sabrina-parts of the video that appeared on the Beeb.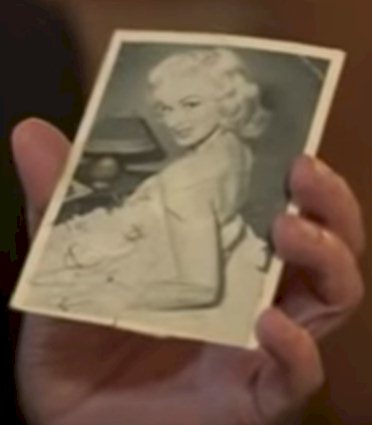 A boy of nine who met Sabrina on the ship in 1956 got a goodnight kiss and an autographed photo.
In the video he proudly tells his memory of Sabrina.
---
25 July 2012 - I proudly present Sabrina on This Is Your Life on 11 December 1974 for Arthur Askey.
---
Thanks to Matt at retrojunkie.com we can bring you Sabrina in America on the Steve Allen Show on 9 March 1958, with Tom Poston. Click the screenshot to see Sabrina's inimitable acting...
DivX, 4.3M.
---
And thanks to Anastasia for finding this rare and amazing clip of Sabby and Steve Allen (and Don Knotts too, if I'm not mistaken) doing a comedy turn. From 9 March 1958.
And if that link ever dies, here's a local copy .
---
Sabrina got a look-in on Australian Story in April 2009 during a feature on cricketer Keith Miller. Thanks to Stuart for the heads up on this one!
See the Australian Story video - DivX, 7M
---
Before Your Very Eyes
(1958)
starring Sabrina (supported by Arthur Askey)
Thanks to ROGER we now offer a unique Sabrinathrill - a segment of Sabrina on
Before Your Very Eyes .
(1M, WMV)
---
3 January 2010
And thanks to Matt we have two great sketches from BYVE on 20 April 1956
The opening sketch where Arthur navigates Sabby through a door and sells a washing machine . (47M, DivX)
The closing sketch where Sabrina works at a movie studio . (42M, DivX)
| | | |
| --- | --- | --- |
| | | |
| | | |
| | | |
| | | |
| | | |
| | | |
| | | |
| | | |
| | | |
| | | Thanks again to Matt at retrojunkie , and to TV Vault . |
---
Fifty Years of Television
On Melbourne TV in September 2005 was a show called "50 years of Television". Naturally, Sabrina got a minute's worth! (WMV, 2M)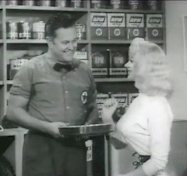 (2M WMV, renamed as AVI to help it play better)
Click the pic to see Sabrina's contribution to Australian TV .
It's postage-stamp sized, but you can go here to see the full Caltex ad in larger size.
---

7 June 1959 - Appears on Sydney TV.
ATN Channel 7 TV, 8.00pm: The Caltex Theatre —"The Stan Freberg Show" starring Stan Freberg; guest artist Sabrina , Horrie Dargie Quintet, Kevin Brennan and Kathy Lloyd.
There's still time to see the Caltex Stan Freberg Show on Astor. Australia's First TV Choice!
See this 1.75 hour long, side-splitting show that you'll remember for ages... brought to you by CALTEX. The show was recorded on miracle Video Tape at ATN before Stan Freberg returned to the United States... you'll see Sabrina too, in startling dimension and crystal clarity on your new Astor TV... the set more people buy!
21" Taper-Line Lowboy, model D8K - 189 guineas.
---
Early 1960s - Roger reports that Sabrina was the "hostess with the mostest" on Hughie Green's "Double Your Money" program. I have my doubts about this because I can find no other corroboration.
Hughie did crack a joke about her, however, on Opportunity Knocks (MP3). Can anyone help date this?
Page Created: May 4, 2004
Last Changed: Monday 2023-07-10 12:48