Make Mine a Million
(1959)
Cameo appearance
Watch Sabrina carry on with Arthur (1.3M, WMV)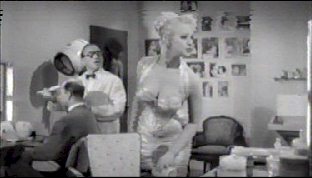 BOOBS subscribers can see the big (23 meg) DivX version
(If it won't stream, download the clip [ALT+click it] and view it locally)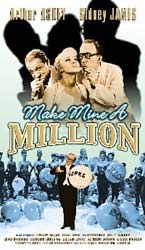 "Arthur Askey, Sid James, Kenneth Connor and Bernard Cribbins are just four of the big name British comedy talents topping the bill in this hilarious tale of the advertising world gone stark raving bonkers!"

Lobby card upgraded 1 Aug 2010

" A persuasive ad man cons a British TV makeup artist to slip in a promotion for Bonko Detergent during a show in this comedy. The ploy is a success until the makeup man is fired. He and the ad man team up and create a pirate station that broadcasts their commercials into other shows. They soon find themselves in trouble when thieves, believing their roving broadcast van is filled with gold, steal the vehicle. The adman radios the police and the robbers are captured. This leads him to get a new job with the television network. The makeup man then interrupts the man's first show with his commercials " (Sandra Brennan, All Movie Guide)
Roger reports: "Make mine a million - small 1 minute appearance in just the tightest dress I've ever seen - her waist looks UNBELIEVABLY small !"

And indeed it is incredible!
Found 1 August 2010 on eBay - Sabrina and Arthur Askey on the set of Make Mine a Million .
Found January 2014 - another backstage shot of AA and Sabrina
Also found January 2014 - another backstage shot of AA and Sabrina