5 November 1956: Sabrina was on the bill for the 1956 Royal Command Variety Performance in London as a 'surprise artist'. Sadly, the performance was cancelled. Liberace was in tears, and Sabby was disappointed.


Sabrina appears in the programme

Two versions of Sabby and David Whitfield, 5 Nov 1956,
at the Royal Variety Performance rehearsal
at the London Palladium.
She was very disappointed when the show was cancelled due to the Suez Canal crisis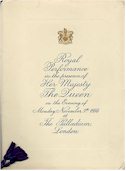 I just bet you boys would kill for a picture of Sabrina mournfully inspecting the dress she would have worn to the Variety Performance. Here 'tis! It is of sugar pink lame with shaded pink net.

'Hard Luck Sabrina 5 Nov 1956' - Mail
Sabrina did eventually get to perform at the Palladium in 1958.