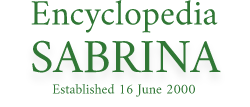 Contact me at the Encyclopedia Sabrina campus
OUR SURF GIRL OF THE YEAR
The Victorian Surfer
Volume 1, number 2
December 1962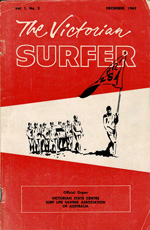 Thanks to Ralf
Even though 'Sabby' hasn't visited a surf beach for some years now, one high ranking surf executive refuses to let any other female claim the title of "Miss Surf Girl". But we must agree - this girl is simply "to ps",
By the way - the object at the bottom of the pic is a life saving reel to winch in drowning people.
---
Ralf wrote to say on 11 December 2022:
Hi Mark,
Hopefully another treasure for you.
Found this photo in a Victorian Surf Life Saving magazine of 1961.
Appears Sabrina made quite the impact from her 1959 visit.
Regards, Ralf
All original content copyright © nylon.net
All Rights Reserved.
This page was last modified: Monday 2023-07-10 13:57