A couple of publicity shots from Blue Murder .
Unless I fell asleep, no such scene appeared in in the film.

30 Sept 2014 - Full size image located! Yabba dabba doo!


Added 19 March 06 from the Scrapbook page. It's really nice when you find Sabrina with a genuine smile rather than the cheesecake grin she often wore. Her whole face lights up immediately.
She was so integral to the film that she was given equal billing with Alistair Sim in the poster. One wonders why she missed out on an Oscar!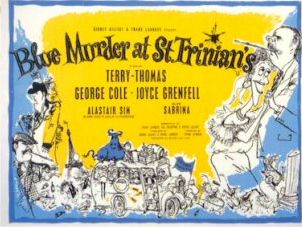 "Writer/artist Roland Searle's diabolical "belles" of St. Trinian's Girls School return in this raucous British comedy. Because the girls cannot behave themselves, their headmistress Alastair Sim in drag!) has been thrown in jail, and the school is surrounded by police and army troops. The students win an all-expense-paid trip to Europe (by cheating, of course). While laying waste to the Continent (with Terry-Thomas driving the bus), the girls are enmeshed in a diamond theft instigated by the safe-cracking father of one of the students. The film ends with an elongated water polo game, played with the ladies' usual sense of sportsmanship and fair play." Hal Erickson, All Movie Guide

A publicity poster for Blue Murder

" ...the cast even includes Sabrina as the school swot, reading Dostoevsky in bed, a self conscious reference to the artificiality of the school " - http://www.shu.ac.uk/services/lc/closeup/foale5.htm
Or maybe this is a better explanation?

Another publicity poster for Blue Murder - Sabrina being sketched by Ronald Searle.
And Matt sent in this photo in October 2010 - thanks, Matt!

And yet another poster!

BOOBS members can click the key to get the 330K version!

Found in 2016 - Sabrina reads Dostoievski. Of course.