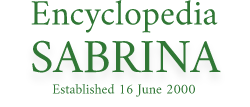 THE SABRINA SCRAPBOOK
Do YOU have any Sabrina stuff?
If you see this icon

click it to see the extra-large image - if you are a BOOBS contributor .
If this page took a long time to download, I apologise, but I think you'll consider it worthwhile. This batch of 101 pictures come from a fan's scrapbook bought from eBay. Hoping for one good pic, I hit the motherlode: there are many unique images, some of them quite mysterious.
You will have to forgive the quality of some of the scans, but most of the images were glued to heavy board as collages. Trying to isolate single images was a trial, and the cardboard pages were too big to fit into the scanner so the images sometimes had to be scanned in parts and stitched together in photoshop.
Some pictures have been moved to themed picture pages e.g. The Askey picture page .
Since these pictures have no connection to each other apart from their scrapbook source, it doesn't matter too much if they are flung to other, more fitting, places.
Who is this chap? Should we care?

A lovely pic of our Sabby which scanned well because it was a postcard with a real photograph.
BOOBS contributors can click the key to get the 1000 x 1500 pixel version.
It constantly amazes me how different Sabrina can look from one picture to the next
Tuesday 2020-10-06 15:38
So, so sixties!
Sabrina ogles an Oscar. Sadly, the Academy failed to recognise her acting genius in classics such as The House of Black Death .
I was trying to work out why Sabrina was wearing a bra on top of her dress, but I think it's just a rather fuzzy photo and an unfortunate dress design.
A typical collage from the scrapbook. You can see how hard it was to isolate some of the images.
Now, what do you think is going on here? There's a man (probably Steve Cochran) with his arm around Sabby's shoulders, and part of her finger has been excised. Was the scrapbook maker jealously removing a ring from Sabby's finger? Hmmm!
Some of the later images in the scrapbook are very poor quality indeed.
4 July 2008 - Rescanned : double sized!
More evidence of Sabrina's efforts to build her skills
Also see Sabrina as a Vulture for Culture
Dig those specs. She's having a Dame Edna moment, apparently at the New Horticultural Hall in London, June 1959
Newly-edited version added 2 Aug 2009 - sans watermark on her moosh!
Rome again, perhaps? Or Thoresby Hall?
London Palladium, 1958.
Ahh - she could even get into a taxi sexily!
And finally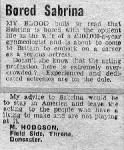 Oooh - I could just scratch his eyes out!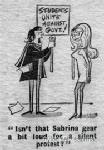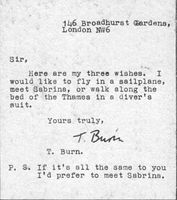 My personal theory is that 'T.Burn' is the creator of the scrapbook in which this letter was found. If you're passing Broadhurst Gardens, could you pop in and ask? Ta!
All original content © nylon.net
How you can support Sabrina .
Created: 16 March 2006
Last Changed: Tuesday 2020-10-06 15:38