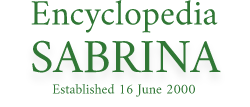 Sabrina Cinerama
Taken from an unused Pathé newsreel (so there is no music or narration), French stars attend "Cinerama Holiday" Premiere in London. The Sabrina Site version of the clip (naturally) has removed the Froggy fellows and concentrates on our Sabrina .
Date suggested on the dope sheet was 1946, but considering Sabrina would have been about 10, I doubt that is entirely accurate - unless she hit 41 inches very early in her development! It's only about 8 seconds, but enjoy each one!
Do you like the fade-in and fade-out? I did them myself (blush)
Length: 8 seconds
Size: 272K
Format: Windows Media Player WMV (pretending to be an AVI to make it play properly)
All original content copyright © nylon.net
All Rights Reserved.
This page was last modified: Monday 2018-02-26 16:25