Sabrina's Live Shows!
The best Sabrina is not canned, bottled or filmed.
The true glory of the lady must have come from a raw, personal appearance on stage.
Here is a gateway to Sabrina's live shows.
---
Were you were looking for Sabrina's theatrical plays? including
---
January 1955 - Sabrina is appearing twice-nightly at the Portsmouth Empire in a show called, "OH - THOSE LEGS!" with
Norman Stanley,
Jack Reed,
Pauline Terrie,
Eric Watts,
Sid England,
The Montmartre Nudes
The Night Time Lovelies.
---
Chiswick Empire 1955
---
Palace Theatre 18 July 1955, appearing as "The Glamorous Sabrina from the TV series 'Before Your Very Eyes'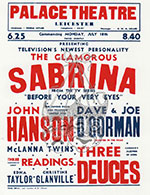 ---
French Capers - 1955
---
This'll Make You Laugh - 1956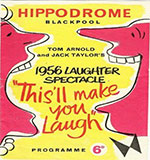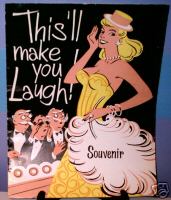 ---
Empire Theatre, commencing 15 October 1956 - 'The Beautiful Sabrina' with Nitwits et al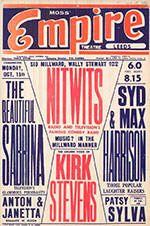 ---
Pleasures of Paris (London) 1957 .
---
Prince of Wales Theatre , beginning 18 March 1957 for two weeks
With Frankie Howerd and others.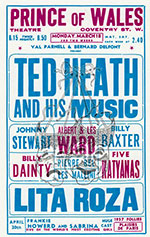 ---
In 1959, Sabrina appeared at Chequers night club.
And again in 1962
SABRINA

Controversial English movie star reveals unsuspected talents as a nightclub performer in The BIG Show at Chequers.

SABRINA Sings!

SABRINA Dances!

SABRINA oozes sex appeal!

The BIG Show also features:

Jack Wilson, American singer with the velvet touch; The Kon Tiki Trio, fabulous singing group from N.Z.; Frank Berry, star of the current Tivoli show; The Brittons; and the famous Chequers Lovelies.

Performances nightly at 7 p.m. and 11.30 p.m.
---
Pleasures of Paris (Australia) 1958-9
---
The Sabrina Show - commencing September 19, 1959 at the Theatre Royal, Brisbane, Queensland, Australia
---
3 March 1960 - according to The Stage , London, Sabrina is co-starring in cabaret at the Singapore Hotel , Miami Beach Florida with American comedians Jerry Lester and Hal Fisher ..."
---
Showgirls - 1961 (aka Playgirls)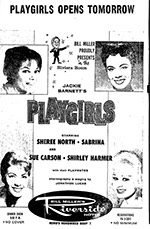 Many thanks to 'Karamazov' for the image above - not too flattering, but the first of Sabrina live onstage! Thanks, 'Karamazov'!

From a photo I bought on ebay
---
29 December 1962
Sabrina is appearing in the floor show at the Tarantella Restaurant Cabaret in Carlisle St, St Kilda, Melbourne
TARANTELLA RESTAURANT CABARET

Open from 8 p.m. till dawn, dinner dance, floor show. Pipita from Cuba with her Negro band.
Samia in her 7-veil dance and the popular SABRINA in the floor show.
For New Year's Eve from 8 p.m. till 7 a.m.. eat all night with special turkey on the menu, eggs and bacon. 6 a.m. and 2 Aspros each.
Book now, few tables left.
31 CARLISLE ST., ST. KILDA.
94 3281, 91 1550
N.B. "Aspros" are aspirin - a strange gift from a restaurant...
Page Created: 7 March 2010
Last Changed: Thursday 2023-07-13 13:38
All original content copyright © nylon.net
All Rights Reserved.
This page was last modified: Thursday 2023-07-13 13:38