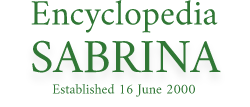 Sabrina at the Chiswick Empire 1955
Do YOU have any Sabrina stuff?
If you see this icon

click it to see the extra-large image - if you are a BOOBS contributor .
Sabrina's first variety performance at the Chiswick Empire- see Sabrina's Shows for more live performance information
Sabrina with the Three Deuces
Found on 2 Sep 2012 - a poster in a Google Group reported he saw Arthur Askey and Sabrina at the Empire.
All original content copyright © nylon.net
All Rights Reserved.
This page was last modified: Thursday, January 14, 2016 1:43 PM
How you can support Sabrina .
Created: 5 Oct 2011
Last Changed: Thursday, January 14, 2016 1:43 PM