START panting, men ... take a deep, competitive breath, girls . . . Britain's foremost Anatomic Marvel — the blonde Sabrina — is coming to Australia.
She lands in Melbourne in a few weeks to star in "Pleasures of Paris" — the same show which in London stretched goggle eyed queues of sightseers (rather than theatregoers) round the block.
Sabrina, the sight in question, is the only girl in show business to have soared to stardom without uttering a word. She has done it simply by bludgeoning the public with her vital statistics, prettily packaged.
To achieve this, of course, required statistic of an exceptional order.
Sabrina's are. The tape takes a full 41 inches on its breathtaking trip around her chest, and only 20 to get round her waist. Sabrina can nip it in tighter than that, and still breathe.
This may all sound terribly business­like, but when it comes to assessing her assets, so is Sabrina. It comes as a bit of an anti-climax to learn that her hips are a normal, natural, unspectacular 36 inches.
But in the beauty business they say you can't mess around with hips.
SABRINA'S Australian tour will last at least six months, divided between Melbourne and Sydney. Nowadays, having achieved stardom, "The Dumb Blonde" has broken into speech.
She was catapulted to overnight fame on television by British comic Arthur Askey three years ago.
He presented her as an utterly dumb blonde in his comedy show. But since then Sabrina has striven to master the arts of dialogue, repartee, and singing.
And lately she has emerged as a top-of-the-bill, all-talking "Miss Sex" with a whole show built round her awesome curves.
Her voice is a revelation — a piping schoolgirl treble.
But Sabrina, born Norma Sykes in Blackpool 21 years ago, is not at all sure she's done the right thing in signing to tour Australia.
She sat in her London flat curled up in slacks and a sloppy joe sweater - and even that was inadequate - and told me anxiously, "Well, I mean, Australia's such a long way away, isn't it? All that time to be out of things here. And I've had some wonderful offers since — to make a film with Tommy Steele in Spain, for one thing.
"And there's a producer in Rome who keeps pestering me with offers to film there, too."
So really we're terribly lucky to have got in first.
"Liberace was very concerned when I told him I was going to Australia. He didn't like it there at all," she said.
"I'm going on to America after Australia to appear in Las Vegas and New York in cabaret. Of course, Australia has the option on me for longer than six months."
She looked despondent at that, but cheered up at a suggestion that she could become ill and so end her contract more quickly.
Sabrina's two biggest regrets at leaving London — apart from her fear of losing the limelight - are that she has to leave her new and sumptuous flat and her new and slightly less sumptuous boy-friend. Tommy Yeardye.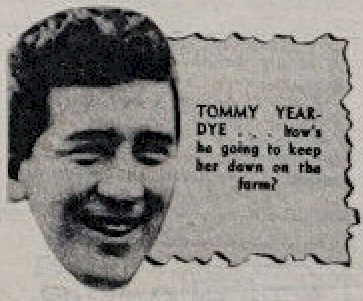 The hulking Yeardye was until recently the light-o'-love of that other blonde bombshell Diana Dors.
Tommy, seemingly unscarred by his recent falling out with Diana over financial and domestic matters, has now assumed the status of Sabrina's business manager.
The man who some while ago was said to have "no means of livelihood" now plans to run a farm and raise horses for her.
Said she: "The farm idea is Tommy's. I've wanted to go into business for some time, but I didn't do anything about it till Tommy came along. I haven't a clue about farms. I'm leaving it all to him.
"I wouldn't live on a farm myself If you paid me. I'd go mad. I can't stay in this flat for very long, even. I must always be on the go."
While Sabrina's tastes coincide strikingly with those of Diana Dors in many ways, it would be inaccurate, however tempting, to describe them as bosom pals.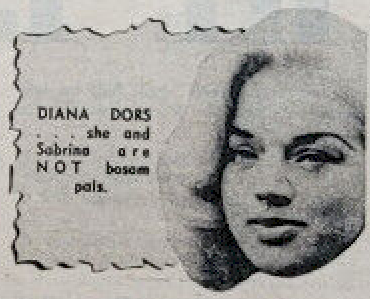 Before Tommy Yeardye transferred his attentions and the benefits of his business acumen from Diana to Sabrina, she had already been squired by Denis Hamilton, Diana's estranged husband.
But the traffic is not all one-way. Diana's present sweetheart is Dickie Dawson, Sabrina's last boy-friend.
Sabrina will also be leaving a brand-new luxury flat in Knightsbridge, overlooking Hyde Park, to take the plane to Australia.
She has still to complete the furnishings, but the main motif indulges her passion for mirrors.
One wall of her mauve-and-cream bedroom is entirely of mirrored glass.
So is a large part of her lounge. But Sabrina is at home with mirrors.
"I'm crazy about them," she says. She looks round at them every now and then as if to make sure she's still there, and several Sabrinas smile back reassuringly.
Apart from all this, the gains Sabrina can count as a Star Sex Symbol are:
Her £10,000 top-floor flat, mirrors and all.
A £3000 yellow-and-white American car.
A £3500 mink sapphire coat which furriers tell her is the finest in England.
Five mink stoles.
Hardly a dress under £200.
Lovers' knot wallpaper at £3 a roll.
When I asked her what her rewards for appearing in Australia would be, Sabrina countered with: "What do they usually pay?"
"Anywhere between £100 and £1000, I should think," I told her.
She thought this over.
"I'm getting £1000 a week," she said finally.
There is a slight amendment to announce on earlier figures. Sabrina now claims that her top vital statistic is not 41 any more, but 42.

So it would be unfair to claim that all this has gone to her head.