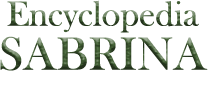 2018
25 October 2018
A lovely picture of Sabrina singing
17 October 2018
Again, thanks to the dedication of Countess Anastasia of Siberia, we present an amazing find. Thanks, Countess! If only I knew where this video clip came from. (1MB, MP4)
20 September 2018
I can't remember how many times I've been asked, "Do you have a picture of Sabrina riding a baby elephant while carrying a rifle and a camera?"
Oh. Now I remember. Zero.
Sabrina with Bob Monkhouse and an anonymous beauty queen winner in 1956.
Finally found a supersized version of the delightfully moody and seductive shot.
Sabrina at the Ascot races, 1957. Added some upgraded pix.
9 September 2018
Found a nice upgrade for this colour covershot
4 September 2018
This is annoying me. I was sure I had this pic already, but I can't find it on the site! Please let me know if it's old.
28 August 2018 - Added the Stockcar movie press kit!
27 August 2018 - Twenty-five years after their divorce, Sabrina's ex-husband, Harold L.Melsheimer brings 'Real Property' legal action against Sabrina and her mother - and apparently 50 other "Does" . The case continued for 3 years until 25 August 2005. See details on the Sabrina In Court page.
6 June 2018 - A fantastic new pic from Countess Anastasia of Siberia. It's quite raunchy for a Sabrina pic, and the scars from her childhood right leg brace seem to be evident.
16 May 2018 - So that's Sabrina - Australasian Post, 26 Dec 2957. A look at how women view Sabrina.
14 May 2018 - My Baby - She's As Good as Gold - By Mrs. Ann Sykes - SABRINA'S MOTHER - Weekend (Australia), 7 March 1959
3 May 2018 - At long last, a new magazine! They gave Sabrina three days to learn three lines! Australasian Post - 9 February 1956.
1 May 2018 - Thanks to Countess Anastasia Arden of Siberia, we have video of Sabby's appearance on the Steve Allen show on 9 March 1958.
25 January 2018 - Sabrina and a lion, probably from Billy Smart's circus.
1 January 2018 - Happy new SabrinaYear. Sadly, without Sabrina. But the Sabrina Encyclopedia never gives up.
2017
31 December 2017 - added two new discoveries of Sabrina radio references from Hancock's Half Hour.
27 December 2017 - in 2016 a certain English broadcasting corporation created a radio show about the legend of Sabrina - the river, its fish, and our girl. I provided the Sabrina song for the programme. Enjoy. You can find more of Sabrina on Radio on the Radio Sabrina page.
27 December 2017 - Listen to Barry Crocker recall his days in Melbourne and Adelaide in the Tivoli with Sabrina - including how he became her manager.
10 October 2017 - Have finally finished adding new findings from U.S. newspapers about Sabrina's life from 1960 onwards.
8 October 2017 - The Times of London has published its obit for Sabrina
30 September 2017 - Countess Anastasia of Siberia discovered this familiar image being used to sell stickers in Russia in 2017. Do you recognise the lady or the ad?
28 September 2017 - Tried to clear up the confusion between the Sheffield Riot Incident and the Birkenhead dress-ripping Incident, which have been conflated and confused by several contemporary sources. Also, converted the Breast Insurance picture page into a Sabrina Incident page.
13 September 2017 - I am collecting dozens of newspaper articles from a British newspaper archive. Also this, from Suzie:
Thanks to Suzie for this great reminder of how Sabrina took care of her fans.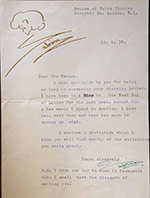 4 September 2017
Sadly, I had to announce that Sabrina died on 24 November 2016. You may want to visit and maybe contribute to the Tributes page.
30 August 2017
Another great find by Countess Anastasia of Siberia. Thank you, dear Countess!
Sabrina was always clear on the 'baby' question.
22 August 2017
Wellington Uni, New Zealand. On 14 September 1959 the student magazine 'Salient' invoked Sabrina's name and urged uni chancellors to 'keep abreast of the times'.
And found a good upgrade to this classic
And a new find, to be added to the Sabrina in Lace picture page
And finally for today, probably not the finest of Sabrina's photos, but it was taken and that's what counts.
15 August 2017
Another great find by Countess Anastasia of Siberia. Some Sabrina side-boob...
21 July 2017 - Countess Anastasia of West Siberia sent some more great pix of Sabrina in Melbourne in 1959.
17 March 2017 - newly-found pix of Sabrina being seen at Lee's Theatre Restaurant in Kensington, Sydney, 27 April 1959
13 March 2017 - more of the Brisbane pix from September 1959
21 February 2017 - Hold onto your bonnets, for we present a long-lost programme for The Sabrina Show from 1959 at the Theatre Royal in Brisbane. Click the thumbnail below for the full story.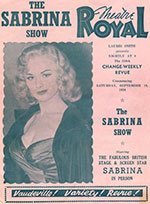 3 Feb 2017 - Sabrina in Sydney in the 1950s. You will need to click the thumbnail to appreciate the Peeping Tom with his head poking through the venetian blinds!
2016
20 Dec 2016
If you love Satan In High Heels and want to read the novelisation, it's on eBay for only $US40...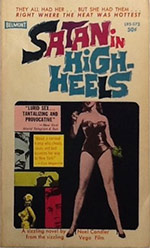 16 Dec 2016
Compiled a page for The Curious Incident of Sabrina's 19 inch metal belt.
15 Dec 2016
Ongoing picture file renaming will be breaking more old stored links to the site.
5 Dec 2016
From '66' magazine #22 (August 1957)
25 Oct 2016 - Thanks to Tim we have a sultry, atmospheric al fresco shot of Sabrina from 'Photographing Glamour" from 1959.
Also, I present this amazing shot that bears no resemblance to any other Sabrina photoshoot.
11-23 October 2016
Another day, another MAJOR site restructure. All old stored links to pictures will now be broken. Sorry 'bout that, but after 16 years, the site needed a major overhaul. What was neat and logical in a one-page site in 2000 does not work so well in a multi-thousand picture site in 2016. Many files have been renamed and reorganised.
19 September 2016
I've finally started a mass-rename of files that had previously been named using the name of the source magazine (e.g. "scope1958-sabrina-eating"). Early on, grouping files by source used to make sense, but now with 2,568 photos it makes it hard to search for duplicates and related photos. Expect some old links to fail starting... now.
24 August 2016
An Australian is selling a 16mm copy of Sabrina's Caltex TV ad for $100 on eBay.
22 August 2016
Sabrina speaks at the Savoy, April 10th 1956
14 August 2016
A new player on the "Sabrina With..." page - Victor Rogers.
4 July 2016 - Dedicated Philip G sent a new photo from 1955, related to one in the Beauty Parade magazine article. Thanks, Philip!
3 July 2016- Bouke - the legendary 'Guy From the Netherlands' - has pointed me to some incredible and new pictures of Sabrina's visit to Dorincourt for the Queen Elizabeth Foundation.
9 June 2016
Sabrina, probably in the later 1960s, wearing a fur hat.
The mature Sabrina was still a very striking woman.

A colour poster for POP in London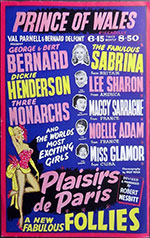 8 June 2016 - BREAKING NEWS (from 1959) : Sabrina Bungled It at Bondi Beach - Sabrina disrespects Bondi Beach and prefers St Kilda Beach!
23 May 2016 - In 1956, this unauthorised reference must be to our Sabrina.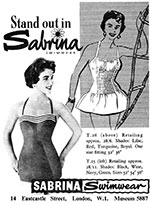 19 May 2016
HAPPY BIRTHDAY SABRINA!
It's now a national holiday. Tell your boss I said so.
Take off home and bake a Sabrina cake. You know how it's shaped. Yes, you do.
Hint: you might need two cherries.
Let's face it. If you were Twiggy fans celebrating her 67th birthday in September, you'd all be starving after a Twiggy cake.
Sabrina just makes good nutritional sense and satisfies the whole family.
17 May 2016 - Long-time Sabrinafan First Class Anastasia of Mother Russia sent this electronic card for Sabrina's big birthday.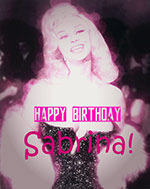 15 May 2016 - "With feathers in her hair, on on her dress - lovely SABRINA is pictured on her arrival for last night's [7 Nov 1956] premiere of the film "Moby Dick" - at the Warner Theatre."
Damn, I bet those feathers tickled some fancies that night...
13 May 2016 - A big surprise for Sabrina's big birthday - colour film of Sabrina's appearance at Point Leo Surf Club in 1959. Woohoo! Many thanks to Adrian R for the unique film.
11 May 2016
Warning! Sabrina's big birthday takes place in ONE week!
What on earth are you people all doing?
Get those buntings and street parties happening.
If the Queen could get a street party, Sabrina should get one... and our Sabby's ten years younger!

27 April 2016 - Sabrina's (cough) eightieth (cough) birthday is on May 19. Feel free to send your birthday messages to her.
But if you ask me, she will forever be our young innocent Norma Ann.
6 April 2016 - Thanks to Tim we have a new, mega-sized pic of Sabrina, possibly in Rome 1958. It came from 'Famous Photographers Photograph Beautiful Women (1963)'. Thanks, Tim!
4 April 2016 - Thanks to Antoni, we have another book that refers to Sabrina - this one recalling events from 1953. How accurate the author's memory is... who's to say?
9 March 2016 - Found some new primary evidence about Sabrina's 1962 visit...
LEE GORDON (ON BEHALF OF PERRIN PRODUCTIONS)
PRESENTS `THE TWIST': (Source)

BOBBY RYDELL, CHUBBY CHECKER, DEL SHANNON, DIANE
HINTON & THE PEPPERMINTS WITH SABRINA

JAN 13 BRISBANE, FESTIVAL HALL (X 3)
JAN 15 SYDNEY STADIUM (X 2)
JAN 17 MELBOURNE, FESTIVAL HALL (X 2)
JAN 18 MELBOURNE, FESTIVAL HALL (X 2)
JAN 19 SYDNEY STADIUM (X 2)
JAN 20 SYDNEY STADIUM (X 3)
13 Feb 2016 - Philip wrote to say - I've just been writing an article about Sabrina for http://www.aenigma-images.com. Encyclopedia Sabrina has been a totally invaluable source and of course I've linked to in the article. I have scans of all the photos featured. Let me know if you'd like any of them. Best wishes, Philip.
And indeed good Philip sent several scans of new Sabrinapix! Thanks, Philip.
13 Feb 2016 - I am realising how primitive some of my Sabrina videos are - especially those edited over a decade ago when the technology was very different, hard disk space was expensive, bandwidth was tight, and WMV was all the rage. One day soon, I'll edit new versions of my videos from the mastercopies.
As a start, on Valentine's day I re-edited Goodnight Sabrina. Once 2MB WMV, it's now 42MB MP4.
---
9 Jan 2016 - Two new pix kindly sent by Steve Page.
8 January 2016
Some actual news. The BBC got in touch. They are making a programme for radio 4 that references Sabrina, and needed to get hold of a copy of her song 'Persuade Me' for the programme because the BBC's vinyl copy "seems to have gone missing." I sent the producer my best quality copy, so when you hear the song on the radio,you can think of Sabrinastuff !
---
1 January 2016
Happy New Sabrina!
2015
3 November 2015
Conducted a massive and thorough cleansing of ill-formed HTML. It's embarrassing how many pages were crippled by bad global edits over the decades. It's not surprising, considering that the first pages were created using Netscape Composer fifteen years ago. With any luck, some troublesome pages are now readable. Please let me know if pages are not working (be sure to identify the exact page) - I often can't see errors at my end!
---
2 November 2015
Lyndie sent this lovely pic of her father Stan Love and Sabrina at The Bay Hotel, Pevensey Bay, Sussex, circa 1957. Hopefully we might get a larger copy later.

(Full size)
---
31 October 2015
During Easter 1956, Sabby appeared on a cruise ship across the Bristol Channel. There's a clip of people's memories of this nautical naughtiness.
---
1 October 2015
New pix and upgraded newsreel of Sabrina attending the reopening of the Granada Cinema in 1957. Click the pic to visit the page
30 September 2015
23 September 2015
A stern man measures the chestical regions of our Sabrina. The cad!
26 April 2015
Sabrina's (cough-cough-seventy-ninth-cough) birthday is on 19 May 2015, and she's not feeling too chipper these days. You might care to leave her a birthday message at the Sabrina feedback form, and I'll forward them to her.
26 April 2015
Good news everybody! This site has been officially approved by the hallowed University of Sabrina! O - I haven't mentioned the University of Sabrina yet, have I? I might do something about that later.
25 April 2015 - I have regained the sabrinastuff.com domain, which now redirects here. Feel free to use that URL if you prefer.
3 April 2015 - This site began 15 years ago with primitive, clumsy and incompetent HTML skills (hell, half the pages were created with the HTML editor in Netscape Communicator!), and proudly continues that tradition of careless, skill-free page mangling. Lately, however, I have been trying to drag myself out of this cesspit of unmanageable code to streamline things somewhat, particularly through CSS. Please forgive site peculiarities while I discover what works and what does not.
3 March 2015 - 1959 veterinary students disrespect our Sabrina!
27 Feb 2015 - Found a 2015 reference to our Sabrina on the New York Times!
26 Feb 2015 - Sabrina knew how to arrange a bedroom!
24 Feb 2015 - Frankie Howerd and Sabrina in a TV show about astronomy? Believe it or not, it was pitched to the BBC. Read the excerpt from the book.
24 Feb 2015 - created the Mysteries page, for which help is requested.
24 Feb 2015 - augmented the New Zealand photo page with just-discovered pix from NZ.
23 Feb 2015 - I am processing recent contributions from Alan Moore and other Sabrinafans. Like these rare colour shots...
8 Jan 2015 - a brand new year photo - possibly from her South American period.
1 January 2015 - Found this 'unknown girl'. (Click to enlarge the pic).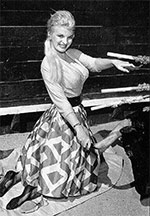 Iit has all the busty hallmarks of our Sabrina. What do you think?
Please report your verdict to

The verdict was "No!"
2014
30 October 2014
My copy of Sabrina's single arrived - 10", 78 RPM in pristine condition! Of course I've had to buy a USB turntable to play and rip the thing. D'oh!
19 October 2014
This may be the holy grail and final hoorah of collecting Sabrina stuff. Finally I have got a copy of Sabrina's vinyl single featuring Persuade Me and A Man Not a Mouse. Not only did I finally grab one after 2 earlier failed attempts, not only is it in excellent condition, but it is the 10 inch pressing of which I had not heretofore known existed. Yay me!
August - September 2014
A new little magazine article - Most Popular TV Star, Modern Man, June 1956, thanks to Sir Tim.
Sabrina is discussed in Derryn Hinch's autobiography.
Sabrina's appearance with Bert Newton on The Late Show in Melbourne, 1958.
And a nice pic of Sabrina at Toolern Vale, Australia. Feb 1959...
3 September 2014 - And I've finished adding all of the new Sabrinastuff I gathered throughout 2014, what little there was. Please feel free to get in touch if you have any information or resources, but otherwise it's time for the site to hibernate again for a while. I get so - sleepy... and zzzzzzzzzzzzzzzzzz.
29 August 2014 - A copy of Sabrina's vinyl single appeared on eBay again. Unfortunately it got away again, since I could only afford to bid $AU100. There's some passionate Sabrina collector out there who is not me!
18 August 2014 - Created a new Sabrina Collectibles page to gather Sabrina signed photos etc. Under construction.
18 August 2014 - Added new pix of Sabrina in NZ, kindly provided by the Rotarua Museum.
11 August 2014 - Created a new picture page just for New Zealand Kiwi Sabrinafans!
10 August 2014 - In response to the recent anonymous correspondent who wrote, "Isn't there a reference in Peter Sellers' "Song for Swinging Sellers" album? i.e. Too old for Mother Goose... too young for Sabrina." Sadly, research indicates it was Lolita, and not Sabrina for whom Peter was pining.
18 July 2014 - Updated the site with Sabrina on the Late Show, Melbourne 1958 and some new pix.
20 Feb 2014 - Out of retirement again. I've got word from a nice lad Aaron who says he "went to an estate sale and found many items of historical value. My understanding was that the owner of the house worked for the United States consulate in Sydney, Australia."
I have received original documents of Norma Ann Sykes applying for an immigrant visa to the United States. This appears to be from April 3rd 1962. It is complete with a copy of the birth certificate, a multi-colored United States of America stamp and a raised seal stamp from the consulate. Also on the paper is her picture and her signature as Norma Ann Sykes."
And he'll send copies to the Sabrinasite! That will be interesting!
20 Feb 2014 - a 1964 pic of Sabrina at the Knottingley Carnival in Yorkshire. Thanks to Jon.
8 January 2014 - a rare treat in these days of site retirement... the Phantom Gunslinger has landed - in Bluray, no less! I have edited it down to the essential Sabrinabits and you will find the link on the Phantom Gunslinger page.
3 December 2013 - maybe the last piece of news: The Phantom Gunslinger is coming out on DVD on 10 Dec. A Great Christmas Idea! As the last unfound item in my thirteen-year treasure hunt, this is a big moment. Check out a winceful preview here.
18 October 2013 - 2:33pm. I am done. I have posted the last of the Sabrinastuff that I have gathered in the past few months. There is no new material appearing from the web, or from Sabrina. It's a pity she never got around to sending any more of her career scrapbooks. Goodnight all, and please think of Sabrina every so often: she's still alive, and living a quietly gorgeous life in Hollywood.
Regards,
Mark, the Sabrinamaster
Melbourne, Australia
18 Oct 2013 - I'm tidying up left-over materials I haven't posted yet, including new Greetings photos, upgrading photos with better quality finds, and adding a new article.
8 August 2013 - the end of the road. Due to the lack of contact from Sabrina, and the the lack of new Sabrinastuff, the site will be mothballed. It will stay online, but I'm not chasing new material. Please feel free to send startling new finds, but after 13 years I think the quest is finished. Thanks to all contributors. Mark.
16 April 2013 - added scans of new glossy photos featuring Sabrina with a budgie, and Sabrina with her dog Shane
9 April 2013 - upgraded several photos, and added a new Sabrina and her Mum picture page.
17-18 Feb 2013 - Another major site reconstruction. Spent 2 days fixing 500 broken links. Just about every deep link you have stored will now be broken! Please use the index pages to find your Sabrinastuff.
14 January 2013 - An extract from Cinderella Nightingale, the novel that Sabrina sued for libel. And the offending passage in the novel.
3 January 2013 - Two more pieces of social commentary on Sabrina from books.
2012
31 Dec 2012 - W.M. Hutson's grandson, Jonathan, sent a great photo of Hut and Sabrina and the portrait referred to in the 66 magazine of 1955! Thanks, Jonathan.
18 Nov 2012 - the nudie photo saga concludes... nearly
18 Nov 2012 - new Tarzan photos sent by Sabrina!
1 Oct 2012 - new Phantom Gunslinger stills sent by Sabrina!
1 Oct 2012 - Thanks to Dr Su Holmes, we have academic research into Sabrina, and fame in the 50s.
1 Oct 2012 - new Phantom Gunslinger stills sent by Sabrina!
28 Sept 2012 - Have nearly finished adding about a hundred new English newspaper articles to Sabrina's life story. Lots of new info!
27 Sept 2012 - I've heard from Sabrina that she has an executive assistant! This might mean more frequent contacts and Sabrinastuff coming in!
18 Sept 2012 - Unearthed dozens more newspaper articles, which have enriched the SabrinaLife pages.
2 Sept 2012 - The battle of the bosoms continues in 1956. Junita Davis wonders where it will all end.
2 Sept 2012 - Sabrina causes a riot in Newcastle, 1955
2 Sept 2012 - inaugurated the Sabrina University Campus collating academic research into Sabrina.
1 Sept 2012 - A series of pix of Sabrina in Melbourne, 1958
22 Aug 2012 - Started the Mini-Series picture page for small series of photos
29 July 2012 - A photo of Sabrina with Prince Christian of Hanover
27 July 2012 - Hoorumble! A video of Sabrina on This Is Your Life with Arthur Askey in 1974
19 July 2012 - Pictures of Sabrina at the Norman Heath Benefit Match 25 April 1956. Thanks to the Guy From the Netherlands!
23 May 2012 - Finally did a satisfying complete site renaming outburst. Finally - a dozen years of irritating filenames and folder structures are gone! HTML and media are now separated, allowing easier site synching.
23 May 2012 - Created the Sabrina at a Piano page
22 May 2012 - An article on Sabrina in the Otago Daily News in New Zealand, by a journalist who ransacks my site for information and couldn't be bothered acknowledging his sources.
25 April 2012 - Cleaned out the 'New Pix' page and got around to posting the last of the unprocessed pix that have accumulated over the past uneventful year. Not a lot to do now. Mothballing is nearly finished, but I'll still happily accept contributions of Sabrinastuff.
27 Feb 2012 - After a flurry of activity last November, the flood of Sabrinastuff has again disappeared. I'm still hoping Sabrina will send another of her scrapbooks, but until then the site sits and twiddles its thumbs...
2011
18 December 2011 - Pulled quite a few pix from the Unthemed miscellaneous photo page and put them in themed pages, particularly lingerie and lace.
3 December 2011 - Split the massive Sabrinalife page into constituent pages to reduce load times.
29 Nov 2011 - Sabrina Recites Gripes, 4 Dec 1957 - her complaints about critics.
29 Nov 2011 - Sabrina Girds - the story of the original 19" belt
27 Nov 2011 - Steve Cochran is a real Cool Cat - Oakland Tribune, 27 Dec 1958. Steve's house.
25 Nov 2011 - A major re-evaluation of Sabrina's stints in Pajama Tops - finally got the two events sorted (and learnt a bit about American geography and radio stations!)
24 Nov 2011 - Sabrina's Got Problems - The Evening Standard (USA) 27 June 1961
24 Nov 2011 - Sabrina Not Normal - Minky not Tweedy - Winnipeg Free Press, 14 Dec 1959
24 Nov 2011 - Big Bosomed Newcomer (and other titles) - Associated Press. 1 Dec 1957
23 Nov 2011 - A new section: Battles of the Blonde Bombshells, starting with June Wilkinson and Jayne Mansfield.
23 Nov 2011 - £2,500 an inch - the worth of one woman's bust - Sabrina insures her bust
21 Nov 2011 - Get Over, Mug! Sun-Herald, 22 Feb 1959. Sabrina arrives in Sydney.
20 Nov 2011 - She's No Dumb Blonde - Sydney Sun-Herald, 1 March 1959
18 Nov 2011 - A nice, single photo found with traditional SabrinaSite methods, like the old days when finding one picture a month was a cause for celebration! The person who posted it had no clue it was Sabrina, and there is no known date or location. 1958+?
16 Nov 2011 - Big But Beautiful - Daily Express, 24 Nov 1976! A very late article!
16 Nov 2011 - A Debut For Sabrina - Daily Express, 25 September 1958
7 Nov 2011 - At long last, I've finished transcribing the third interview with Sabrina.
4 Nov 2011 - Nudes Return to Harass Star - Associated Press (found in Meriden Record) 8 Jan 1956
3 Nov 2011- Sabrina - a Dumb Blonde But Wise - The Argus, 13 October 1955
3 Nov 2011 - Split the Sonny King wedding saga into a separate 'Sabrinalife' incident page.
3 Nov 2011 - The Beauty Who Doesn't Talk - The Argus, 5 July 1955
3 Nov 2011 - Sabrina Gave Him The Eye - Australian Women's Weekly 25 Feb 1959
1 Nov 2011 - She's Their Lucky Star - Australian Women's Weekly, 20 May 1959 - Ray Mann & Roy Bolwell
1 Nov 2011 - Big Girl - Australian Women's Weekly, 11 March 1959. Why does Sabrina appeal to little girls?
31 October 2011 - NEWS: Sabrina Figures it Out - Argus (Melbourne), 2 July 1955
31 October 2011 - NEWS: Sabrina Tore Up Her Past - Argus (Melbourne), 11 July 1955 (nudie playing cards)
31 October 2011 - Diary of a Dream Girl - TV Mirror 17 Dec 1955
30 October 2011 - A new section - Sabrina in Court
30 October 2011 - Part 6 of the latest interview with Sabrina has been transcribed.
9 October 2011 - I paid attention to a reference by Sabrina in Australia Post 1960 to a 1958 novel 'Cinderella Nightingale' which (she said) she successfully sued for libel and had withdrawn from circulation. I've found and bought a copy, and from its summary, I can see why Sabrina was angry!
9 October 2011 - Several new newspaper articles shed light on the Life of Sabrina.
7 October 2011 - Big Bosomed Newcomer Sabrina Throws Britain into a Turmoil, and other titles. The Miami News, 1 December 1957 and the St Petersburg Times version.
7 October 2011 - More grist to the mill in the confusing Sabrina/Sonny King marriage plan story. (See the Sabrina Life story for 1962 for the full saga). Hear Sabrina explaining the events in our interview.
7 October 2011 - Bosomy Sabrina gets the sack! (Jan 1956)
7 October 2011 - Golly! Google Newspapers has found me a flood of new material . This one is an article from 1957 about Sabrina crashing the royal enclosure at Ascot.
7 October 2011 - Added transcript part 5 of the latest Sabrina interview, and fixed the links to the MP3s.
28 September 2011 - The beautiful Sabrina comic strip by Paul O'Connell
28 September 2011 - Finally I have the time to start editing and transcribing the third phone interview with Sabrina.
28 September 2011 - Sabrina in 3D with Terry-Thomas - Picture Post 29 October 1955 - the odd 3D photographs explained!
17 Aug 2011 - A hundred pix of Sabrina in Rome, thanks to a tip from the Guy from the Netherlands.
17 July 2011 - VIP B.O.O.B.S. members can download the entire remastered Stock Car movie! Click the magic golden key! (731M, AVI)

12 July 2011 - conducted another phone interview with Sabrina over 2 hours! Recording and transcript coming soon!
12 April 2011 - The first new magazine for a little while - A 1956 Spick & Span extra... once again provided by the good David J. Thanks, David!
11 April 2011 - Spent hours putting together the Paul Popper picture page, featuring brand photo finds carefully restored by Simeon. Scanned and upped the promised Sabrina sculpture photo which I bought.
5 March 2011 - new picture pages: Sabrina at Ascot, and the German eBay photos
5 March 2011 - the first new magazine for a long time: Australasian Post 9 June 60 - part 1 of a 4 part series in which Sabrina recounts the start of her career, the notorious nude photo session, dating Prince Christian, crashing the Ascot royal enclosure, and faking a faint to avoid performing with a hangover.
24 Feb 2011 - In the move to a new hosting plan this week, I once again must suffer from the arbitrary limit of viewing 2000 files per directory during FTP. This makes it really hard to synchronise files if you can't see half the files in there. I've had to break up the 'p' (picture) directory into 3 directories, so old Sabrina picture links you have to my site will no longer work. Apologies. On the positive side, the new hosting plan gives me unlimited bandwidth and disk space.
20 Feb 2011 - This is fascinating. Have a look at these Sabrina photo auctions on eBay - they are currently battling at over $80 each! I'm lucky I grabbed the first in the series for $25. See here and here. If the winner of these auctions is a friend of this site, please get in touch so we can share the goodies! And a new one is flying out the door at $78 and rising!
6 Feb 2011 - Finally, some evidence that Sabrina did go to New Zealand!
2010
The tenth year of the Sabrina Site!
23 Oct 2010 - Good ol' Matt sent in this photo of Sabby and Ron Searle on the set of Blue Murder at St Trinians. Thanks, Matt!

October 2010 - Brian sent a previously unknown pic of Sabrina's appearance at the Point Leo Surf Life Saving Club in 1958, which attracted 10,000 fans! Many thanks, Brian.
19 September 2010 - Video of Sabrina and Stirling Moss meeting at the 1958 Melbourne Grand Prix.
15 September 2010 - Sabrina visits the Point Leo Surf Life Saving Club 1958.
Many thanks to the club for searching their archives for me.
Read the story of Sabby's first Australian visit.
10 September 2010 - a 'new' magazine: Featuring Sabrina from '66' #34, August 1958. Actually I forgot to process it and it's been sitting in my collection for a couple of years! Embarrassing...
4 September 2010 - a glossy vintage photo of Sabrina insuring her assets

22 July 2010 - A guy in Australia is selling Sabrina's 1959 Buick used during her Australian stay!
7 July 2010
- I have ordered two Sabrinaclocks! And I made a
Sabrina Fun
index page.
12 June 2010 - SUPERSIZED Satan In High Heels clip (65M, FLV)
5 June - A brand new SABRINA FORUM - the official global Sabrina Communication Nexus
19 May - Dear Sabrina, Hope you have a great birthday! Thank you for being so fabulous! Sincerely, Elizabeth
17 May - A message to Sabby from Peter - Happy birthday Sabrina, I used to work for Joe Mathews on Lambeth Walk a few centuries ago and remember meeting you then. Peter Russell.

29 March 2010 - Some great colour pix from Richard Koper of Holland
14 March 2010 - Behind-the-scenes refit of all thumbnails to a minimum of 200 pixels width/height. Now all I have to do is find all the pages with old thumbnail measurements hardcoded into them... Arghh. "I am just going outside and may be some time" as Mr Oates once said...
7 March 2010
- added a
Sabrina's Shows
section (to tidy up several misplaced resources) and tidied up the index page.
6 March 2010 - A lovely original photo, taken in South Africa

28 Feb 2010 - Two new (and expensive) 8x10 glossies, full of B.O.O.B.S. goodness!

28 Feb 2010:
A new magazine; number 104 in our collection! They're getting harder and harder to find.
Sabrina's a Vulture for Culture
-
People (Aust)
, October 31, 1956
21 Feb 2010: Another mystery solved, thanks to Terry-Thomas and Ian Payne. The apparently badly-printed colour pix of Sabrina with an odd cavalier were always a mystery... until now!
24 Jan 2010: With Frankie Vaughan, co-star of Ramsbottom Rides Again, at the Oldham Carnival, 26 May 1956. Appeared in the Chronicle 2 June 1956. Thanks to Martin Riley!
16 Jan 2010 - Thanks to DavidJ we have a couple of upgraded pix of Sabrina in Pix (1962) and Span. Thanks, David!
11 Jan 2010 - NEWSFLASH! I have found the notorious DECK OF NUDIE CARDS with Sabrina on it!
3 Jan 2010 - Thanks again to Matt, we have Sabrina in sketches from Before Your Very Eyes from 20 April 1956!
2009
30 Dec 2009 - Sabrina Forum was humanely destroyed. Again... It seems no-one except spammers want to post to Sabrina discussions.
28 December 2009 - Matt from retrojunkie.com has kindly supplied video of Sabrina on the Steve Allen Show in America in 1958, and the long-elusive first film Stock Car! Thanks Matt! Matt has been awarded a year's access to VIP BOOBS stuff for his services to Sabrina.
15 Nov 2009 - The Sabrina Discussion Forum!
6 Nov 2009 - An interesting behind-the-scenes memory of Sabrina and Harry M Miller in New Zealand.
31 October 2009 -Watch the theatrical trailer for Satan in High Heels (4M WMV)
17 October 2009 - The World's Dumbest Blonde, Modern Man, August 1956 - with some interesting (if uncomplimentary) information
23 September 2009- Thanks to Anthony we have a newsreel of Sabrina at the premiere of 'The Story Of Ruth' in 1960
23 September 2009 - Sabrina was named as an adultress in a divorce case in 1958!
4 September 2009 - a unique find... a previously-unknown Sabrina nude photo from her photoshoot at the age of 16.
8 August 2009 - Sabrina - an INCREDIBLE MISTAKE, Australasian Post 1 Jan 1959
2 Aug 2009 - Hope to be getting a copy of Sabrina's first film - STOCKCAR soon! Yippee! Also, consolidated quite a few unthemed picture pages.
1 July 2009 - To celebrate the beginning of the new Sabfinancial year, I had a Sabrinatie made. And no, you can't have one!
28 June 2009 - Sabby becomes a mermaid - Australian Women's Weekly, 1 April 1959.
Plus! New photo pages! (Ads, Greetings) Improved Sabrina In Australia page.
10 May 2009 - A busy day. Processed the scans of the "Canberra Scrapbook", ripp'd from the bosom of eBay with the Power Of BOOBS Money - trying to get ready for the turmoil of SabrinaDay 2009 wherein our Norma/Sabrina/Sabby has her birthday!
10 May 2009 - Added Louis' Photo Treasury - thanks to Louis of Reno NV for his generous help.
10 May 2009 - Major revision of the Sabrina Life Story page to incorporate the pictures from the "Where/When" page and the ozvisit2 page which covers Sabrina's second and ill-fated Australian tour.
22 April 2009 - Thanks to Sir Stuart G for pointing out a Sabrina appearance in Australian ABC's Australian Story featuring Keith Miller - and Sabrina (for one frame...)
20 April 2009 - See Stevie Page's Youtube film of Ted Doan talking about Sabrina as patron of the Plaza
8 April 2009 - Sabrina on The Gruen Transfer (Australian ABC TV - 8 April 2009)
15 March 2009 - We have 1967-era glossy publicity photos of Sabrina in The Phantom Gunslinger, with Billy Frick, as a very odd Hitler.
23 Jan 2009 - The Ramsbottom Rides Again DVD has arrived, thanks to Torquil! Enjoy the Sabrinascenes and stills from the movie.
2008
28 December 2008 - New and expensive photos!
4 Nov 2008 - some new (expensive) photos.. the first batch is in the Mountains of the Moon page.
11 July 2008 - A mystery solved! Did Sabrina go to Russia? Read the perplexing article and the solution!
10 July 2008 - BIG NEWS! After a long wait, the first of Sabrina's scrapbooks has arrived at SabrinaHQ. Soon there will be huge quantities of material from 1965 and 1966 when Sabrina toured America and Canada with The Loving Couch with Virginia Mayo!
21 June 2008 - The Blonde Who Bombed Castro - Picture Scope, October 1960
8 June 2008 - The iconic shot I call Queen Sabrina is now SUPERSIZED and UNCROPPED!

BOOBS contributors can click the VIP entry key to get the massive 1490 x 1903 pixel unwatermarked version - 660K!
6 June 2008 - we have our first hearing of Samba Sabrina! Arranged by Meggs, this rendition makes you wish Sabrina were here for some Samba Sinfulness! You can insert the obligatory cries of "Sabrina!" yourself.
28 May 2008 - evidence of Sabrina's birthdate from - Sabrina herself in 1955!
22 May 2008 - TV Star is seen but not heard - Pix (Aust) 10 Nov 1956. Our 96th magazine!
19 May 2008 - Happy Sabrinaday!
17 May 2008- It's all go at the Sabrina HQ.
First, it's Sabrina's birthday in 2 days. I sent her copies of all of her available movies, some of which she has never seen (such as The Ice House). The last I heard, she was delightedly settling down to watch her Tarzan episodes.
Next, Sabrina has become a patron of the Stockport Plaza, so there's a new page for that.
Then, I have been sent two nice photos of Sabrina at Thoresby Hall in 1957 by Jeremy - Thanks, mate!
And I've bought an Australian mag featuring Sabrina that should arrive soon.
4 May 2008 - British S-Bomb - Foto-rama, March 1958. Spookily, it arrived just days after one of the men in her pictures wrote to me! And there are great new turtleneck/walkabout photos!
19 April 2008 - One shopping month 'til Sabrina's birthday!
31 March 2008- A new and improved DivX rendition of the Goodnight with Sabrina silent short film, with remastered supplementary audio of her singing Persuade Me and a little bit of I Want A Man, Not a Mouse. It's just on 50 Megabytes, so it's for BOOBS contributors only, I'm afraid. Gotta pay for the bandwidth somehow... The original, smaller WMV version is still available for everyone, however.
21 March 2008 - I have obtained a DVD version of Sabrina in Tarzan and Mountains in the Moon. A little editing and it will be online soon.
9 March 2008 - Bigger and better DivX BOOBS clips of Sabrina in Make Mine a Million, the newsreel of Sabby's 1958 arrival in Oz, and her Australian TV ad for Caltex
23 February 2008 - Sabrina in The Phantom Gunslinger . Yes - we finally have video!
22 February 2008- 'Tim' ends the Sabrinadrought by sending us an audio clip about Sabrina from Hughie Green in Opportunity Knocks, and a new magazine appearance from July,1955. Thanks, Tim!
2007
28 December 2007- an interesting pic of Sabby with Troy Donahue in 1967. Found on ebay.
16 December 2007 - at long last a new magazine - thanks to our favourite 'Guy From the Netherlands' : Sabrina - Modern Man Yearbook 1963
16 December 2007 - Welcome to Barry, a new life member of the BOOBS society!
20 October 2007- In production by Neil Evans is a comic strip starring Sabrina! See the 'Odd Things about Sabrina' page
3 October 2007- another female Sabrina - not ours, but cute nevertheless - got in touch to say how she was "enchanted by [our Sabby's] images and history so far" and is "Just a young woman interested in your website and sabrinastuff altogether." Welcome, SabrinaC!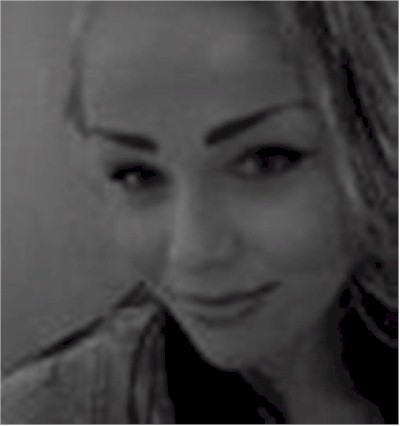 29 September 2007- some interesting new pix on Picture Page 45
9 September 2007- We have 43 unique photos of Sabrina at the Hotel del Coronado in the 1960s. They cost beaucoup bucks, so bloody well ENJOY them or I'll punch you on the nose.
6 September - thanks again to Richard Kober we have a great still of Sabrina from Rambottom Rides Again. Thanks, Richard!
4 September - forty-six 8x10 glossy photos of Sabrina in the 1960s have arrived from the USA! I'll trickle them out over time. BOOBS members will get the fullest creamy goodness from them!
31 August - a new long (and badly edited) article from the US mag Inside Story in 1964 which re-tells the story of Sabrina
22 August - if you look down to 17 March you'll see a request for any contact for Betty Stewart who wrote the book including Sabby's trip to Australia. Alas, I got a response, but it was a bad one. Her solicitors told me to take the page down as it breached her copyright. In fact it would not be because my use was for research and I used only one chapter or less than 10% of the total number of pages, but I don't want to upset her. I've offered to connect her with Sabrina. Maybe there will be a resolution.
21 August 2007- big (and expensive) news. I have found a treasure trove of previously-unpublished Sabrina photos from the 1960s found at http://www.photosnthingsuneed.com/sabrinia.html. At $US 500 for 46 photos, it was a big decision. Please consider becoming a BOOBS subscriber to help fund my stupid obsession with this lovely woman!
Oh - and I've also bought a new magazine on eBay for a relatively modest sum ($US11).
Alas, I have emailed and written to Sabrina a few times but she has not replied for quite a long time. I fear there will be no new unique Sabrinastuff from her historical collection. Sigh. This might be the last gasp for the Sabrina site.
13 August - thanks to Richard K we have our first images ever of Sabrina in her first movie, Stock Car.
1 August 2007- a great contribution from Peter of Stockport - a classmate of Sabrina in 1945. A class photo!
1 July - A new magazine article. THESE STATISTICS RUN TO PRETTY FIGURES, Blighty Parade, October 31st, 1959
28 June 2007 - an email from Stockport!
Dear Mark
Hope this finds you well and greetings from Stockport in Cheshire. Sabrina may well recall the Plaza cinema located in the town centre of Stockport and I'm delighted to say that a dedicated team of volunteers saved the venue a few years ago and reopened her as a Theatre and Super Cinema showing classic films (see our web site for information www.stockportplaza.co.uk)
We are currently overhauling our lounge area in the venue and as our own home grown star we are getting a framed print of Sabrina which will have pride of place amongst other icons such as Mickey Rooney (appearing at our venue later this year), Rita Heyworth, Diana Dors etc etc
Would it be possible to get either a signed photograph or a message of good luck to the Plaza from Sabrina that we could frame alongside her portrait to celebrate her film career in her home town?I look forward to hearing from you and please do pass on our very best wishes.
Kindest regardsTed Doan
General Manager
The Plaza Stockport
15 March 07 - Would You Believe - in March 2007 this photo sold on eBay for... $US26.80!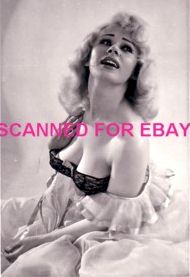 12 March 07 - Sabrina has been appointed the patron of the Vauxhall Victor Club
11 March 07 - Found a new reference to Sabrina from Hancock's Half Hour : The Scandal Magazine
4 March 07 - A great new mag from Sir David Jackson - '66' Star Feature on Sabrina, October 1957
3 March 07 - Sabby sent a lovely Valentine's card recently.
3 March 07 - David Jackson has again excelled with about 300 megabytes of scans from a '66' magazine.
3 March 07 - A mystery solved: the long-running query about a reference to Sabrina in a 1954 Goon Show
3 Feb 07 - two new magazines, thanks to David Jackson! Beauty Parade and Sabrina Leads the way. Spick & Span Extra No. 6, Spring 1957. Dog bless David!
28 Jan 07 - NEW CONTACT WITH SABRINA! A 2.5 hour phone conversation in which many old things were discovered, any new plans are laid.
28 Jan 07 - MAJOR behind-the-scenes site reorganisation (moving all thumbnails to a separate directory). There MAY be broken links. Please let me know of them (please be specific: tell me what page has the broken link and what it was linking to!)
12 Jan 07 - a new Sabrina magazine cover!
10 Jan 07 - Woohoo! A Chrissie card from Sabrina! It's a relief that at least she's still up and kicking enough to write a card. I was getting worried after so long without contact or replies to letters and emails.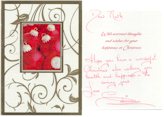 9 Jan 07 - discovered some pix had been destroyed during FTP. Found the originals, remade them and uploaded them afresh.
5 Jan 07 - In a retro spirit, I have removed the frameset from the site. Frames are so 2006, dahhhling.
31 Dec 06 - Happy SabrinaYear! Photo pages have been re-organised. Still no word from Sabrina. Sigh. I fear the site is heading for retirement.
2006
27 August - The transcription of the 2003 interview is now complete! I have taken advantage of the sluggish Sabrinastuff climate to start reorganising the picture pages into some sort of thematic order. There will be some loose ends (repeated pix, stub pages) until work is complete. Please let me know of bad links.
20 August - started transcribing the 2003 interview. Typing it up gave me time to consider things more carefully. An Interesting experience!
6 August - a nice find by Paul W - from a Daily Sketch Northern Edition in 1956. A really clever find! Thanks, Paul.
6 August - replaced the old Miss Great Britain newsreel clip with a higher quality one found by Lord Reg. Thanks, Reg!
23 July - Renamed all video clips as *.wmv rather than *.wmv.avi. Please let me know if I missed changing links anywhere.
25 June - Spick # 131 from October 1964, with thanks to David Jackson.
22 June - Picture page 50, featuring pictures personally sent in by Sabby and Steve.
21 May - Inside Sabrina - Film and TV Parade #13
18 May - Sabrina phoned tonight, the day before her birthday; the first contact in more than a year. She has a broken leg and is not feeling too chipper. We talked for about 2 hours, but little of what we discussed can be published for libel reasons.
21 March - A girl who is a legend in her own lifetime - Foto #44 (no year - help needed!).
20 March - Russian Dressing Man's Epic, June 1971 (Thanks, Sir H)
20 March - When Sabrina lost her Dress in the Street - Exposed, Oct 1957 (Thanks to Sir H)
20 March - Sabrina is antibikini! Ace, Aug 1960
19 March - You'll be fitter if you're fatter - Australasian Post, 27 Feb 58. A prescient body image warning for girls! Another Sir H contribution.
19 March - A bust for Sabrina - Sir Knight, Vol 1 Num 9, 1959 - A BIG MOMENT! Well worth a look! What was Sabrina doing in Rome? See that most famous Sabrina pic in is full glory! Thanks to Sir H!
19 March - a milestone of sorts. The number of pictures (including thumbnails) has exceeded 2000 and my FTP server is wetting itself, complaining it's not going to show more than 2000!
19 March - started replacing lower quality scans with better ones taken from Sir H's treasury.
18 March - Sabrinia [sic] Quick, April 1960. Yes, 'Sabrinia'. To be fair, they are American. A valuable SIR H contribution.
18 March - It's Too Hot for England! - Everybody's 4 Sep 63 - the British censors ban Satan in High Heels! Generously donated by Sir H.
17 March - The last set of proof pictures (A023)
16 March - The Sabrina Scrap Book
3 March - A Day In the Life of Sabrina - Photoplay, Oct 57
29 Jan 2006 - thanks to BOOBS contributors, I have not only been able to buy unique Sabrinastuff over the past 2 months (such as the proof pictures), but now I've upgraded my domain's hosting plan to give me 75 Gigabytes of traffic per month. We won't run out of download steam in a hurry now!
27 Jan - You've been very good and deserve another treat. How about SHEET A158 of the second set of proof pictures purchased at wallet-rending expense? Twelve unique pix of our Sabby! With BOOBS!
26 Jan - GOODNIGHT WITH SABRINA - Thanks to Lord Reg you can see the short film of Sabrina coming home, undressing, having a bubble bath and slipping into bed... excuse me for a second. I've got to take a cold shower. There's a regular 3M size and a mega-sized 18M version for BOOBS subscribers.
26 Jan - Goodnight Sabrina - the stills from the 8mm film which was brilliantly sent by Lord Reg M
19 Jan - nine proof pictures from sheet A157 are available, with extra-large creamy versions for BOOBS contributors.
18 Jan - The hideously expensive second set of contact proof sheets have arrived. I'll don the cotton gloves and release them over time. Thanks to BOOBS contributors who have helped with the $US250 cost of these rare puppies.
16 Jan- Let's Have a Ball! Mosaic, 1962 - with BOOBS
15 Jan - Mr Cool 1960 - lovely pix with BOOBS!
10 Jan - Sydney Tivoli - Pleasures of Paris programme - Sydney, 1959 - thanks to James C
6 January - Bought more great contact proof sheets at ridiculous expense. Don't think I'll be doing that again, unless I can get some new funding!
2 Jan - Sabrina, Beautiful Britons #20, June 1957 - thanks David J!
2 Jan - Double Feature, Beautiful Britons #8, June 1956 - a David J presentation.
2 Jan - Talk of the Town, Spick #18, Feb 55 - another early pudgy Norma Sykes before Sabrinahood. Again, a round of applause for Sir David J.
1 Jan 2006 - Blackpool Blonde, Span #6, Feb 55 - very early pre-Sabrina stuff! thanks again to Sir David J
2005
28 Dec 2005 - Sabrina Washes Her Hair, A.M. 21 June 1955. Thanks to Lord James for some of the best ever pictures of Sabrina!
24 Dec 2005 - Read the newspaper articles that chronicle the sad times from 4 Jan to 7 April 1962 when Sabrina briefly returned to Australia to promote Twist dance craze for Lee Gordon. It rapidly turned sour and she left the country bitter, broke and threatening to sue. Thanks to JamesC for these articles!
20 Dec 2005 - Sabrina in Australia. Tells about Sabby's Oz encounter. A long and detailed account! Thanks to James C for finding this.
14 Dec 2005 - Sabrina: made to measure- Crowd, 19 March 1958 [Australian]
9 Dec 2005 - Sabrina's thoughts on Marilyn Monroe - Picturegoer 3 Dec 55
9 Dec 2005 - Hark! Sabrina has broken her silence! Australasian Post 17 Jan 57
1 Dec 2005 - A memory from Ken who knew Sabrina in Melbourne!
1 Dec 2005 - the breathlessly-awaited contact proof prints of Sabrina are now online! Contribute to the BOOBS program to insinuate yourself into the cream of Sabrinastuff...
26 Nov 2005 - a possible sighting of The Phantom Gunslinger (aka El Pistolero Fantasma). Could this missing Sabrina classic still be out there on cable - in Mexico? Any Spanish speakers out there who can tell me what the score is?
20 Nov 2005- announcing the BOOBS program! For a large amount of legal tender ($US115 - $OZ165.52), the Sabrinasite has managed to winsome great-looking contact prints of Sabrina. Great thanks go to Sir Stuart who offered to help defray the costs of this important find. I may have to go into retirement for a while to let my Paypal account recover after this win, and the $US50 Top Secret buy.
20 Nov - won 3 sets of unique Sabrina proof shots, at great expense to the management.
5 Nov 2005 - Sabrina on the cover and feature article in Top Secret, 1960. A long article!
30 Sep 2005- Tony of Stockport reports that Sabrina's film Stock Car still exists and has been on TV in the past couple of years. He'll tape it for us when it comes back next!
30 Sep 2005 - On Melbourne TV in September 2005 was a show called "50 years of Television". Naturally, Sabrina got a minute's worth!
21 Sep 2005 - Fixed 281 broken links to thumbnails! Why didn't you guys tell me there were so many? They've probably been broken since ages ago when I moved all the thumbnails from /thumbs/ to the same folder as the big pics for ease of management. Help me out, guys - please report broken links here.
21 Sep 2005 - A new page - Sabrina Maybe - where you can help say if you think the pictures are Sabrina or not.
21 Sep 2005 - Russell Gay, Glamour Photographer
20 Sep 2005 - Come and Make Love to Me - Foto-Rama February 1960
27 July 2005: Picture Page 36 - Pleasures of Paris revue pix!
27 July 2005: Another Hancock Sabrina reference!
9 July 2005: The first Sabrina Sound not from the Goon Shows! From Hancock's Half Hour Tony essays to purchase his first television set.
1 July 2005 - Announcing the new SAMBA SABRINA competition! Record the Samba Sabrina based on the discovered sheet music, and you will win a KISS from me (and a nice note of appreciation from Sabrina)
10 May 2005 - PERSONAL SABRINA PICTURES courtesy of Steve Page. Woohoo!
24 April 2005 - Barry Crocker's autobio mentions Sabrina, albeit inaccurately!
24 April 2005 - Major filename re-adjustment: all full-size and thumbnail pix now are in the same folder to ease administration.
15 April 2005 - an odd finding about Sabrina! Click the pic
7 April 2005 - Moved the site back to nylon.net where it began. Sabrinastuff is getting nigh impossible to find, and the sabrinastuff.com domain expires soon, so it's time to semi-retire again. No trace of any sabrinastuff coming from Sabrina or Stevie. Sigh.
20 March 2005 - The Ice House press book, courtesy of Lord Reg!
16 January 2005 (London time) - Sabrina gets her apology from the Mail on Sunday.
26 January 2005 - a thorough check of picture links fixed several bad cases in filenames. Also turned off hotlink protection since it was blocking images when it should not have. If you visited recently and had trouble seeing pictures, try it again.
24 January 2005 - news about the elusive "Goodnight with Sabrina" film! Alas, I didn't win the auction: the film went for more than £50
22 January 2005 - Sabrina's friend Steve has been in touch by email. He reports that:
Sabrina has been quite ill recently and spent quite some time in hospital with an ongoing back problem and nasty infection.
He has also promised to send "the ultimate photo of Sabrina."
He is planning on doing some kind of tribute exibition to Sabby with regards to when she came to Wolverhampton England in the 50s. There is a street called Sabrina Drive which Sabby apparently opened by cutting a ribbon stretching over the street. It also related to Sabrina a legendary mermaid which supposedly dwelled in the nearby river Severn. My mom said she remembers Sabby on the news cutting the ribbon but Sabby says she can't remember so if you have any news please let me know. Does anyone out there have information on this?
BIG NEWS WILL BE COMING about the Mail on Sunday newspaper articles on Sabrina in 2002. Stay tuned! (see 16 Jan 2005)
2004
31 December 2004- Sabrina the Great - Pose, October 1958. Happy new Sabrinayear!
29 December 2004 - Several additions to Sabrina's Biography, courtesy of ITN and Pathe newsreels. We have the newsreels' details, but not the films, alas!
29 December 2004 - A Sabrina sighting - History of the bikini
24 December 2004 - Major picture and thumbnail renaming
4 December 2004 - Sabrina in Print - Ron Blaskett remembers her.
21 Nov 2004 - Front page renovations
21 Nov 2004 - What do they see in Sabrina? Adam, Vol 2, Num 1, 1957
24 October 2004 - Argosy, October 1960
24 October 2004 - "The BBC goes Berserk!" Picturegoer, 19 March 1955, thanks to Kevin Hobbs!
5 October 2004 - a minor landmark. Searching for "sabrina" in Google Images now brings up our Sabrina as its first image!
9 August 2004 - Long time between drinks! A few new miscellaneous pix were put on Picture page 31 - two of them courtesy of the 'Guy From the Netherlands'. I recently got 2 mags from eBay which I will soon scan. Still no news from Sabrina about her scrapbooks. Sigh. I have consolidated a few niggling messy bits where related pages were separated for no good reason. Also removed the 'Ask Sabrina' form and replaced it with a direct email address for Sabrina.
4 May 2004 - A video of Sabrina on Before Your Very Eyes in 1958 with Arthur Askey. Hail Roger!
18 April 2004 - An Easter Card from Sabrina... click it to see it in full
23 January 2004 - GREAT NEW COMPETITION! Pick which nudie card(s) feature Sabrina! No prize, but fun to enter!
23 January 2004 - Elementary My Dear Watson, Point, July 1956 - another Reg surprise!
23 January 2004 - The Glamorous Headline Hunters, Modern Man, April 1959 - thanks, Reg!
23 January 2004 - Escapade Interviews Sabrina - Escapade, October 1958 - thanks to Reg.
10 January 2004 - Queen Sabrina - Modern Man Yearbook 1959, thanks to Reg.
2003
30 December 2003 - Make Way for Sabrina! Picturegoer, 25 June 1955. Thanks to Reg.
20 December 2003 - When Sabrina Crowned Steve Cochran With a Vase Confidential, Nov 57 thanks to Reg!
11 December 2003 - Reg M has delivered Sabrina at Home on 8mm! Viva Lord Reg!
23 Nov 2003 - Nice new pix from Reg - Carnival, April 1956
19 Nov 2003 - THE SabrinaStuff site goes into semi-retirement until the scrapbooks, 9mm films or other new Sabrinastuff can be acquired.
19 Nov 2003: See Sabrina in 'Just My Luck' with (blech!) Norman Wisdom.
12 Nov 2003: A BETTER version of Make Mine A Million appears! If you watched it before, try it again, without video tearing!
2 Nov 2003: See Sabrina in 'Make Mine a Million'.
19 October 2003: Finally added video clips from SIHH!
11 October 2003: Mountains of the Moon - Sabrina's 1967 brush with Tarzan on TV!
2 October 2003: A historic two hour interview with Sabrina - in 42 parts!

26 September 2003: Sabrina presents a greyhound race trophy
24 September 2003: Sabrina's Got What it Takes - Sir! Sept 1959 - Great pix!
23 September 2003: The Amazing Sabrina Survival - Picturegoer, 28 December 1957
22 September 2003: A new magazine! Sabrina - Lend-lease nude. Sir! Sept 1957
22 September 2003: A letter from Sabrina!
16 September 2003: Thanks to Paul M for pointing me to the new SIHH promo shot.
7 September 2003 - Added some frames to the new-look sabrinastuff site.
1 September 2003 - this is officially now the sabrinastuff.com site! All visits to old nylon.net/sabrina pages will be automagically redirected to the new domain.
(12 April 2005 - we've moved back to nylon.net/sabrina)
24 August 2003 - repaired the Sabrina feedback form and Ask Sabrina form, which suddenly stopped working for reasons unknown.
15 August 2003 - added the final, climactic clip of 'The Ice House' in which Sabrina gets her oats...
14 August 2003 - after a nasty hiatus after the death of my mum (who saw Sabrina live in Melbourne), I dedicate this to Nancy Jean. Sabrina in the Ice House (released 1969). Gotta been seen to be appreciated.
4 Aug 2003 - I have finished scanning 147 Goon Shows and found 19 with breathless references to Sabrina. That means 13% of Goon Shows have SabrinaSounds!
27 July 2003 -
(1) Have ordered Sabrina in The Ice House on video.
(2) Found a listing for Sabrina's 9.5mm films, "At Home with Sabrina" and "Good-Night with Sabrina" (1959) - unfortunately, not for sale. I hope The Producer might be able to satisfy our 9.5mm needs in time!
26 July 2003 - Anyone heard of London's Erotic Review? They've emailed asking to use the picture of Sabrina in St. Trinians in their publication. Looks like Sabrina's resurgence is nigh - and you were here when it happened, folks!
24 July 2003 - Started picture page 28
20 July 2003 - A new Sabrina Sound (more sounds)
18 July 2003 - Why Sabrina Stopped Playing with the Playboys - Uncensored, January 1958
16 July 2003 - The 5 of spades detailed scan! All Hail The Producer!
12 July 2003: [Drumroll........] Break out the lager, Sabrinafans. We have nudie cards. Repeating - we have nudie cards. Visit the nudie card page for a peek.
11 July 2003: Every time it looks like the search for Sabrinastuff is coming to an end, a fillip comes out of the blue.'The Producer has emailed to say that he has a set of the Sabrina Nudie Playing cards! He believes Sabrina appears on more than one of the cards in the deck. High Level Discussions are underway to attempt to bring the cards to Sabrinafans. He also has movies of Sabrina At Home! Stay tuned!
29 June 2003: Dismantled the Sabrina Message Board.
14 June 2003: Picture page 27 and two new Goon Show SabrinaSounds
1 June 2003: Sabrina through the looking glass. Best of QT (1950s)
31 May 2003: A new Sabrina Sound from the Goon Show. John Snagge - the male Sabrina??
30 May 2003: The SabrinaStuff Site is proud to announce the introduction of the Sabrina Board: a discussion board for Sabrina Fans to share SabrinaStuff, Ask Sabrina, and other amazing things. [Dismantled 29 June 2003 because of lack of use.]
23 May 2003: Sabrina in Beautiful Britons, Nov 1955 - thanks to David J
21 May 2003: The SabrinaStuff site back after a short hiatus while shifting the domain to a new host.