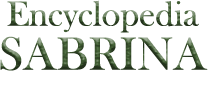 Contact me at the Sabrinastuff Site
Sabrina's 1956 Royal Command Variety Performance

5 November 1956: Sabrina was on the bill for the 1956 Royal Command Variety Performance in London as a 'surprise artist'. Sadly, the performance was cancelled. Liberace was in tears, and Sabby was disappointed.


Sabrina appears in the programme

Two versions of Sabby and David Whitfield, 5 Nov 1956,
at the Royal Variety Performance rehearsal
at the London Palladium.
She was very disappointed when the show was cancelled due to the Suez Canal crisis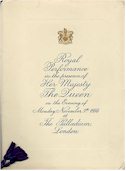 I just bet you boys would kill for a picture of Sabrina mournfully inspecting the dress she would have worn to the Variety Performance. Here 'tis! It is of sugar pink lame with shaded pink net.

'Hard Luck Sabrina 5 Nov 1956' - Mail
Sabrina did eventually get to perform at the Palladium in 1958.
Naturally, there had to be some Sabrina-based controversy before the big event.
Confusion on television

Not even the actors knew if they were rehearsing for the Royal Variety Show or just for a normal regular broadcast.

This evening the Queen will view a colourful show in the Palladium Theatre, and afterwards well-known performers will be introduced to her.

Yesterday evening a number of colourful performances were broadcast on the economic news TV channel, which were supposedly to have been part of the program for tonight.

In reality however, only one performance, by a choir, was among them. Since everything was to be kept somewhat hush-hush, the real rehearsals had been included as well. The photo shows Sabrina, who wanted to wear a new pink dress, but had to listen to the following request: either cover yourself up more, or "flatten yourself [i.e. your chest] down". The dress displays too much cleavage for this occasion. "Naturally" Sabrina was quite put out - how are you supposed to flatten yourself down? Then you'd be nobody.
Thanks to Herr David for the translation.
Split from Sabrinalife page: 17 November 2011
Last Changed: Friday, December 16, 2016 1:45 PM
All original content copyright © nylon.net
All Rights Reserved.
This page was last modified: Friday, December 16, 2016 1:45 PM