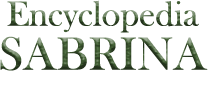 Contact me at the Sabrinastuff Site
Sabrina's Live Shows!
The best Sabrina is not canned, bottled or filmed. The true glory of the lady must have come from a raw, personal appearance on stage.
Here is a gateway to Sabrina's live shows.
Were you were looking for Sabrina's theatrical plays, including
Chiswick Empire 1955
French Capers - 1955
This'll Make You Laugh - 1956
Pleasures of Paris (London) 1957
Pleasures of Paris (Australia) 1958-9
The Sabrina Show - commencing September 19, 1959 at the Theatre Royal, Brisbane, Queensland, Australia
3 March 1960 - according to The Stage, London, Sabrina is co-starring in cabaret at the Singapore Hotel, Miami Beach Florida with American comedians Jerry Lester and Hal Fisher..."
Showgirls - 1961
Many thanks to 'Karamazov' for the image above - not too flattering, but the first of Sabrina live onstage! Thanks, 'Karamazov'!

From a photo I bought on ebay
Page Created: 7 March 2010
Last Changed: Tuesday, February 21, 2017 2:41 PM
All original content copyright © nylon.net
All Rights Reserved.
This page was last modified: Tuesday, February 21, 2017 2:41 PM