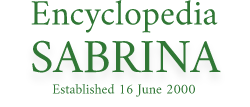 Sabrina Picture Page
The 'Lace' Collection
Do YOU have any Sabrina stuff?
Found in August 2017
A cheeky strapless look for Sabrina

Added 11 Aug 2014 - a classic shot
White Lace
Found in 2015. A classic Sabrina pose.
Thanks to Lord Reg for the new BIG scan of this pic! Another in the growing 'Shagpile' series.

Click to see the Modern Man article in full
Courtesy of ignatz - with more to come! Thanks, ignatz! He says...
I have 27 sabrina images obtained from various locations on the internet over the last 5 or 6 years. Great site -- particularly like the aussie tv video clip . She and June Wilkinson are the only Brit 1950s pinup gals that I can specifically recall seeing in mags during my callow youth.
Spick and Span 1957 because it indicates the Lace series was also shot by Russ Meyer around the same time as many of the Turtleneck series - probably around 1957.

Radio Luxembourg cover - Jan56 ( see more covers )
Published April 1956
Black lace
All original content copyright © nylon.net
All Rights Reserved.
This page was last modified: Wednesday 2020-08-12 15:01
How you can support Sabrina .

Get BOOBS!
Donate a little and get the B est O f O ur B eautiful S abrina
Created: 21 Sep 2005
Last Changed: Wednesday 2020-08-12 15:01