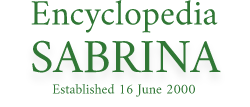 Contact me at Encyclopedia Sabrina
Sabrina Incidents
Sabrina was a master of self-publicity. She was canny enough to realise the perfect opportunity to make her presence known. Adultery? A costume malfunction? A broken engagement? All of these, and more.
Please be surprised and shocked these notorious incidents where Sabrina reportedly ...
Page Created: 20 March 2017
All original content copyright © nylon.net
All Rights Reserved.
This page was last modified: Thursday 2023-02-16 11:46