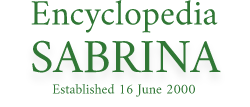 Contact me at Encyclopedia Sabrina
The Curious Incident of
Sabrina in Politics
Early in her career, there were reports of Sabrina entering politics. Make of it what you will!
30 December 1955 - Daily Mirror
In "Vicky's Almanack for 1956", March includes "Sabrina enters politics".
7 January 1958 - Daily Express Letters Column
THE practice of adopting TV and stage people as parliamentary candidates is to be deprecated. In the main, the people of Greut Britain are politically illiterate, but that is no reason why candidates should be the same. Or are we so dominated by TV that we are moving towards a political era when the Cabinet will contain such names as Tommy Steele, Sabrina , Diana Dors, Gilbert Harding, etc.?
JOHN CLEMENT

Aldershreck Road,
Manor Park

10 February 1958 - Daily Express

What WILL the prince think? – Asks Sabrina

SABRINA flew to Paris yesterday, after a pantomime sequence at London Airport in which she tried at all costs to avoid having her picture taken.
She was travelling with Billy Smart , son of the circus owner.
"We are just travelling together to keep each other company," she explained.
Mr. Smart must have found her a bewildering travelling companion.
She hid in the powder room and called to him outside: "Don't say anything, for goodness sake."
When he shouted to her that they would miss the plane she hurried out behind the other passengers, refused to walk with Mr. Smart, and then ran about the tarmac with her hands over her face.
Fellow passengers watched with amusement.
Perhaps they were thinking this anxiety to avoid the cameras was something new in Sabrina's career.
Then she explained, behind the shelter of raised hands: "I don't want pictures taken with Billy — he's only a friend.
"What would Prince Christian of Hanover say when he saw them? He's my boyfriend, you know."
Prince Christian was escorting her round a number of the London restaurants and night clubs before Christmas.
But apparently this romance is not Sabrina's first consideration, for she added swiftly: "I certainly do not intend to marry for a long time. The only thing I love is my career."
11 June 1958 - Daily Express
Last Night's Quote - by Sabrina, on hearing that her manager, Joe Matthews, was trying to get her adopted as a Liberal candidate for Blackpool:

"I think it is a bit potty."
13 June 1958 - Daily Express
Moving In

Sabrina is moving into a new flat overlooking Hyde Park. The furnishings will include a round bed and a grand piano with a mink cover.

Her Press agent says: "The mink cover is to keep her warm when she sits on top of the piano."

Tinkling the keyboard with her bare feet, I presume, while she reads Hansard and prepares her first speech as a Parliamentary candidate.
Page Created: 18 September 2012
Last Changed: Friday, September 21, 2012 1:30 PM
All original content copyright © nylon.net
All Rights Reserved.
This page was last modified: Friday, January 1, 2016 12:19 PM