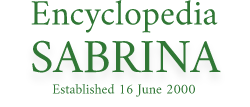 Contact me at Encyclopedia Sabrina
The Curious Incident when
Sabrina Is Lost
27 November 1958 , and Sabrina is due to arrive in Sydney from Italy.
Her mother Annie arrives, but there is no sign of Sabrina who had decided to come to Australia via California after having "a couple of champagnes".

Probably 27 Nov 1958 [source unknown]
SABRINA ON WAY AT LAST
FOUND — One blonde TV bombshell named Sabrina. with a 41½ - 18 - 35 figure.

Bosomy Sabrina, who mystified everyone by disappearing in Rome last week, will arrive in Sydney tomorrow by Pan American.

The fabulous British blonde was due in Sydney originally last Thursday, but nothing was heard of her after she stepped off her aircraft in Rome.

However, everything is smoothed out now and Sabrina will hit Sydney at 10.25 am. She is booked to appear soon at the Tivoli in Melbourne and Sydney.

Happiest person about the news of her arrival is Sabrina's mother, Mrs. Ann Sykes, who reached Sydney by BOAC early today.

Mrs. Sykes was bitterly disappointed when she discovered that Sabrina was not here in advance to meet her. But she was sure the glamorous Sabrina would turn up.

27 November 1958 - Sun-Herald
Sabrina Flies Off At A Tangent In Rome
Britain's famous blonde showgirl Sabrina, who is booked for a season at Sydney's Tivoli Theatre, is missing — somewhere between Rome and Darwin, or Los Angeles.

She and her mother, Mrs Anne Sykes, left London together by B.O.A.C. but only Mrs Sykes was on the plane when it reached Darwin yesterday.
Mrs Sykes said: "My daughter — I call her Sabby — should have been on the plane, but somehow she just missed it.
"Business, you know. She's always talking business.
"So when it was time to leave Rome and Sabby wasn't there, I just got aboard.
"And here I am.
"But don't worry. Sabby will turn up."
B.O.A.C. officials in Sydney said last night that Sabrina had left Rome by plane — for Los Angeles.

28 November, 1958 (front page of Daily Mirror , Sydney)
STARES ALL THE WAY

Sabrina — the world's most famous bosom — flew into Sydney and laughed at reports that she had been "lost."
"What, me get lost? Don't be silly," she said with a glance at her famous statistic.

[Sabrina's mother, Mrs. Sykes, arrived in Sydney on Wednesday — the day her famous daughter was due. She said she didn't know where Sabrina was.]

As she stepped from the Pan-American air-liner, hundreds of goggle-eyed men pushed and jostled each other to get a glimpse of the 41-18-36 blond.

Photographers and newsreel and TV camera men struggled to get the best vantage point. The voluptuous actress stopped all work at the airport. Work­men downed-tools and stood on trucks, heavy equipment and fences to see her.

"Gosh it's hot," she said.
Page Created: 24 November 1958
Last Changed: Friday 2021-03-05 10:37
All original content copyright © nylon.net
All Rights Reserved.