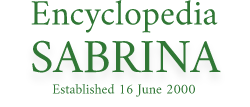 Related articles:
Sabrina washes her hair (with mink!)
No dumb blonde - I've got six mink stoles
Sabrina, probably in the later 1960s, wearing a fur hat.
The mature Sabrina was still a very striking woman.
Found in June 2016
In some more detail...
3 November 2015 - Lyndie sent this lovely pic of her father Stan Love and Sabrina in fur at The Bay Hotel, Pevensey Bay, Sussex, circa 1957.
Furry in New Zealand, 1959

Sabrina in London after 5 years in America 18 March 1963 (fullsize)

Full-sized
The following two are related. Blighty is dated 10 Dec 1955
| | |
| --- | --- |
| | |
| 'She' December 1959 | Found 24 July 2003 in alt.binaries.pictures.erotica.vintage |
From Satan in High Heels
Bathing with Fur!
Sabrina is probably the only girl in the world who is applauded for drying her hair with a mink stole.
Mink doesn't dry the hair very quickly, but her TV audiences don't seem to mind waiting with Sabrina.
Travelling in fur
1959


Thanks to our hero codenamed The Guy From The Netherlands for this VIP quality version of this picture. Even better, the pic came with a caption which helped explain its origins.
LOS ANGELES 13 March 1958... Fabulous 41.5-18-36 SABRINA, the TV rage of England, arrived in Los Angeles from New York City for a four-day visit in Hollywood. She has been linked romantically with actor STEVE COCHRAN.
Sabrina gets off the plane after arriving in NY in 1959.
Travelling in Fur II
1960s?
This might have been Sabrina's 1959 arrival in the USA
"Actress Sabrina posed like this at London Airport today, November 12 [1958], before flying out to Rome. She will spend ten days there before flying onto Australia where she is to make theatrical appearances. "


An interesting shot from 1965 - one of the latest we have!
Finally (2022-04-09), I have 3 separate pix related to each other!
Do you have any Sabrina stuff? Please let me know
Back to Sabrina's page
All original content copyright © nylon.net
All Rights Reserved.
Page created 2 July 2008
Last modified: Saturday 2022-04-09 13:47
How you can support Sabrina .