"She's a nice kid," said the man. "She's terrific... look at that hour-glass figure!" said the woman. No matter how Sabrina affects those who see her on or off the stage.
SHE'S NO DUMB BLONDE!
A WOMAN LOOKS AT SABRINA
The Top-of-the-bill is generally achieved only after long struggle and constant endeavour, but in recent years vital statistics, plus a measure of looks — sultry or otherwise — have put several young women info the Number One star dressing-room without the talent which is usually associ ated with such privilege.
Sabrina is one of those pretty charmers who admits she cannot act, cannot sing — although she feels she can put over a song — cannot dance, and who is currently headlining the Tivoli bill and occupying the coveted dressing-room.
When I went back stage to see her during the week her famous figure — 41½, 18, 35 — was wrapped light ly in a baby blue dressing-gown with a glint of silver, her blonde hair was around her shoulders. She looked considerably younger than her 22 years, her wide-awake china blue eyes smudged with mascara, as she sat with her knees under her chin, her unpainted toenails peeping beneath the frill.
Her beautiful milk-white skin, which entranced people when they first saw it some weeks ago, is now getting slightly toasted by the Aus tralian sun. Which is a pity, because such skin is rare— particularly in this country. It has rather the creaminess of milk, not the creaminess of magnolia petals.
A REPORT
For those who have seen Sabrina only off-stage and been curious about the un derpinnings of her frocks, and for those who have also seen her on the stage. I give a firsthand report.
She is not encased in steel. Every woman this side of the footlights has been able to see for herself that several of Sabrina's dresses are worn without any underpinnings at all. Her figure is supple and slight, and a blue lace stage dress fits her body like a glove without any manufactured aid.
Her gold lame skin-tight pants, her waist made smaller with a cinched gold metal belt, fit a figure which any teenager would envy.
And many a Sydney woman, who does not possess an 18-inch waist and such slender hips, wears with a strapless dress a bon ed under-bodice of the same bought-over-the-counter brand as Sabrina. The silhouette of some of Sabrina's stage clothes is slightly accentuated, but she herself is unselfconscious about the generous proportions of her bustline.
"After all I am in good company," she says, "There are Sophia Loren, Jayne and the rest."
As a sweater girl wearing no more, no less under her sweater than any Sydney girl in similar clothes, Sa brina knows that both men and women like to look at her.
"If they didn't look at me, that would be the time to worry," she says.
"My figure is my job. I don't mind what they say about it in the show or out of it, and I feel I can handle any situation."
How does she keep that shape?
She doesn't diet, she doesn't exercise. She eats like a horse, is particularly fond of steaks.
THE CHANGE
What woman counting her calories, nibbling a lettuce leaf, wouldn't change places with her.
The transition of Norma Anne Sykes, the little, unknown girl from Blackpool, into the young woman known the world over as Sabrina must have surprised no one more than Norma Anne herself.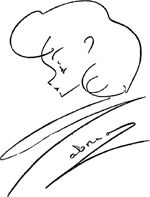 HER SIGNATURE ... to which she usually adds "with best wishes" and turns them one — flick, flick, flick — in less than 60 seconds flat.
And there must have been many times during those four long years when she lay on her back recovering from polio, sketching to relieve the tedium, when she wondered what the future held.
And, too, there must have been many times when waitressing or washing dishes in an obscure London cafe she wondered where that job would lead.
REALIST
For Sabrina has always been realistic; she knew then, as she knows now, that her talents are small, if they can be called talents at all. But she does not know what she would have done with her life if Arthur Askey had not renamed her and introduced her to millions of tele viewers as a "typical dumb blonde."
Nothing could be further from the truth: she is neither typical nor dumb, but she is a blonde — who never goes to the hairdresser.
"I like all the things Sabrina can buy me," she says. "Fabulous American cars; an apartment at Rutland Gate, Hyde Park; Hollywood contracts, dresses, minks and more minks. I've go! six mink stoles, and a sapphire mink coat which is as perfect as can be.
"Diamonds? I haven't got around to those yet. At present I like ostentatious jewellery, and I'm not ready for diamonds.
CASHED IN
"Sabrina can give me anything I want, so wouldn't I have been a dumb blonde if I hadn't cashed in on being a dumb blonde?
"I know it's all commercial. I have no illusions about what I do on the stage, and I play it with my tongue in my cheek."
The future?
"What of it? I'm only 22, and there's a long life. But I'd like to be able to act."
Romance?
"Not yet" . .. and mother gives the affection which one feels is necessary for her.
What does she want, apart from the things that Sabrina can buy her?
She ponders that question - Then . . .
"Contentment."
It is an odd word—for a 22-year-old who in Sydney earns about £1,000 a week, has signed a Hollywood contract for £300,000.
Is it that contentment is a desirable state of being about which she has heard, or does she know that success and a large bank account still leave her without something which Sabrina cannot buy?
At the moment she is rather like a child starved for candy who suddenly finds she can indulge her taste for every lollypop in the shop.
She admits she wonders what she would be like if she believed all her own publicity.
Sometimes, maybe, she also wonders what it is all about.