Updated 11 Aug 2014 with new scans kindly sent by Sir Tim

The World's Dumbest Blonde

by Ron Spillman

After posing for nude playing cards in her unknown days, Sabrina became Britain's goddess of glamour and now spends days tearing up cards but still posing for photogs to display her 40-inch bosom, which is some kind of English record.

A SKELETON with a 40-inch bust and ample flesh on its bones lurks in the closet of 19-year-old Norma Sykes. an English lass who is making her fortune as the dumbest blonde of all time. It is a skeleton she shares with movie stars Marilyn Monroe and Diana Dors. At the outset of their careers, they posed nude for pictures, either needing the dollars or believing that the bare exposure would gain them recognition. After achieving fame, the early nudes sometimes became a source of embarrassment — as well as publicity.

Norma Sykes. who is better known as Sabrina by the British male population, is violently annoyed about the luscious nudes, taken in her unknown days, which still float privately around London. When an enterprising maker of playing cards printed a pack bearing a nude pose of hers recently, Sabrina stormed into a Chelsea store, grabbed packs of cards and hurled them into the street.

Soon after, the firm which makes the cards announced, 'We have packs of 51 playing cards available at a shilling — the 52nd card (Sabrina was the five of spades) is not available.'

Bosomy pinups of Dagmar are as popular in England as Marilyn Monroe's in America. include shots in lingerie as well as startling bosom-projecting photo taken on shipboard.

Sabrina, who possesses the most famous bosom in Britain, has won fame in spite of herself. Whereas the professional dumb blonde usually has an astute brain in private life, no one can accuse Sabrina of practicing such a deception. Her career is an illustration of a beauty rising triumphant over a purely nominal share of brains.

Sabrina follows a simple formula for success — she'll do anything to get into the newspapers. '"There's onlv bad publicity," she says, ''when they don't write about you."

Top billing is given Sabrina by British musical halls since she became bosomy Dagmar of British television network.
Experienced model now, Sabrina knows how to pose for pictures and project personality. She always suggests that she bend down.

Feeding pigeons, Sabrina gets an enthusisatic audience even from the winged set at Trafalgar Square in London.

PINUP PORTRAITS handed out to her fans always emphasize Sabrina's outstanding points.

2015 - from the same photoshoot, but from a different source, we see a cheekier view.

Escorted by singer Johnnie Ray, Sabrina has been mentioned in romances with several top-name people, but she insists she is not interested in men but only future of her career.
Some of her quotes have been repeated over and over in England. There was, for instance, the time when Sabrina was asked to play Lady Godiva at a town festival. Sabrina was at first flattered to play the role of the legendary blonde who rode through Coventry on a white horse.
Then she asked: "What do you want me to wear?"
'"Nothing, of course." was the response of the festival chairman, P. Parker. And then he started stammering: "Er—that is—"
But he wasn't allowed to proceed, for Sabrina angrily said: "I'm insulted."' And thereupon walked out on Mr. Parker.
"I think it was a heck of a cheek to ask me. I've never made an exhibition of myself in public." she later told reporter. She neglected, of course, to mention the nudes for which she once posed.
On one occasion a film producer took her for a quick business lunch to a restaurant noted for speedy service, and told the waiter they were in a hurry.
"In that case," asked the waiter, "would madame like a minute steak?"
"How long will it take?" inquired the wide-eyed Sabrina.
Norma Sykes' persistance [sic] to formal education is very open and pronounced. "Marilyn Monroe made a fool of herself with books," opined Sabrina recently. "She's perfect just as she is. Men don't like a cultured woman. They like them dumb as dumb, and I'm too smart to be anything but dumb."
To prove her words, she abandoned a course of Shakespeare, which she had started with the intention of becoming a dramatic actress. Sabrina also abandoned, somewhat more reluctantly, a course of singing instruction by Maestro Mario, famous British impresario. When Sabrina went to him for lessons, the bespectacled little man with the ginger toupee tried valiantly for several weeks. Finally, he announced plaintively, "This girl's voice covers a range of exactly three notes. How can I teach a girl to sing songs with just three notes?"
Once when asked by a reporter why she had not thought of marriage, Sabrina informed him she was saving that for her old age.
"Don't you want to be loved?" she was asked.
"My mother loves me," was her reply.
And truly Sabrina is loved by her mama, who is especially up in arms about those nude playing cards. Mrs. Sykes says: "I'm worried about the effect the pictures will have on my daughter's career. They were taken when she was an inexperienced girl and it's shameful that she should be exploited and held up to ridicule."
Perhaps the most amazing thing about this British goddess of glamour is that she is somewhat of a medical miracle. Only three years ago at the age of 16, she was still learning to walk. She had four years in the hospital as a bed-ridden polio victim and still carries the scars of a leg operation that was nearly an amputation . But today she has blossomed in every Briton's idea of twin-peaked perfection of burgeoning womanhood.
That's quite a recovery.
The unknown girl who signed nude model releases for photographers at three dollars a time is now in £1200 a week bracket!
The name Sabrina was the brainchild of leading British comedian Arthur Askey. He needed an outstanding girl to appear on his TV show and picked Norma, a well-built unknown who had just made the cover of Britain's top magazine, Picture Post. Askey intended to revive the one-time burlesque gimmick of silence — every time the girl opened her mouth the band would blare up, or the scene-shifters get noisily to work behind the backdrop.
The gimmick caught on and received terrific applause. The press began an intensive campaign of speculation. Would Sabrina ever speak? Could she speak? With such an overflowing bodice, was it even advisable?
Askey hit on the name Sabrina , from Milton's 17th Century poem:
Sabrina fair,
Listen where thou art sitting
Under the glassy, cool translucent wave,
In twisted braids of lillies knitting
The loose train of thy amber-dropping hair.
Afire with the creative emotion of the artist, stage-wise Askey told Norma about the name that was going to make her famous, a one-name accolade usually reserved for ballerinas and head waiters.
Sabrina's reaction: "Sounds a bit silly to me."
But the gag-weary press was for once tickled and intrigued. On the night of her first television appearance, a dozen critics descended on Sabrina five minutes before the show was due to begin.
"What exactly are you going to do?" asked one.
"I don't know," replied Sabrina simply. "The producer hasn't told me yet."
But dumbness alone has not been responsible for the Sykes girl's fabulous success. Her outstanding sexual attributes, like Caesar's wounds, are dumb mouths speaking eloquently for her. Famous British photographer Alex Stirling, whose shots of the unknown Norma had first caught Askey's eye, says, "I was shown a little amateur snap of a girl, and immediately cabled asking her to pose for me.
"When she arrived at my studio, I knew I had found an odds-on winner. Apart from her obvious physical well-being, there is something about her that draws a man the way a flower draws a bee. Call it a smell if you like — a pleasant smell that draws like an erotic magnet. Odysseus must have been drawn by just such a syren as Sabrina. and only prevented his downfall by tying himself to the mast of the Argo."
Soon after her first astounding success on television, the BBC asked Sabrina to open their new studios at Marylebone, London. Bigwigs and dignitaries lined up for the ceremony, scheduled for noon. Sabrina arrived at 2.40 p.m. — nearly three hours late.
She stepped sedately from her cab, wiggled up the steps before the silent gathering, and remarked brightly, "I hope I haven't kept anyone waiting?"

[This picture of the event was not in the article]
After a few months in the Askey show on television, Sabrina was dropped. There were complaints that Sabrina had added a swelled head to her other swelled attributes. Askey himself was non-committal.
Then she had a tiff with the BBC, who asked her to go north to appear in a show. "They sent me a third-class ticket," Sabrina huffed, "and expected me to get to Manchester for rehearsals two whole days before the show opened. Imagine, two whole days rehearsals and I didn't have a line to speak."
Some people in the world of entertainment are amazed that Sabrina did not die a natural death within a year. Anyone who has treated agents and producers as slightingly as Sabrina, they say, usually ends up getting the cold shoulder.
Critics say she has developed temperament in unnecessary quantities. She landed a part in a film but was again dropped for failing to keep appointments. The camera technicians were just as disappointed as the executive, but for different reasons. On the set, Sabrina provided them with a pleasant problem—how to keep both front and back of her in focus at the same time. "It's at least a couple of paces," remarked one cameraman laconically.
Director Wolf Rilla, arranging cast positions for a scene in "Stock Car," stared at Sabrina then complained seriously to the focus-puller, "She's too far forward, or something."
Sabrina launched herself in music halls last year at the Chiswick Empire in London. First, she came on stage in a red gown, and smiled. Later, she made a second dazzling appearance in a blue gown, and began to address a few words to the audience. One man yelled "Hey! Speak up!" but the implied criticism of the low power of Sabrina's voice can be discounted, as the critic was at least five rows back.
Finally, she re-appeared in a black gown, took part in a short sketch but forgot her lines. This she remedied by changing into a silver gown and singing "Ready, Willing and Able" and "After You Get What You Want, You Don't Want It," a la Monroe.
In a later variety show, comic Dave O'Gorman announced, "Sabrina is now going to whisper her first song to me, a line at a time, and I shall sing it for her."
Do the audiences feel themselves cheated by these poorly-handled gimmicks? Not a bit. The general attitude of the predominantly male audiences has been admirably summed up by one youth who stared in awe at the buxom bosom in the low-cut bodice.
"Blimey," he whispered.
Coffee bars and Army tanks have been named after Sabrina, and one admirer even wrote to say he'd named his pet monkey after her. She has received offers of marriage by the hundred, and not all from penniless cranks.
When she arrived by showboat at the West Coast resort of Ilfracombe a couple of months back, she was greeted by Mrs. C. D. Norman, chairman of the local council, and half the constabulary. Men rushed the jetty, two photographers were pushed into the sea, and Sabrina was forced to shelter in Mrs. Norman's house. The police were then called to eject several wolves who had forced their way in through a window.
Traffic was held up by a thousand-strong crowd when Sabrina opened a pet shop in Newcastle. She tossed signed photographs from a first-story window, and a light van was turned on its side in the rush. Perspiring bobbies were an hour restoring order and getting Sabrina safely away.
Above: Sabrina being mobbed in Newcastle (the pic was not in the article)
In spite of her break with Askey, he has recently announced that she will appear in his new comedy "The Ramsbottoms Ride Again."
"It looks as though I'm stuck with a Frankenstein monster," says little Arthur Askey. "Perhaps I should say monsteress. and a pretty one at that. I know we split up. but every time the public sees me, they want to know where the blonde is. Sabrina has absolutely nothing to do with this film, but you'll see her in it just the same!"
Sabrina, who makes girls like Lollobrigida and Magnani stick out their chests in self-defense, has also been offered a six-months contract to appear in Italian TV shows alongside famous Italian comic Toto.
Currently, some critics are making scathing remarks about the smutty routines of the red-nosed comedians Sabrina appears within variety shows touring England. Sample gag: One comedian says, "Sabrina! I love your beautiful face, your exquisite neck, your slender waist, your—"
"Hold it!" cries the second comic, "you've left out the best bit!"
When she opened the Daily Mail Ideal Homes Exhibition in London, Sabrina told her audience naively, "I don't want to be a second Diana Dors. I just want people to think of me as sexy but sweet."
Commented the anything-but-dumb Diana, who has more dramatic ability in one finger than Sabrina in her whole bra, "I don't blame her. Who wants to be a second anything, anyway?"
Sabrina buys two gowns a week at three hundred bucks the article, and last September tried to emulate Dors, a lover of flashy automobiles, by putting down $9,000 for an American limousine.
Asked by curious reporters how she had amassed that kind of money in less than a year, Sabrina wasn't saying. But, she hastened to add, "I'm one inch longer, and five inches wider than Dors."
'Do you mean the car?" asked one interviewer.
Actually, her information was wrong. Sabrina's auto is one inch longer than Dors' Rolls Royce and Cadillac, but Diana's specially-built Delahaye Continental is the longest thing on Britain's roads — 22 feet.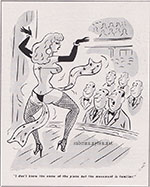 Sabrina is the personification of a gimmick impossible in any other century but our own. A swimming champion at 12, struck with polio and learning to walk again at 16, and today a 19-year-old celebrity with an exciting front, a hectic past, and a promising future. She sobs about the nudes taken when she was "an innocent kid," and has recently asked the police (with full press publicity) to take a hand in preventing publications that might "embarrass and hinder" her career.
She employs a hundred workers making jewelry in a Birmingham factory,
[The ad below is from the Daily Mirror, 10 Dec 1955 ]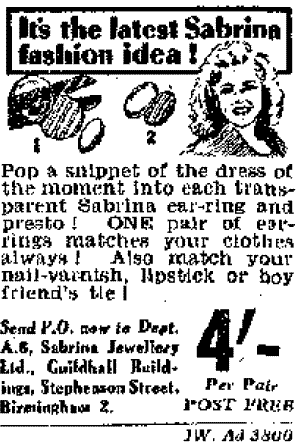 and shows no sign of fading from public popularity. She lives at a secret address and uses a telephone number that is not in the book.
She admits she slept through cooking lessons at school and comments, with unusual sense, "I figured that if a girl can't cook, no one will ask her to." She also professes a dislike of wolves, and says it is a pity women don't carry hatpins anymore.
When she was guest of honour at the Savoy Luncheon of the Variety Club of Great Britain in April, it was announced: GREAT NEWS OF 1956— SABRINA SPEAKS!
Then she stood up and announced to a hall full of men, "This is my maiden speech."

(10 April 1956 on the Paul Popper Page )
In spite of the nude skeleton in her closet, Sabrina's heart is just about as nicely encased as any in the world. As poet John Donne wrote 350 years ago, obviously with Sabrina in mind:
A naked thinking heart, that makes no show,
Is to a woman, but a kinde of Ghost. . . .