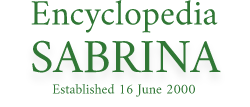 Contact me at Encyclopedia Sabrina
The 'Sabrina' Name
Where did Norma Ann Sykes' stage name come from?
The credit for inventing the Sabrina name is hotly contested.
1. Arthur Askey said it came from a play, 'Sabrina Fair'.
2. 'Blonde Bombshells' agrees it was Arthur's idea, but says the name came from a Milton poem and the 1954 movie character.
3. 'People' magazine June 55 said it was a BBC producer (Bill Ward) who named her after the Milton poem.
4. People magazine Sept 56 then said she chose it, from the 1954 movie of the same name.
5. Sydney Aylett claims he and/or Bill Watts chose Sabrina's stage name, based on the current play 'Sabrina Fair'
Anyone ELSE have a theory?
As she told me, 'Sabrina' is her preferred name: she hates 'Norma'. Her friends call her Sabby.
Page Created: 19 Jan 2007
Last Changed: Wednesday 2018-11-14 16:32
All original content copyright © nylon.net
All Rights Reserved.
This page was last modified: Wednesday 2018-11-14 16:32