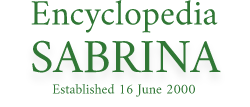 Contact me at Encyclopedia Sabrina
Sabrina in the Satin Bed
The bed with the carved frame, I believe, was Sabrina's own bed
If you see this icon

click it to see the
extra-large image
- if you are a
BOOBS contributor
.
Not the same bed as below, but satin nevertheless.
I now see she is holding a mirror.
And, found in 2020, an accompanying pic from Scamp magazine, 1958...
Fast replacing Diana Dors as the favorite siren of British film-goers is Sabrina, a voluptuous blonde who's also making a big hit with Americans.
Sabrina and her toy. Added 6 Aug 2020
A very pleasant shot. It seems Sabby was genuinely happy.

The colour version above was delivered to nylon.net by Kyle, this is a great picture of our Lady of the Lumps. Many thanks, Kyle, and I hope you enjoy your Order Of Sabrina !
From Quick . April 1960

This shot from the interview with the smarmy bald guy leads me to suspect it was taken in Sabrina's home, and is therefore her own bed.
Page Created: 30 June 2008
Last Changed: Wednesday 2020-09-23 13:48
All original content copyright © nylon.net
All Rights Reserved.
This page was last modified: Wednesday 2020-09-23 13:48