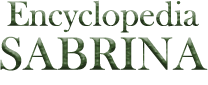 Contact me at Encyclopedia Sabrina
Sabrina in the Satin Bed
The bed with the carved frame, I believe, was Sabrina's own bed
If you see this icon

click it to see the
extra-large image
- if you are a
BOOBS contributor
.
A very pleasant shot. It seems Sabby was genuinely happy.

The colour version above was delivered to nylon.net by Kyle, this is a great picture of our Lady of the Lumps. Many thanks, Kyle, and I hope you enjoy your Order Of Sabrina!
From Quick. April 1960

This shot from the interview with the smarmy bald guy leads me to suspect it was taken in Sabrina's home, and is therefore her own bed.
Page Created: 30 June 2008
Last Changed: Thursday, January 21, 2016 11:44 AM
All original content copyright © nylon.net
All Rights Reserved.
This page was last modified: Thursday, January 21, 2016 11:44 AM