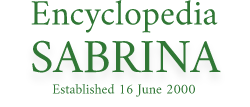 Sabrina In Rome - November 1958
Do YOU have any Sabrina stuff?
En route to Australia in 1958, Sabrina stopped in Rome. A LOT of photos were taken of her between the 12th and 15th of November that year!

In 2011, thanks to a tip from the noble Guy From The Netherlands , we have 100 pix of Sabrina in Rome: arriving, getting her (clay) bust built, visiting the Trevi fountain, having dinner and a hoola hoop, and being a tourist.

For those who care, to the Italians she was "Sabrina Anor Sikas" - their version of Ann Sykes!

They come from an press images site and are heavily watermarked, but the site's rules of use say that non-commercial use of their low-res images is permitted. So we get to see some brand new photos of a little-understood time.

Enjoy a short video of Sabrina in Rome (10MB, MKV)

Sabrina in Rome 1958

Arriving at Ciampino Airport 12 Nov 1958 in that famous white top!
She did a photo shoot in her hotel room on 14 Nov 1958.

The dinner + hoola hoop event is dated 15 Nov 1958.
Actress July Reding was also there and did the hoop.

Signing an autograph
The Peikov bust sculpture set is dated 12 November 1958

Sabrina at Peikov's studio

Sabrina admires Peikov's work

SHAPING UP
ROME: Getting the proper perspective on his work, Bulgarian-born sculptor Assen Peikov compares bosomy British actress Sabrina with the bust of her he's just created. Many stars of stage and screen visit Peikov's studio to have themselves "immortalized" in clay. 21 November 1958.

On 14 November, Sabrina did some sightseeing, including the Coliseum.
Sabrina stayed at the Hotel Excelsior in Rome.
The Trevi Fountain visit was dated 14 Nov 1958
From Sir Knight - Sabrina in Rome!
Sabrina later wondered (in our third interview ) what was going in that all-woman studio with artist Novella Paragini . Sabby had her suspicions!

15 November 19587 - in Italy
All original content copyright © nylon.net
All Rights Reserved.
This page was last modified: Monday 2023-07-24 11:16
How you can support Sabrina .
Created: 30 June 2009
Last Changed: Monday 2023-07-24 11:16