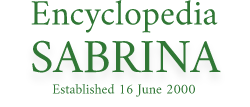 Sabrina Picture Page
The 66 Magazine Page
Do YOU have any Sabrina stuff?
Same shot, upgraded in 2022

See more of the 'Tatters' series

Apparently taken on Southsea beach.
Pic upgraded 2016.

Also see Australian 'Pix' mag from 10 Nov 56.


A very young and
innocent Sabrina.
Possibly my favourite pic of all.

Note - the 'Brooch' shots were taken on 5 Jan 1955
All original content copyright © nylon.net
All Rights Reserved.
This page was last modified: Monday 2023-07-10 13:57
How you can support Sabrina .
Created: 21 Sep 2005
Last Changed: Monday 2023-07-10 13:57