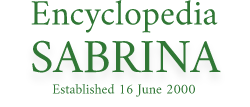 Sabrina Picture Proofs
Do YOU have any Sabrina stuff?
If you see this icon

click it to see the extra-large image - if you are a BOOBS contributor .
Thanks to the BOOBS contributors I am proud to bring you the complete set of proof prints purchased at great expense to the management ($US250 to be precise).
The BOOBS versions are 250% larger than the normal big version.
These pictures come from another set of proof pictures printed on single sheets, each picture about 2 inches square.
Editors would have referred to these proof pages to select images for publication and show how the images should be cropped.
SHEET A158

And now, the the first time on any internet on any planet at any time, the unique A158 sheet pictures!
SHEET A23

I'm not sure what significance - if any - the following photo opportunity had.
Sabrina seems to be looking for a newspaper, and that's it.
I can't see anything interesting in the paper she is perusing : it does mention something about an upset regarding the lack of an anthem on ITV.

Compare with this 1960 Kavalkad back cover photo
Sheet A270

These took a lot of healing brush to get rid of scratches and dust marks.

Sabrina seems to be marking her arrival in America

In case you can't make it out, she's gazing fondly at jewellery.

And there endeth the proof pictures.
All original content copyright © nylon.net
All Rights Reserved.
This page was last modified: Saturday 2022-03-12 13:19
How you can support Sabrina .
Created: 17 March 2006
Last Changed: Saturday 2022-03-12 13:19