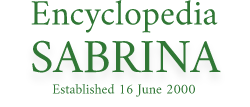 Contact me at Encyclopedia Sabrina
Sabrina Collectibles
If you are a VIP
B.O.O.B.S. member
, when you see the gold key it means there is supersized Sabrinastuff just for you!

Lucky Fred!
Thanks to Anastasia Arden of Siberia for this shot
A Sabrina autograph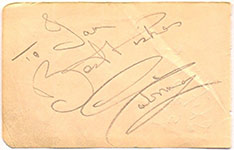 Lyndie wrote in 2016 to say: "I sent you a photo of Sabrina and my father, Stan love, taken at The Bay Hotel, Pevensey Bay, Sussex, England..which you have on your website... These 2 are in my autograph book which I had forgotten about..She gave one to me. and one to my sister, both autographed.
She stayed with us for a few nights whilst touring the south coast..and brightened up many peoples lives!!!!"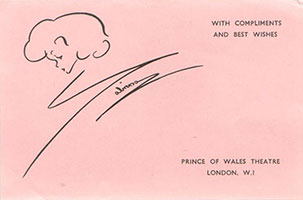 A Sabrinacard used during her stay with ' Pleasures of Paris ' at the Prince of Wales theatre.
You can print a copy and fill in your own loving message to yourself from Sabrina!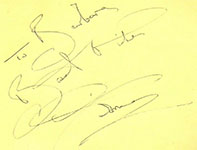 Barbara got lucky

A signed photo from Gary
And a new version for 2020
Page Created: 18 August 2014
Last Changed: Friday 2021-03-19 9:59
All original content copyright © nylon.net
All Rights Reserved.
This page was last modified: Friday 2021-03-19 9:59