18 March 2006 - normal image now supersized and BOOBS version also available, thanks to Sir H



There was an interesting stamp on the back of this photo...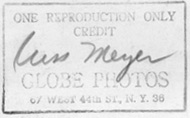 Russ Meyer, renowned tits-man and director/producer of the classic arthouse film Faster Pussycat, Kill Kill! , bragged that he shagged all of his models. Did he take this pic, I wonder?
Here's another one, but this bears the St Trinians school logo. Odd!