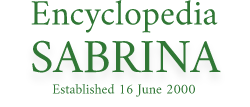 Contact me at Encyclopedia Sabrina
Sabrina
Beautiful Britons #20, June 1957
Once more, thanks to Sir David J for these great scans
There's never any need to say a lot about Sabrina - she's the glamorous T.V. blonde who speaks for herself without actually saying anything at all.
We would, however, just like to mention that, voluble or silent, Sabrina seems to have no difficulty in putting herself over in a big way.
We'd also like to mention that these latest photographs of Sabrina highlight her crowning glory...
... don't you agree with us that her handsome head of fair hair makes her measurements seem purely incidental?
Page Created: 2 Jan 2006
Last Changed: Monday, January 11, 2016 1:14 PM
All original content © nylon.net 2008