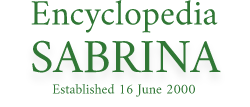 Contact me at Encyclopedia Sabrina
Sabrina Birdwatching

Click to see Sabrina watching birds
(1MB, AVI - new version 14Nov2014)
Also see the little newspaper article
---
A very short clip from the caged birds exhibition. Olympia. London.
12 January 1956
OLYMPIA, ENGLAND: Exterior of building at Olympia with sign pans down to large queue waiting to go in GTV INT. Showing pages in rows. SV Girl with long hair and evening dress supporting screeching cockatoo on her arm. SV Cages full of bull finches SV Cages with budgerigars. SCU Ditto. LV Cages on wall with man looking. SV Humming bird fly backwards and forwards in its cage. SCU Tucan SCU Ronald whistling to birds. SV Judges and spectators looking at cages. SCU Judges looking at birds. SV The winner (bird of paradise). flying about in cage. CU Ditto. SCU Sabrina making kissing noises at mynah bird in cage. SCU Mynah bird talking into mike.
Film Glossary:
CU= Close Up
SCU=Super Close Up
LV= Long View
SV=Short View
Page Created: May 9, 2003August 4, 2003
Last Changed: Monday 2018-02-26 16:20
All original content copyright © nylon.net
All Rights Reserved.
This page was last modified: Monday 2018-02-26 16:20