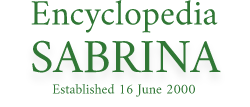 Contact me at Encyclopedia Sabrina
Sabrina Has A Secret
Melbourne Argus, 26 October 1956
LONDON, Thursday: Sabrina, "the silent blonde wilh a shape that speaks for itself," was a surprise selection on the list of artists to appear before the Queen at the London Palladium on November 8 in the Royal Variety performance, the "Daily Mirror" said today.
Sabrina started her variety career as a "dumb-blonde gimmick" on comedian Arthur Askey's television show.
She would have a solo spot at the Royal Command Performance, but her act. was a secret, the "Mirror" said.
Other "first-timers" on the Royal variety show-bill included Sir Laurence Olivier find his wife, Vivien Leigh.
More information was provided by the original article in the Daily Mirror, 25 Oct 1956...
It is also the biggest occasion yet in the fifteen-month old career of the girl from Blackpool, who started out as a dumb gimmick with a 39-inch bust in an Arthur Askey TV show.
Will twenty-year-old Sabrina (born Norma Sykes) wear her usual type of all-revealing gown before the Queen?
Yes ... it has been made specially for the show.
Page Created: 22 May 2012
All original content copyright © nylon.net
All Rights Reserved.
This page was last modified: Wednesday, January 20, 2016 3:30 PM