Meanwhile, it's mid-Cuban Crisis and at least one American journalist is NOT pleased that the "careless cleavage queen" is consorting with a bearded "sworn enemy" of the United States...
The British Bosom Baby got a Royal Welcome in Cuba From the Castro Gang - But How Will That Help Her Get Her Share of the 'Yanqui dollar'?
THERE'S AN old saying that politics makes strange bedfellows. And it's a well-known fact that show business sometimes features strangely matched teams - Laurel and Hardy, Abbott and Costello, and, to go back a few years, Gallagher and Sheen. But when politics and show biz get tangled up together, it seems, we get some really weird combinations.
As exhibit A we give you the previously unpublished friendship between - now hold your breath - Sabrina, the British bosom, and Fidel Castro, the Cuban chin whiskers.

We wouldn't have believed it ourselves if we hadn't done some checking and found out about a phone conversation held a few months back between Sabrina, who was then in Havana, and a British newspaper correspondent.
The big blonde who was once the Dagmar
[aka Virginia Ruth Egnor, alias Jennie Lewis - article1 , article2 , article3 - ed.]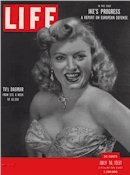 Dagmar
of English TV had left the mother country a couple of years before and her old fans had sort of lost track of her. The reporter, learning that she was in Cuba, called to check on how she was doing in the New World.
The conversation that ensued was as strange as the relationship it revealed. Sabrina opened it by boasting to the reporter that Castro had welcomed her in just after he had thrown the Spanish ambassador out. Form the beard's point of view this undoubtedly made good sense. While we have no record of the Spanish ambassador's measurements, we are reasonably certain that they don't approach the 41½-17-36 boasted by the double bundle from Britain.
To her, Sabrina said, Fidel was "charming and a very, very exciting person."
This would have been interesting enough, but a few minutes later the phone was grabbed out of Sabby's hand and the startled British newsman heard a male voice with a Spanish accent shout, "Tell your government that Sabrina is sitting with six cabinet ministers. Think of that!"
Yes, just think of that.
And while the reporter was doing so, Sabrina got the phone back and began talking about her experiences in the States.
"What makes me furious," she said, "is that it was reported that I lived in a bare room in Hollywood. In fact, I had a very beautiful apartment in Beverly Hills."
But just as she was launching into that plaint, the Cuban functionary broke in again and said, "Here in Cuba she is the guest of our government, and very happy. She was on TV twice, and we have taken beautiful pictures of her on our beautiful beaches. And Fidel says she is beautiful..."
The Sabrina was back on the wire, again denying published reports that she was bust in more ways than one on this side of the Atlantic.
"As I was saying," she declared, "how could I have been a flop? I've been in the States only six weeks, had two weeks rehearsing and two wonderful weeks at the Clover Club in Miami..."
But she was right in the middle of that recitation when the Cuban voice came on again with the ecstatic official-sounding comment, "Cuba is very honoured to have Sabrina here. She is more beautiful than American girls."
Well, leave it to Fidel's crowd to make sweeping generalizations. Undoubtedly Sabrina is more beautiful than some American girls, especially if the beholder is thinking about his days in the nursery, but there are also plenty of American girls more beautiful than Sabrina, and just as well put together.
But that is neither here nor there. What we'd like to know is how the cleavage queen of the United Kingdom could have been so careless as to get involved with a sworn enemy of the United States at the same time that she's looking to American fans to provide her with financial uplift to match the physical kind with which she is so richly endowed.
To understand her motives, we have to go back a bit - back to when Castro's new-found friend was just plain. When she was only 16 more accurate [sic] , she was Norma Jean Sykes [Norma Ann - Ed.], but even then she was far from just plain. When she was only 16 her curves were already so quivery that they caught the eye of a British photographer who persuaded her to unveil some of them before his lens, and long before Sabby was old enough to vote, she probably could have been elected prime minister by the millions of British buckos who had eyed her nearly nude niceties on film.
A bit later, when Sabrina became famous by arranging her upper assets artfully on British TV screens, she was full of explanations about the daring pictures. "I thought they would help me be a success at modelling," she said. "I was hungry and alone and didn't know what I know now. I didn't want to go home and admit failure."
This innocent explanation would be a good deal more convincing, however, were it not for the fact that during the same period the richly upholstered blonde was doing everything in her power to call attention to the attractions she had revealed so totally in the pictures.
On one occasion she had her pretty projections insured against shrinkage by Lloyd's of London, with $7,000 to be paid off for every inch she lost. It would have surprised no-one if they had announced that she was having them Sanforized. ["A process of preshrinking fabric patented by Cluett, Peabody & Co., Inc. The "Sanforized" label means permanent fit — fabric shrinkage held to 1%." - ed.]
A while after the insurance incident, it became clear that the chesty charmer wasn't really so cautious after all. She was attending a premier in Birkenhead and wearing a black velvet evening dress that fit her like a second skin. The crowd pressed close to admire the terrain and some lout stepped on the star's train. There was a warning sound of tearing fabric, followed by a sight for sore male eyes.
Sabrina had been wearing nothing but her first skin under the dress from the waist up, and her braless bosom sprang almost into full view. The heroine swooned at that point, and so did several sturdy lads among the onlookers. The bobbies had to be summoned to keep order.
With this kind of publicity to compliment [sic] her natural gifts, it was inevitable that Sabrina would take British TV by storm, just as Dagmar had done a few years before on this side of the pond. But both Britain and the States are susceptible to that ancient ailment known as too much of a good thing. Like Dagmar, Sabby suffered from overexposure in the temporal as well as the physical sense.
In Sabrina's case, the solution to this problem was to bring the mountains to Mahomet. She took her up-overs down-under and spent a year in Australia thrilling the natives until they, too, had had their fill.
In looking for new worlds to embellish, Sabrina naturally turned to the United States, lured by the scent of the Yankee dollar, as well as the vision of some 180,000,000 fresh male eyes to check out her contours.
Accordingly, she arrived in the States early in 1960 and immediately began giving provocative interviews to the press. She told columnist Earl Wilson of an experience in the ladies' room at New York's exclusive Colony. "Liz Taylor and Natalie Wood came in and found my figure very amusing," she said. "They sort of looked and giggled. I don't know why, unless it was because of my measurements. Whatever Jayne Mansfield is, I'm half an inch more."
A while later in Hollywood, Sabrina was still playing the same theme. When a columnist asked her why she added a half inch to the previously publicised 41 around the upper elevation, she said, "Jayne Mansfield is 41."
Further along in the same interview, though, the former Norma Jean [Ann - Ed.] was back in one of her prim moods. "Generally speaking," she spoke, "my figure has been overplayed in the press. That kind of publicity has gone too far. I don't want to get publicity that way any more..."
We don't know whether it was to get publicity another way, or for different reasons, that Sabby shortly became so clubby with Castro and his comrades and wound up, according to their report, as a "guest of the Cuban government."
She may have lived in a bare room, or in that "beautiful apartment" in Beverly Hills while she was on the West Coast, but one thing is certain: she was not welcomed by Hollywood and the greatest boon to the movie industry since popcorn.
In any case, it was not long before she was down in the Caribbean with the "very, very exciting" bearded leader who is the Cuban Government and those six cabinet ministers.
Not long after that she was back in the States, again trying to get her nightclub act off the ground.
And it will be recalled that Castro was here, too. Though restricted to the island of Manhattan by the State Department, Fidel found plenty of room for such fowl play as cooking chicken in his hotel room, and bringing equally warm chicks in from those establishments that specialise in providing call girls for tired diplomats after a hard day's work at the UN.
When Sabrina gives interviews these days, she doesn't have a word to say about Fidel, the practically unrivalled star of Cuban TV. But it's pretty certain that her association with him isn't likely to advance her career in American show business - even if they put in 41½ inch TV screens.

[This pic also appeared in Sir! Sep 59 ]
Sabrina with Dick Van Dyke. See the other Dick Van Dyke pix from other sources.
---
Sabrina's amazing recollections of Castro, and his gift of a dozen green chickens