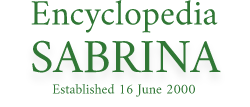 Contact me at Encyclopedia Sabrina
Sabrina - maybe
Photos that need a second opinion
OK. Now it's time for audience participation. You've read the Spotting Sabrina page to learn basic T echniques for I dentifying and T argeting S abrina (an unfortunate acronym arises, but that can't be helped)?
Now the Sabrinastuff site needs your skill to determine which of the the following photos may or may not be Sabrina. It's not a quiz - I don't know which are really her.
Off you go, keen Herbert. Scrutinise them with an intense scrute and report your findings to the Sabrinasite. Please refer to pictures by their name when reporting in!
Report your verdict to

Thanks, Sabrinafans!
Mark, the Sabrinastuff Master
One mystery solved
Eric of Chicago reports - 8 Jan 06
Unfortunately it's not Sabrina, but I can tell you who she is. Her name is Monique and you can find her at www.maskme.com . It's pay site that specializes in masks. They also have a small free gallery area. I'm not into masks, but I like Monique's ballistic Sabrina-like bosom. I can easily see why Monique crossed both of our paths.
He sent a few images to prove his point(s)...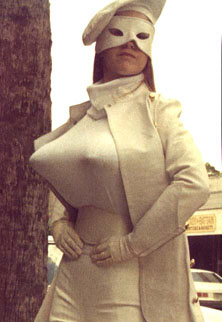 Whoa, Nelly! Thanks, Eric!
Page Created: 21 Sept 2005
Last Changed: Thursday, January 14, 2016 12:49 PM
All original content © nylon.net